Movie Review for Pinoy Super Kid
Inexplicable
posted on

Thu, 2 Aug 2012 12:00 AM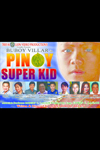 Pinoy Super Kid
is an enigma. I don't know where it came from, why or how it was made, or how it managed to get a commercial run in our cinemas. It is a completely bizarre movie that defies explanation. One is tempted to just tell people that it needs to be seen to be believed. That would a disservice, however, because no one should really go out to see this picture. It is a poorly made movie filled with odd choices that just baffle the mind.
The movie begins with Boy Scout Alex (Buboy Villar) being expelled from school for helping a classmate cheat on a quiz. While the school psychologist investigates his case, Alex discovers an amazing power: he's able to see future robberies in his dreams. Being the Boy Scout that he is, he sets out to stop a group of three robbers from carrying out their theft. He first goes to the police, but is met with ridicule. With the help of his Uncle Ben (Mark Lapid), Alex tries to stop the robbers on his own. But his efforts are stifled by a corrupt system and an ineffectual police force.
Where must one begin? Perhaps one might make mention that the entire film is in English. In spite of the fact that it's incredibly unnatural for the characters in the story to be speaking English all the time, they do. And it's badly written English as well. One might continue with the fact that the story makes zero sense. Its main character is made out to be a hero, but he's kind of a sociopath, unwilling to see any error in his ways. Up to the very end, he doesn't think he did anything wrong by writing the answers to a test on the blackboard. There's no sense of time or place, and characters are introduced haphazardly at best.
It's just incredibly bizarre. At one point, the movie introduces Karen, who is supposed to be the school's only psychologist. Later on in the movie, we meet Girlie, who apparently has the same skills as Karen, and is meant to alternate with her in assessing Alex's case. The movie can't keep track of what its characters are doing or even just wearing at any point, making continuity an impossible task. The camera seems to randomly pick its frames, zooming in and out at odd intervals. Though the sound of the movie is surprisingly clear, the movie is scored by what sounds like a karaoke backing track, and the theme song appears to have been sung entirely off-key.
The fact that all the dialogue is in English definitely hurts the acting in the film. Some of these actors are obviously not too comfortable with the language, and that hurts their delivery. Lead Buboy Villar struggles to push the words out of his mouth. The same goes for much of the cast, who just don't seem okay with having to converse in English. The only person who actually builds a performance out of the film's confused and awkward script is Rey PJ Abellana. He sneers like a cartoon villain, just a moustache twirl away from tying ladies onto train tracks.
I lack the words to adequately explain
Pinoy Super Kid
. It's just baffling through and through. It's kind of an action film, and kind of a drama, and kind of a comedy. It's also kind of a commentary on the ineffectual nature of the local police force. It's also a strange tribute to the Boy Scouts. Or something. It is many things, each new aspect of the film making it more and more absurd. There's a scene where the kid gets urinated on. There's one where a driver run through some bushes while wearing a skirt made of leaves. The villain explains past issues with one of his colleagues, only to have it brushed off immediately. Alex's mother isn't present at the ending, the character simply disappearing after some point. It's all incredibly strange, and it's tied up in a uniquely shoddy package. This movie can only be enjoyed ironically, and even then, it's still a pretty tough sell.
My Rating: