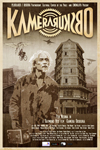 Raymond Red's
Kamera Obskura
is clever, but it might be clever to a fault. It begins with grainy footage from a press conference, archivist and film luminary Teddy Co explaining that a silent Filipino film has just been discovered in a warehouse. After some discussion over what the anonymous filmmaker might have intended, the film itself is shown. The silent film tells the story of Juan (Pen Medina), a man who escapes prison and is granted the power of a camera that can make people disappear. When the power reveals itself by taking out a corrupt couple, Juan is hailed as a champion of the people, making him a target for politicians who seek to use his power.
It's a stunning piece of production, but there might be just one element too many. Not only is it a silent movie that mimics the aesthetics of early cinema, but it's also a film within a film, and a film about films. It's one too many things, the level of irony and intellectual detachment keeping the film from being felt. There's also too much text in the film, which would seem to indicate a story that doesn't quite fit the form. The film remains a remarkable technical achievement, and Red continues to exhibit a flair for production. And in the end, it's still pretty entertaining, but one misses the heart of his earlier pictures.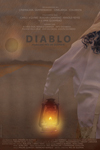 Mes de Guzman's
Diablo
plays a clever little trick on the audience. It begins by setting up expectations, with a scene that has a group of miners trying to exorcise a demon from one of their colleagues. But what follows isn't quite what you expect. The film employs some horror movie aesthetics to tell the story of an old woman beset on all sides by demons, but not the kind that you would expect.
The movie is pretty slow. It takes its time setting up the world of the main character, paying close attention to her rhythms, and establishing the carefully constructed routine that gives her life structure. It can get a little tedious, but there's a point to it all. And once the film hits its second act, it picks up considerably, finding strange, existential horror in examining the main character's relationship with her sons, and the world that offers little comfort to older people.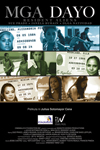 Julius Sotomayor Cena's
Mga Dayo
is the very first Filipino film shot in Guam. It depicts the plight of three Filipinas who are making a living on the U.S. territory. Ella (Olga Natividad) is a housekeeping supervisor at a hotel, and she's finding it difficult to juggle her responsibilities at work and at home. Miriam (Janela Buhain) is a journalist nursing the pain of a broken relationship. And photographer Alex (Sue Prado) has just lost her job, and is days away from being sent back to the Philippines. The solution to her problem is to marry a family friend, but she's not sure she's prepared to play out that lie.
It's an interesting subject that doesn't quite get covered a lot.
Ang Dayo
handles the depiction well enough, finding moments of deep emotion in these women's stories. But the form prevents the movie from really exploring the milieu. Splitting the movie up between three characters doesn't do much for the narrative. It mostly keeps things underdeveloped, the stories never really getting past the point of depiction. The Miriam thread, for example, seems content to wallow in the character's sadness without really getting into the meat of what caused the fracture in her relationship. The film creates a facsimile of drama without offering the context to really make it work.
I am withholding final judgment on Loy Arcenas'
Requieme!
until I see a better version. The gala screening was plagued with technical difficulties, which makes it difficult to get a handle on the film's rhythm, pace, and tone. Having said that, it seems pretty good. The script seemed really graceful, offering a really funny take on the absurdities that take place in this country's death industry. Lovely central performances from Shamaine Buencamino and Anthony Falcon could not be suppressed by all the technical difficulties in the world. I look forward to seeing this movie again.