Comedy | PG | 1 hr 35 min
Columbia Pictures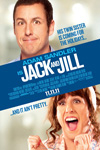 Jack and Jill
begins and ends with real life twins talking about their relationship. It's an interesting subject that has largely gone unexplored in cinema, and seeing these twins interact offers some insight into that chemistry. One would hope that the movie would follow up on this, but it just doesn't work that way. The movie quickly detaches itself from reality and goes through the motions of the modern Sandler comedy flick.
Jack and Jill
is plagued by laziness, and a strange contempt from its star.
Successful ad executive Jack (Adam Sandler) doesn't really get along with his twin sister Jill (also Adam Sandler) anymore. He dreads her annual visit for the holidays, and wants nothing more than to shove her out the door as quickly as possible. This year, however, Jill is a bigger mess than usual, and seems to have no intention of leaving any time soon. Jack struggles to put up with her idiosyncrasies, all the while trying to use her charms to convince an inexplicably infatuated Al Pacino to do a Dunkin Donuts commercial for him.
The newer Sandler films all play out the same way. Sandler plays a guy who has it all: a successful career, a beautiful wife and quirky kids. His wife is a supportive non-entity, and his kids say the darndest things. In spite of being happy and successful, he is inexplicably mean to the people around him. Not because they are bad people deserving of verbal justice, but because they are fat or ugly or dumb. A bunch of celebrities show up for cameos, and then the movie lurches to its third act in a wave of fart jokes. In the third act, Sandler's character suddenly gains a soul, and starts towards a journey of unearned sentiment and redemption.
Jack and Jill
doesn't stray very far from this template, and the result is tired and predictable. The whole joke is pretty much just Sandler in a dress, and the movie just tacks on a hackneyed story to justify that image. The image isn't even particularly well done. Sandler's transformation to a woman doesn't really seem to involve much more than a wig and a dress. At no point does Sandler actually look like a woman, making his cartoonish depiction on one seem even more lazy and tired. The film plays lip service to the complex, special relationship twins are supposed to have, but the story largely falls back on ugly stereotypes and toilet humor.
Sandler can still deliver a line, but his antics are really growing stale. His anger used to be directed towards bullies, his characters taking on self-important jerks that seem intent on keeping people down. Now, Sandler is playing the bully, and it's not very flattering. It's hard to root for Sandler now, his schtick going over in the wrong way. His portrayal of Jill is only an extension of that, his energy put toward crafting a character with no real redeeming qualities. The only other actor in the cast who gets anything to do is Al Pacino, who livens things up with an apparent willingness to make fun of himself.
Jack and Jill
is mostly just sad. Its funniest element is an aging actor willing to make a fool of himself on camera. The rest of it is just the same old lazy comedy from a talent who in the past showed much more passion and drive. Now, he resorts to squeeze a few more laughs out of the easiest audiences, before hurtling himself down a path of even easier fart jokes and insult comedy. And then, he expects us all to feel something for the characters once he makes a heartfelt speech. It's the same thing over and over, the comedy simply drying up.
My Rating:


Related Content
More from ClickTheCity
Editor's Picks
1