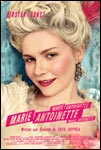 Even before writer-director Sofia Coppola started writing the screenplay for her upcoming new film, Columbia Pictures' Marie Antoinette she could only envision one actress in the lead role: Kirsten Dunst, who seemed to possess both the sprite-like spirit and the dazzling, pale complexion for which the French Queen was so famous.
Says Coppola: "In everything I read about Marie Antoinette, I pictured Kirsten. She has that same quality of being a bubbly, full-of-life blonde who has a lot more going on than people assume. Kirsten also had that same playful, creative spirit that I sensed in Marie Antoinette. She has that certain mix of charm and depth – and, being part German, she also has the perfect skin and look for the role. I knew Kirsten could bring her to life, as I had imagined her."
Often maligned, passionately debated and ultimately a misunderstood young woman, Marie Antoinette through Coppola's vision, emerges neither as staid historical villain nor divine idol — but as a confused and lonely teenage outsider thrust against her will into a decadent and scandal-plagued world on the eve of disaster. The critically acclaimed film will be shown exclusively at Ayala Malls Cinemas (Glorietta 4 & Greenbelt 3) starting Nov. 1. Like Coppola, Dunst found herself riveted by the concept of Marie Antoinette as a vivacious, sweet, yet slightly rebellious teen who found herself in incredible circumstances of both luxury and scrutiny. She immediately drew a link between Marie Antoinette and her modern-day counterpart — the late Princess Diana, another young outsider who struggled to find herself amidst a stifling cult of celebrity and royalty.
For Dunst, the parallels between Marie Antoinette and her own life as a child actress also resonated. "I could really relate to her because I started acting when I was 11 and since then, I've been constantly surrounded by adults, and by people I'm trying to please. That's why I really understood the situation Marie Antoinette was in – leaving her home and coming to this place where there were all these expectations and all these judgments about her." Dunst continues: "When there are so many people paying so much attention to you and wanting so much from you, it can make you feel very isolated and lonely. You're constantly wondering, 'Is this person using me?' or 'How do people see me?' It created a kind of sadness in Marie Antoinette that hasn't really been seen before. I think Sofia probably wanted me to play Marie Antoinette because she saw that I had that same sadness and loneliness in me."
​The chance to work again with Coppola was also a major draw for Dunst (who previously starred in the director's first feature film, "The Virgin Suicides"). "Sofia's almost like an older sister to me, in a way," she remarks. "What's nice is that we didn't ever really have to over-analyze the scenes or talk about them too much because I pretty much know what she wants most of the time. I look up to her and I admire her but she also makes me feel really confident in what I'm doing. I also especially like working with a woman director. It was always a very open and relaxed atmosphere." -- Columbia Pictures