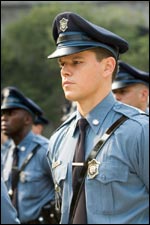 Directed by Martin Scorsese, "The Departed" tells an intriguing story betrayal and deception. The local mob boss Frank Costello (Jack Nicholson) has planted an informer, Billy Sullivan (Damon) in the élite police unit, the sole purpose of which is to break up his operation. The cops, in turn, have introduced a snitch, Billy Costigan (Leonardo DiCaprio) into his mob. Each man becomes deeply consumed by his double life, gathering information about the plans and counter-plans of the operation he has penetrated. But when it becomes clear to both the gangsters and the police that they have a mole in their midst, Billy and Colin find themselves in constant danger of being caught and exposed to the enemy—and each must race to uncover the identity of the other man in time to save himself.
"Matt brought a lot to the part of Colin," states Martin Scorsese. "I love that you can see his mind working as Colin is trying to figure his way out of his latest predicament and save himself, even as he gets himself in deeper and deeper over his head. In a way, Colin is a tragic character because he truly believes he will get away with everything and that, by aligning himself with evil, he has created an inroad to redemption, so to speak, represented by the upper class society of Beacon Hill and the State House—that golden dome he keeps staring at. In the beginning of the picture, you see Costello teaching Colin a false set of values and, by a certain point in time, Colin has no values at all."
Damon offers, "In Colin's neighborhood, the character of Frank Costello is bigger than life. Everybody knows who he is and is terrified of him. The first time Colin comes in contact with him, Colin is about 12 years old, and that kind of interaction would be incredibly meaningful to a kid from that neighborhood. Costello is even more powerful than a father figure in Colin's mind, and you see the relationship develop from the very beginning."
Costello can afford to bide his time because, as Damon says, "Inevitably, boys grow into men and Costello knows he will be able to use the loyalty Colin has for him. He gets Colin to join the state police to act as an informant for him. So while one guy is an undercover cop in the mob, the other is a cop undercover for the mob."
On working with Martin Scorsese, Damon beams, "It's about as good as it gets for an actor. I learned so much just watching him shoot this movie. He has a great eye for behavior and for discerning what's real and what's not. So many of the brilliant moments for which he's been responsible have been those that delve into character. As actors, we love to explore those moments; that is one of the reasons we all want to do his movies." Opening across the Philippines on Oct. 4, "The Departed" is distributed by Warner Bros., a Warner Entertainment Company.