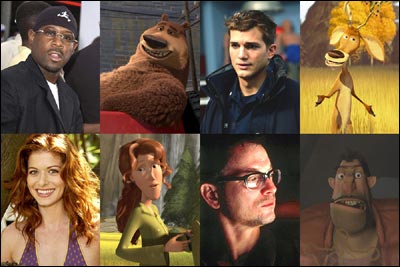 "Open Season" is the story of Boog, a domesticated grizzly bear with no survival skills, whose perfect world is turned upside down when he meets Elliot, a scrawny, fast-talking mule deer. When Elliot convinces Boog to leave his cushy home in a park ranger's garage to try a taste of the great outdoors, things quickly spiral out of control. Relocated to the forest with open season only three days away, Boog and Elliot must acclimate in a hurry. They must join forces to unite the woodland creatures and take the forest back!
"We reviewed many different voices," explains co-director Jill Culton, "And finally, when we paired Martin Lawrence and Ashton Kutcher, lightning struck. Martin brought this terrific smooth swagger and confidence to Boog, and Ashton's playful, manic energy was perfect for Elliot."
Lawrence approached the development of his character pragmatically, he says. "Boog is a 900-pound grizzly with no bear skills. He's never been in the woods. He's domesticated and living in the lap of luxury in Park Ranger Beth's garage. He's the star of the 'Wild Life Show' in town and he's just loving it all. He starts out as a cuddly, lovable bear, who one day realizes he has no real grizzly-bear skills." Similarly, Kutcher imbued his character with unique touches. "I came into the project with a definite character in mind — a small deer who would be a balance against this big grizzly bear," recalls Kutcher. "I arrived with a bouncing-off-the-walls energy, like some kid who's had too much sugar. I basically just turned my censor button off."
Gary Sinise voices the character of the increasingly deranged hunter, Shaw. "Gary is a kind of buttoned-down, serious actor," observes co-director Roger Allers. "He approached Shaw in stages, increasing and accelerating the wackiness until he suddenly came out with this crazy laugh that we all loved. It was great fun to watch him transform himself into a mad man with this insane laugh."
Debra Messing brought her special gift of comedic charm to the role of Park Ranger Beth. "Beth is a little over-indulgent with Boog and she does kind of treat him like a dog, which makes for a funny situation, given Boog's size," says co-director Anthony Stacchi. "When he asks her for a fishy cracker, there is a gentleness between them. When she sings him a lullaby, it is a very sweet moment. Beth's teddy bear song is really the heart of the movie."
Observes producer Michelle Murdocca, "It's truly amazing when their voices come together. Each actor brought something different and unique to the film."
Opening soon across the Philippines, "Open Season" is distributed by Columbia Pictures, the local office of Sony Pictures Releasing International.