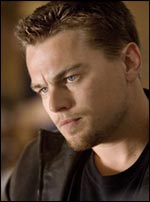 "The Departed" tells an intriguing gangster story of betrayal and deception. The local mob boss Frank Costello (Jack Nicholson) has planted an informer, Billy Sullivan (Matt Damon) in the élite police unit. The cops, in turn, have introduced a snitch, Billy Costigan (DiCaprio) into his mob. Each man becomes deeply consumed by his double life, gathering information about the plans and counter-plans of the operation he has penetrated. But when it becomes clear to both the gangsters and the police that they have a mole in their midst, Billy and Colin find themselves in constant danger of being caught and exposed to the enemy—and each must race to uncover the identity of the other man in time to save himself.
DiCaprio says that the role of Billy Costigan represented more than an opportunity to work again with Scorsese who previously directed him in "Gangs of New York" and "The Aviator." "I read the script and immediately wanted to be a part of it. I just couldn't put it down, and I said 'yes' without any deliberation or hesitation. I thought it was a really intense story with multi-faceted and very compelling characters."
Billy came up from the streets, and DiCaprio remarks that his character's motivation to become a police officer is rooted in his desire to escape his upbringing. "Billy comes from an underworld background and has all the chips stacked against him in a lot of ways. I think he joins the police force because he has no other options, and he wants to do things differently than his family did. Ironically, he is asked to go undercover and pretend to be the very thing he was determined not to become."
Scorsese notes, "As an actor, I knew Leo would convey the conflict of a young man who has gotten himself into a bad situation and then wonders what the hell he is doing there. You can see it in his face; you can see it in his eyes. That's one of the reasons I like working with Leo; he knows how to express emotional impact without saying a word. It just emanates from him. It is quite extraordinary to watch."
Meanwhile, "Blood Diamond" is set against the backdrop of civil war and chaos in 1990s Sierra Leone. It's the story of Danny Archer (DiCaprio), a South African mercenary, and Solomon Vandy (Djimon Hounsou), a Mende fisherman. Both men are African, but their histories as different as any can be, until their fates become joined in a common quest to recover a rare pink diamond that can transform their lives. While in prison for smuggling, Archer learns that Solomon – who was taken from his family and forced to work in the diamond fields – has found and hidden the extraordinary rough stone. With the help of Maddy Bowen (Jennifer Connelly), an American journalist whose idealism is tempered by a deepening connection with Archer, the two men embark on a trek through rebel territory, a journey that could save Solomon's family and give Archer the second chance he thought he would never have.
"The Departed" opens across the Philippines on Oct. 4, to be followed by "Blood Diamond" in January 2007.