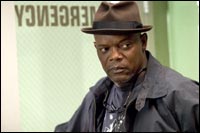 The highly charged drama will be shown exclusively at Ayala Malls Cinemas (Glorietta 4 and Greenbelt 3) starting August 16.
"As I was reading the script I already knew that Sam Jackson was the only guy for the part," director Joe Roth admits. "Like Lorenzo, he is compassionate and virile and has a lot of charisma. You can completely understand why he is somebody the community responds to."
Jackson saw "Freedomland" as an opportunity to star opposite Julianne Moore and work with Roth, he says. He also responded to author Richard Price's writing (from whose book the film is based). "Richard has an extremely good ear for cop-speak," the theater-trained actor says. "And he writes big speeches for you to do, which is a lot of fun for an actor."
In regards to his character, Jackson notes that the intense pressure on Lorenzo to find the perpetrator is not uncommon. When the police begin to lay siege on the housing project in their manhunt, Lorenzo finds himself in a difficult position, trying to protect the black residents and, at the same time, find the person responsible for the child's disappearance. "Lorenzo is on a ticking clock in terms of how long it will be before things explode inside the projects if he can't get the crime solved in time," Jackson explains.
However, Lorenzo's hands are tied. He is assigned to Brenda and cannot act as a buffer between the police and those who live in the projects, where he is affectionately called "Big Daddy" and his personal problems are well known (he has a son in prison). "Lorenzo is as much a protector as he is an enforcer," says Jackson. "The overwhelming police presence at the projects causes a rift between Lorenzo and the residents. He's helpless to do anything, even though he's always been sort of like a white knight in this particular community." "Freedomland" is distributed by Columbia Pictures, the local office of Sony Pictures Releasing International.