Movie Review for Brod
Naked Men and Paddles
posted on

Wed, 16 Feb 2011 12:00 AM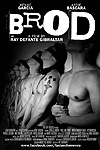 Ray Gibraltar has two other feature films under his belt. The first,
When Timawa Meets Delgado
, is a compelling mashup of documentary, essay, poetry and fiction, tackling the phenomenon of nursing in the Philippines.
Wanted: Border
is a surreal, allegorical take on the darkness of Filipino society. It would be reasonable to high pretty high hopes for his third feature. Unfortunately,
Brod
is nothing close to his previous work. Working under the restrictions of the gay exploitation film, Gibraltar delivers a truly lackluster piece of work.
Terence (Kenjie Garia) is a law student. He's convinced that in order to be successful, he needs to join a fraternity. He and his best friend struggle through the brutal and humiliating initiation process. Things get complicated when Terence starts a romantic affair with his roommate, who also happens to be one of his fraternity masters. While he and his master try to hide their relationship from the rest of the fraternity, Terence is made to deal with some of the harsher aspects of fraternity life.
There isn't really much of a narrative to speak of. The characters are barely defined. We are told that Terence is a law student, but we see little evidence of that in his life. One of the few books we see in the film is
The Secrets of the Da Vinci Code
, which even in the lowered standards of modern education, would still be unacceptable as a law text. The film is mostly concerned with the really inert gay romance between Terence and his roommate/fraternity superior. The film doesn't do a very good job of establishing why these two ever really go together. The way it plays, it seems like they ended up together because they shared a room.
There's a crippling indifference to the whole film. Men get naked, and sex happens, all of it happening randomly and without purpose. Of course, this is a criticism that applies to the entire genre, but
Brod
seems to be even more dismissive of any sense of storytelling. Bits of Gibraltar's subversive sensibilities shine through, especially in scenes that depict the torture that the frat neophytes go through. There, the film simply goes absurd, portraying frat culture as a barely-contained pressure cooker of latent homosexuality. That might have been interesting, but the film isn't really about that. It's mostly about a relationship that's really difficult to care about. The film features a cast of nubile young men, all mostly interchangeable with each other. They might have some acting talent, but this film is hardly a showcase for their cinematic skills. They are simply made to show up on screen wearing as little as possible, their value directly correlated with their willingness to bare parts of their body. The exception is Kenjie Garcia, who is distinctively emotive. This isn't a particularly good role for him, though.
Gibraltar is really too distinct a voice to direct a project that isn't his. His lack of interest in
Brod
really shows, and the result is a film that just refuses to come together. It feels like the characters are just milling around in a completely nondescript setting, randomly falling in another person's arms. There are glimpses of a better movie hiding between all the meaningless sex, but the industry doesn't really seem all that interested in the possibilities of the genre. Here, the frat is merely an excuse to get a bunch of naked young men lined up. No other aspect of it really matters.
My Rating: