Rep. Abby Aims To Make The E-Jeep More Affordable
posted on

Mon, 21 Jul 2008 12:00 AM
Now that the Land Transportation Office has approved the operation of electricity-powered jeepneys in Makati City last Tuesday, 2nd District Representative Mar-len Abigail S. Binay is keen on finding ways to make the
E-Jeep
more accessible to people.
"With the price of oil increasing everyday, I believe that the E-Jeep is not only a welcome treat for the environment but for everyone's pockets as well," remarks Rep. Abby.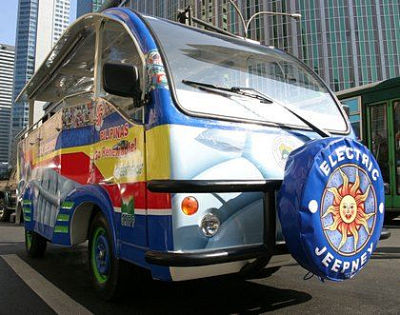 The E-Jeep, dubbed as
E-PHUV
or the
Electric Philippine Utility Vehicle
, aims to decrease air pollution in the Philippines with its use of electricity as its source of power instead of petroleum. The Motor Vehicle Parts Manufacturers Association of the Philippines (MVPMAP) calculates that the E-Jeep can run for eight hours at a maximum speed of 40 kilometers per hour and at a cost of only PhP1.76 per kilometer. Best of all, one only needs to charge it in an electric socket.
However, Rep. Binay understands that much as people want to embrace the new technology, there are certain obstacles which must be addressed first. The E-Jeep costs around PhP500,000 while a normal jeepney is only within the range of PhP300,000. This is why Rep. Abby is conducting dialogues with environmental groups and interested private companies to help make the price of the E-Jeep affordable for Juan de la Cruz.
"The Earth is alive and in one way or another it will strike back against our excesses, as we have seen from the recent spate of calamities in our country. Let's not hold back on investing for our environment," says Rep. Abby.