Have you seen Clinique's Fresh Bloom Spring 2007 Colour Collection in Beauty Bar Glorietta?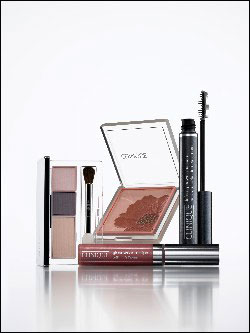 Characterized by shades of pink and floral, the spring collection is fun, exciting and flirtatious in nature as it aims to embody the "maximum impact with minimum effort" campaign. Carrying floral as a prominent print, the colour collection "celebrates seasonal spring flowers, like poppies and high fashion trends with beautiful, muted shades" while it creates a look that appears to glide on air – an overall look that is soft, luminous and beautifully glowing. Even though it is intended for spring, I believe that this collection will suit any season as long as it is worn with utmost confidence and refined and elegant fashion.
The collection is composed of the following:
NEW! Fresh Bloom Allover Colour (Php 1,500), NEW! Colour Surge Eye Shadow Trio (Php 1,440), Cream Shaper for Eyes (Php 1,000), Defining Power Mascara in Black Onyx (Php 1,290)
and
Colour Surge Butter Shine Lipstick (Php 990)
. All of which are available in
Rustan's
and
Beauty Bar
outlets.
With Make-up Artist, Ria Gamboa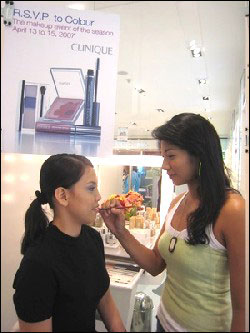 Although the spring collection is very sophisticated, Clinique's other line of make-up can sometimes be ignored by consumers due to its "safe" color nature especially the limited eye shadow selection. The biggest challenge of Clinique is to stand out among its numerous competitors who seem to take high risks in coming up with very extensive and experimental colour collections that, most of the time, hit the charts.
A FEW HEALTHY TIPS
TEST IT FIRST.
If you have very sensitive skin, I suggest that you apply a small amount of the cosmetic on your wrist area. Allow it to absorb and observe. If an allergic reaction occurs, don't buy it. This applies to all cosmetics, even if it says hypo-allergenic. You can never be too sure.
PRACTICE MAKES PERFECT.
Not everyone wears make-up. However, there are a few major occasions in our lives that we should wear it, whether or not we like it. Say, weddings or formals. Salon services are not always available and can be quite pricey. So, practice those make-up skills. If you're a beginner, ask someone reliable to teach you. In time, you'll be surprised to see how better you look when you do it yourself.
BE ADVENTUROUS.
Every season, a new shade or collection comes out. Don't be afraid to mix and match colors according to mood and season. It will give you that different but glam look that can make heads turn.
FEEL GOOD.
Real beauty comes from within. Make-up will not make you prettier unless, you feel good about yourself. You'll notice that your aura is much brighter and of course, you look really fab!