I've already sung endless praises about Banapple's divine Banoffee pie: it never fails to deliver such a heavenly saccharine experience. It's one good reason (among others) to come again and again to that restaurant. What can I say? The little bakery-café along Katipunan certainly hits my sweet spot.
So it would be no surprise at all that I was stoked when I heard the news from owners GJ and Maricel Jimenez. Their brand new baby is up and running: Banapple Tomas Morato! Barely two weeks in operation, their soft opening was nothing quite 'soft', as one lunchtime proved to me. Thanks to word of mouth and die-hard Banoffee fans, couples and groups entered in batches that day, all waiting to get their fill of the Banapple experience at the new Il Terrazzo complex.
">
Banapple at Tomas Morato
The feel of the place is bright and brand new, but there are the little knick-knacks that are reminiscent of the first branch: some magazines for your perusal, little shelves with country-style decor, an area for the shelves of breads, muffins, and cookies for people on the go or would opt to bring home the goodies.
Advertisement

Clipcast
Banapple
With delicious pies and mouthwatering meals, you'll simply go bananas for Banapple! Owners GJ and Maricel Jimenez sit down with ClickTheCity to talk about their bakery-café and their new Tomas Morato branch.
We begin our Banapple lunch with a platter of Lasagna Roll-Ups (P145). The smell is mouthwatering. Delicious herbed cream and parmesan cheeses fill up strips of lasagna and are served rolled up. The pasta is generously smothered with a classic tomato meat sauce and yummy mozzarella cheese.
">
Another item up for lunch was the Hickory Smoked Barbecued Country Ribs (P155). While this dish is not a brand new item of Banapple's, this was an instant hit to the tastebuds, the first time my father and I tried it months back. And knowing that the dish will not disappoint, I order the ribs for my two friends to try out.
">
My favorite for the day was hands down, the new burger of Banapple. Migs Gallabergher (P150) is a memorable burger, something I can fondly think of and crave for because of the burger patty unbelievably bursting with a lot of flavor.
">
The burger patty is the tastiest thing: while it is thick, I found it surprisingly tender inside, with its edges a bit burned and crunchy. It has this mushy consistency in the center, and is overloaded with herbs and spices. You can see from the patty itself how they do not scrimp on adding flavor, with bits of oregano, some rosemary, pepper, and other things that Maricel later tells me are "everything we have in the kitchen." I'm adding this one to my Banapple favorites for sure.
After a lot of raves and big smiles from my friends brought about our lunch, it was time to excitingly end our afternoon with Banapple pies. Three sweet-toothed ladies at Banapple waiting for dessert simply spells out giddiness in all levels!
">
Banoffee Pie
Up next was the towering hunk of a Dark Chocolate Tiramisu Cheesecake (P95-slice, P900-whole). Layers of mocha mousse, moist cheesecake, and dark crust make up this dessert; hidden between layers are big chunks of dark chocolate. It was such a handsome piece of cake: luscious, dark, with bold flavors that target the tastebuds on the right spots.
Myster-Reese's Wicked Pie
Lastly, I met a familiar slice of cake in the Super Caramel Fudge Cake (P80-slice, P740-whole). It's one of the richest, moistest cakes that I have ever eaten in my life. I do not exaggerate — this one's for the sweetest of the sweet-toothed folks, because honestly, a couple of bites from one slice is all I need to get that sugar overload. Insanely fudgy, ultra-sweet and extra moist, the 'super' in its name is no joke!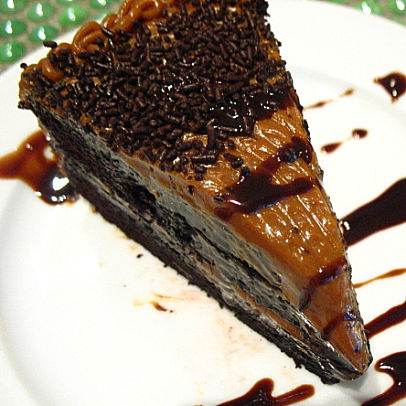 Super Caramel Fudge Cake
One thing I greatly admire about Banapple is how they never scrimp on the good stuff. You are always assured of that home-style comfort with their food, never short-changing you with subpar cooking and baking. It's as if you're sitting comfortably over at your Tita's place for a good lunch — you know, that Tita that everybody has, that just cooks really really well, and with every bite of her food, you can just tell it was made with lots of love.