Adarna Food and Culture recently turned a year old, having been in operation since January of 2008. Run by proudly Pinoy owners, this remarkable restaurant makes one quite proud of being a Filipino.
Chef Giney Villar feels very strongly about being Filipino. Naturally, it was fitting for her and her partner to put up a restaurant as a delicious way to promote things that are nice and good about being Filipino, and to take pride in what we have.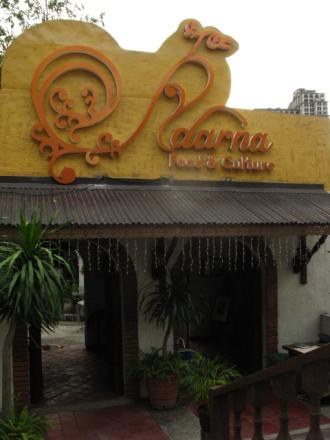 Why is it named Adarna? Beth Angsioco shares that they wanted to name their restaurant with something remarkably Filipino. Just like the Adarna bird in our folklore, their place has a certain mystery and magic, enchanting people with colorful layers of stories behind every dish and every object.
What sets their restaurant apart from others is that they clearly offer Filipino historical, regional, and heirloom cuisine. They have thoroughly researched on old recipes, turn-of-the-century cooking, and treasured family dishes that have been passed on for generations. It was a challenge for them to research and interview for their restaurant, because in the past, there were no chefs at homes and most of what they serve in the tables weren't written down. 'It's all a matter of taste,' adds Chef Giney, sharing how some of the recipes were quite a challenge to recreate, without a chef to interview and only having people describe the flavors.
And since Adarna serves traditional Filipino food, they adhere to traditional cooking methods as much as they can. No preservatives, no MSG, no 'instants'. Organic ingredients are used whenever they are available. A lot of their dishes, too, adhere to the slow-cooking method. Chef tells me that one can really distinguish the taste of slow-cooked meals compared to sped-up, commercialized and modernized methods. Also, Adarna offers vegan options for a lot of their items. For the customers with stricter diets, they can accommodate requests, just call them up prior to your visit.
Chef Giney gave us a tour around the restaurant before we sat down for a late lunch. Allow me to indulge a bit about the dining areas, as I believe they are as colorful and rich as the tapestry of flavors and spices their menu has to offer.
They have five dining areas. One is outdoors where most parties are held, since they can set up chairs and tables in a nice garden atmosphere that becomes more beautiful when lit up in the evening.
">
Sari-Sari Store
The main dining hall, Bulwagang Adarna, houses more vintage and antique knick-knacks: old money from different eras, old plantsas and framed artworks by local artists, a nearly 100 year old piano, chandeliers restored to their shiny, beautiful elegance.
">
Silid ng Bituin
The second function room is Silid ng Reyna, and as its crown-esque chandelier suggests, the room showcases photographs of Carnival Queens, the original local beauty queens of early 19th century.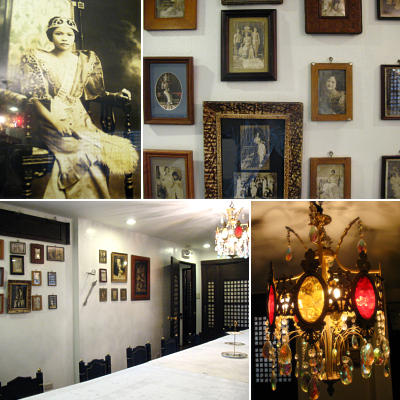 Silid ng Reyna
When you do visit Adarna Food and Culture, I suggest to chat up with the chef and ask her for a little tour of the place, perhaps while waiting for your order or after indulging on a heavy meal, to give you some time to digest. By the way, amidst all the vintage, old-world ambiance, Adarna offers Free WiFi, in case one needs to finish something online during their stay.
After our very entertaining and educational tour, we settled at the Bulwagang Adarna and had ourselves a Filipino fiesta right on our round table.
">
Batanes Yellow Rice
Of course, savory Filipino dishes are not complete if rice is not served. Adarna offers three kinds of rice – steamed, garlic, and the Batanes Yellow Rice (Single Serving – P65, Family Size, good for five – P130). It is a big platter of fluffy yellowed rice with turmeric, garlic and tiny pork bits. You may also have the option to have chicken bits in lieu of the pork.
">
Bicol Express
Adarna's Bicol Express (P284) should not intimidate foodies who shy away from the hot and spicy Bicolano fare. The finger chilis stuffed with pork and shrimps only gives a hint of hotness, served with a luscious coconut sauce.
">
Leyte Humba
If you like your Filipino dishes radiating with richness, then you must have some of Adarna's Leyte Humba (P185). The pork liempo itself is succulently cooked, letting the tenderness ooze out in every slice. The syrupy sauce has banana blossoms, black beans, and shallots. It will smother you with its dark, thick, and sweet dimensions. Perfect to drizzle over a serving of white rice.
">
Ang Morena, and Kesong Puti and Langka Fry
In no time, we were served dessert. The first two called out to me: a flan and a fried dessert. I tried the Kesong Puti and Langka Fry (P86) first. In this dessert, Adarna uses four pieces of Bulacan carabao cheese (kesong puti), embraces it with strips of home-sweetened langka, then wrapped and fried for a crisp outer layer. Dip it into some of the mango cream sauce and you are in for a treat.
Adarna takes the traditional Pinoy favorite and gives her a little brown twist. Ang Morena (P67.20) is a chilled flan with coffee, served with some cashew nuts in a Carnival coupe. Carnival glasses and carnival serving platters, I learned from Chef Giney, were giveaways in carnivals back in the day. I think my grandmother may have owned a couple of them.
">
Felicidad!
We ended our feast with a big glass of Felicidad! (P120). It's a highly refreshing cold drink made from eggs, cream and milk. The family recipe of which Adarna has tweaked a bit, with a little kick of rhum and vanilla, to spice things up. I must say the Felicidad is dangerously light on the palate, that I could chug down an entire bottle if it!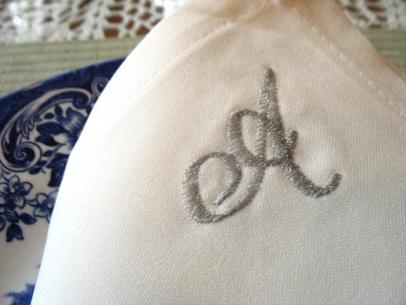 Adarna Food and Culture is my latest discovery in Quezon City, where I can enjoy Filipino historical, regional, and heirloom dishes in an intimate and culturally rich setting. Everything you see and taste in the restaurant is a conversation piece, and makes the experience all the more unique, especially when dining with close friends and with the older ones in your family. So why not take a trip down the memory lane and at the same time savor some time-tested dishes to make your dining experience more memorable?