In preparation for the World Lasagna Day set on Sunday, we've rounded up the places where you can get your cheesy lasagna fix. Unleash the Garfield within you and partake on these al dente treats!
When in Resorts World and craving lasagna, we head to Parmigiano Pizzeria Ristorante. We think that the right mixture of Bolognese sauce and the cream sauce makes this Lasagna (P295) the best among all the pastas served in this resto.
In McKinley? Why, do pick Sweet Pea! The taste of Sweet Pea's Beef and Mushroom Lasagna (P285) measures up with how mouthwatering it looks. It is as simple and hearty as how lasagnas are supposed to be. A bit on the sweet side, we all agree that the Beef and Mushroom Lasagna is hard not to like.
Lasagna Bolognese (P250) is also a must try in Powerplant Mall's Espressamente Illy. A book and a hot chocolate reportedly goes well with this hearty dish.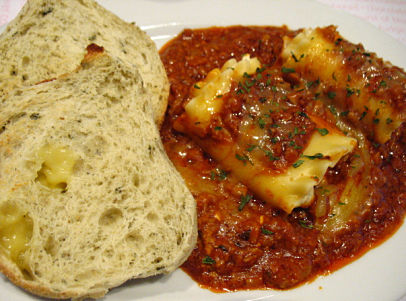 Did you know that aside from Banoffee Pie, superb lasagna can also be had at Banapple ? Their Lasagna Roll Up (P145) is generously smothered with a classic tomato meat sauce and yummy mozzarella cheese. Our mouths are drooling at the thought of them rolls stuffed with delicious herbed cream and parmesan cheeses!
Spud Diner puts a spin to traditional lasagna with its pasta-less Baked Potato Lasagna (P90). Instead of layers of pasta, get neat stacks of potato chips alternating with ground meat. Fantastic!
Our weekly highlights and entertainment guides, straight to your inbox
Goodles, known for their "fresh, fast and healthy" pastas, is throwing a treat to all lasagna lovers out there. Goodles Basic Meat Seven Layer Lasagna is on a special promotion of buy 1 and get the 2nd tub at only P99. We're definitely not missing out on this offer!
Wicked Kitchen's curiously named Ex's Lasagna (P215) spells out comfort food and it spells it clearly. What makes it stellar is the unexplainable charm of a home-cooked lasagna– just like the ones you get to taste when you visit your culinary proficient tita. It has the taste of sweet labor, you know, that one that hints that it was made especially for you.
The diet-conscious aren't exempted from the lasagna mania! Albeit low-fat, cheese-less, made of silken tofu, malunggay, eggplant, and zucchini, Pipino's Vegan Lasagna (P120) is arguably one of the best , if not the best, lasagnas in the metro.
Did your favorite lasagna place make the list? Hit the comments to share your personal recommendations!