CPK declared August 15 as National Pizza Day. While last week's celebration has long gone, our craving for those warm, round, and flat pies loaded with toppings never ends.
From Italian, American, local sweet picha, to different variations of thin and thick crust, you can find all kinds of pizza around the Metro to suit your taste and budget. It's good to know too that this tasty Italian invention is one of the perfect dishes to order for delivery when you want fresh and hot food delivered right at your doorstep!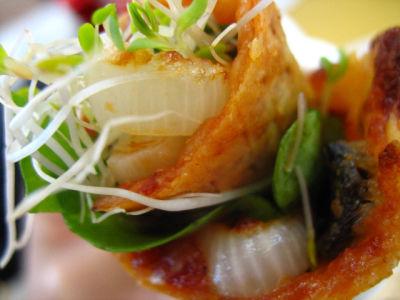 Craving for Dear Darla? Tap the ClickTheCity App to order this yummy pizza and more!
Be a voracious carnivore, an adventurous eater, or a veggie lover, there will always be a pizza for you. So if you're as pizza-obsessed as the Teenage Mutant Ninja Turtles, here's a helpful list of where you can get your fix!
Pizza Metro
When craving pizza big-time, why not get it supersized? Caffe Puccini offers Pizza Metro, a meter long beauty with four different flavors of your choice. Boracay's must-visit Italian restaurant, Aria, also serves Mezzometro di Pizza, a meter-long, woodfire oven-baked pizza. Visit their Manila branch at Bonifacio High Street Central.
Mezzometro di Pizza
Perhaps you're a pizza expert, no stranger to the classic and traditional flavors and toppings. Seasoned palates like yours will definitely want to try special flavors! Nolita has Wild Mushroom Walnut Ricotta and Pesto Grilled Chicken with Sundried Tomato.
Our weekly highlights and entertainment guides, straight to your inbox
Wild Mushroom Walnut Ricotta
Pesto Grilled Chicken with Sundried Tomato
Visit Bistro Casanova and order their Pachino Ripieno Costa di Pizza to discover an interesting take on the pizza: a more glamorous, bite-sized version! Bet you're curious to find out how that tastes like.
Pachino Ripieno Costa di Pizza
Some of the metro's tastiest pizzas are homegrown — local brands that offer the well loved dish in their own signature styles. Have a slice of Joey Pepperoni for affordable yet delicious contemporary Italian-American style pizzas like The Works, their staple everything-on-it pizza.
The Works
Have you tried Sandy Arellano's mouthwatering New York style pizzas? Because you should. Sandy's Pizza has interesting flavors like Thai curry pizza, and an irresistible White Cheese flavor that combines Kesong Puti, Parmesan and Mozzarella.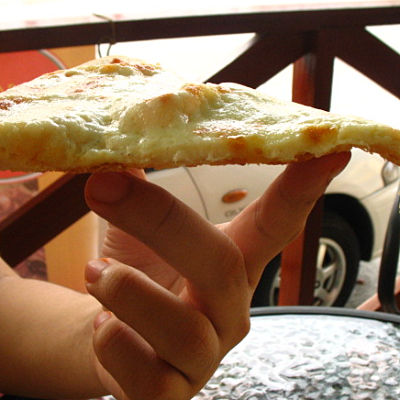 White Cheese
Speaking of cheese, cheese lovers ought to check out Capricciosa's Quattro Formaggi: a thin crust, crispy pizza with Mozzarella, cream cheese, Parmesan, and blue cheese.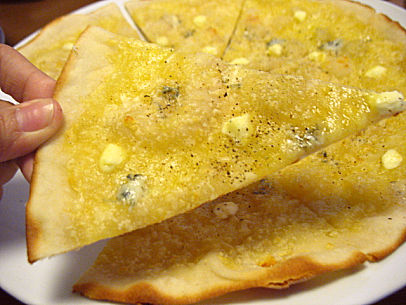 Quattro Formaggi Pizza
How about pizza that you dunk in a special sauce? That's Papa John's Pizza for you. Choose a dipping sauce to partner with your pizza (special garlic is the popular choice). Order the Super Papa's (packed with pepperoni, Italian sausage, chicken, mushrooms, onions, green peppers, and black olives), and you're definitely in for a filling treat.
Super Papa's
Last, but not the least, let's put the spotlight on rolled pizzas, tasty treats that are as fun to eat as to prepare. Torch Restaurant offers a Pepperoni Panizza, a thin crust panizza that's as tasty as it is colorful.
Pepperoni Panizza
Focaccia also has their version of the rolled pizza. Their Pazzo Rollo is a best seller, and you can choose what topping you fancy for this. There's also Uncle Cheffy Brick-Oven BBQ, known for their brick oven global cuisine and their perfectly crisp, brick oven panizza. Try the East Meets West, a curious combination of three cheeses, parma ham, salami, kesong puti, salted eggs, tomatoes and mango.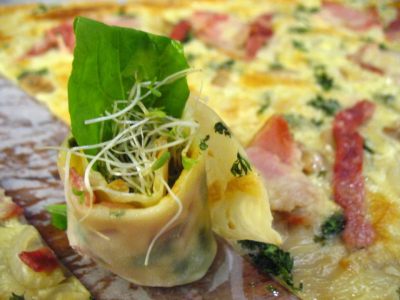 Pazzo Rollo
East Meets West
There are more awesome pizzas across the city and around the metro, and it's always a joy to discover a pizza place where we can grab a slice or two, or more. If you're not seeing your favorites in the list, just hit the comments section and share to us where we can find your favorite pizza!
—

Craving for more pizza choices? Browse through the restaurants in our listing here. You can also tap the ClickTheCity Lifestyle App to order your favorite pizzas for delivery through Mobile Ordering!