In celebration of World Vegetarian Day, we give you a rundown of our favorite places where we usually get our veggie fix. Read on to know where to get exciting meatless dishes that can rival their meaty counterparts!
Pipino Vegetarian Food started out as the healthier line among the hearty food served at Pino Restobar. When an opportunity to open a restaurant right above Pino came, Pipino was born.
Pipino's Vegetarian Kare-kare
What to get here? Aside from the well-praised Vegan Lasagna (P120), Pipino's Vegetarian Kare-Kare (P165) with bagoong rice and Vegan Bagoong (can be bought at P125 per jar) is impressive. Pipino makes the impossible possible by complementing the saucy kare-kare with a vegan bagoong that's made from black beans and muscovado sugar.
The Vegetarian Kitchen is on a mission to change the perception that vegetarian food is bland. Their strategy is to re-create carnivorous dishes like meatloaf, spareribs, and Lengua Estofado without using any meat.
Vege Tocino with Fried Vegetable Couscous and Egg-less Tomato Salad
When at The Vegetarian Kitchen, try the Vege Tocino with Fried Vegetable Couscous and Egg-less Tomato Salad (P210)— a meatless take on the Pinoy's favorite cured meat. The veggie tocino made from textured vegetable protein (TVP) has all the qualities of a real tocino: bright red color, burnt caramelized edges, sweet-salty flavor, and a stringy and quite springy texture. Serve this in a blind food tasting session and even the most discerning foodie will be fooled by this mock meat.
RawVolution— Cheloy's Living Food Cuisine is an unassuming restaurant that mainly caters to the health conscious ones, as it only serves raw food and vegetarian dishes.
Asian sushi rolls
For starters, try the Asian Sushi Rolls (P240), which really seem like the real thing. Except when you look closely, you won't see any grains of white rice and salmon or tuna, but rather different kinds of fresh vegetables in its place.
Quantum Café, situated at Kamagong corner Bagtikan Streets in Makati, has a healthy all-you-can-eat spread made crave for some good eats. Every Mondays and Tuesdays, diners can indulge in a vegetarian smorgasbord during lunch or dinner for only P250. For that price, you can treat yourself to an eat-all-you-can set menu that includes soup, entrée and dessert. Bestsellers in Quantum Cafe include: Vegetarian Pancit Bihon, Full Shroom Mushroom Pizza, Malunggay Pesto Pasta, Carrot Red Pesto Pasta, and Veggie Macrobiotic Burger.
Vegetarian Pancit Bihon
Take a break from all grease and gore of your current unhealthy diet by paying a visit to Corner Tree Cafe. Be sure to get their bestseller– the Baked Tofu Walnut Burger (P240) when at this homey resto along Jupiter Street.
Tofu Walnut Burger
Those looking for a warm tummy-filler can look at Sugarleaf for their Pumpkin and Carrot Soup (P60)— a thick puree of squash and raw carrots.
Pumpkin and Carrot Soup
Albeit not a vegetarian resto, this all-organic restaurant has lots of food and drink options for vegans and vegetarians.
We all know how sinful sisig is to our health, so here's a healthier option for you: why not try Greens' Veggie Sisig (P140)?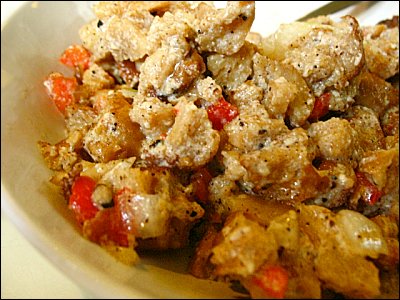 'Veggie' Sisig
Of course, the dish doesn't have the exact taste of the meaty sisig that we crave for – Greens doesn't want to hide the characteristics and nuances of vegetables, but rather present it to you in a familiar way, serving traditional favorites with their own vegetarian twist. The Sisig has gluten meat prepared in the usual way, but with lesser oil and of course, lesser guilt.
Did we miss your favorite vegetarian restaurant? Hit the comments to let us know your recommendations. You may also check this link to search for a vegetarian restaurant near you.