In celebration of World Pasta Day, we've rounded up our favorite go-to places when we're craving al dente pasta. Get your saucy carb-fix at the following places:
Lombardi's
312 Santolan Rd. corner Jose Abad Santos St.
San Juan, Metro Manila, Philippines
(Robinsons Magnolia Branch will open this month)
(+63 2) 726-6713
Lombardi's, San Juan's best kept secret Italian restaurant, houses fresh, homemade pastas made by Chef Davide Lombardi.
Taglierini al Brucio
Seafood Pasta
Proud of his country's cuisine, Chef Davide aims to impart to Filipinos, the real, unadulterated flavors from the different regions of Italy. Get the simple but outstanding olive oil-based Seafood Pasta or the classic ragù-based Taglierini al Brucio to know how the real deal tastes like.
Va Bene Pasta Deli
2nd Level, Petron Gasoline Station
EDSA cor. Arnaiz Avenue, Dasmariñas Village
Makati
(+63 2) 556-9442
Although he cannot promise the breathtaking view of the Colosseum, the Italian chef of Va Bene Pasta Deli promises to take you to the streets of Italy with their freshly made, hand rolled pastas.
Spinach Ricotta Ravioli and Salmon Canelloni
The best thing about Va Bene is that they offer pre-made, dried pastas (100g for P65 to P85) for people to take out and cook at home. They even have some suggested recipes on how to cook the different types of pastas and which sauces best complement them. They have these take out pastas in basil, olives, tomato, mixed herbs and saffron flavors.
Caffe Puccini
Unit 12, The Fort Strip, Fort Bonifacio Global City, Taguig
(63 2) 816-3054 to 55
For folks at the Fort area, Caffe Puccini remains a top draw when it comes to pizzas and pastas.
Fettuccine con Funghi e Olio di Tartufo
When at this cozy restaurant, order Fettuccine con Funghi e Olio di Tartufo (P395). This dish features home-made fettuccine, truffle oil, cream, and mushrooms. As the ingredients suggest, this dish is incredibly rich, so may want to share it with someone, however tempting it will be to eat all by yourself.
Aria Cucina Italiana
Bonifacio High Street Central, Taguig
Aria recently brought its signature flavors from the shores of Boracay to the metro's Bonifacio High Street Central.
Marinara Pasta
At Aria you may choose from over a dozen pasta flavors, and you can also choose to have it prepared with penne, spaghetti, or fettuccine pasta. Their Marinara Pasta (P450) is lauded for being flavorful with just the right amount of tartness.
Il Ponticello Cafe Ristorante
2nd Level, Antel 2000 Corporate Center, Valero St., Salcedo Village, Makati
(63 2) 887-7168
Il Ponticello, which means "little bridge" in Italian, is everyone's favorite hangout place in Salcedo. Aside from being known for their hardcore Azzurri cocktail, their steady ambiance, and their new bar drinks, Ponti is also a go to place when hankering Italian food.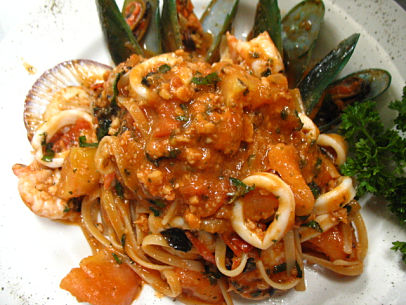 Frutti Di Mare
Pick their Frutti Di Mare pasta, which is served with a basket of fresh, warm bread, which was soft in the middle and crispy on the edges. The sauce is real tomatoes, with the familiar slightly sun-dried taste you will absolutely adore.
Capricciosa
Greenbelt 3, Ayala Center Makati
(+632) 757-7811
Capricciosa has been around over 30 years and pleasing people's palates in over 150 branches in six countries. This successful 'Ristorante Italiano,' albeit spearheaded by a Japanese chef, promises its customers that authentic Italian experience all set up in a casual atmosphere.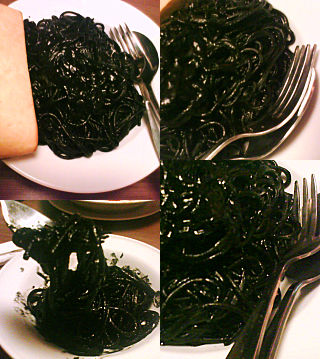 Calamari and Onion in Squid Ink Sauce
If one dish should embody Cappriciosa, then Calamari and Onion in Squid Ink Sauce (Small – P365, Large – P650) is the one.
It's Capricciosa's 'ugly duckling'– slightly unpleasant and will probably not incite hunger. But eat it and you'll discover the surprising rich flavor of squid, with little crunches of onion. The thick sauce makes the experience a little more playful, since it's hard to tell with the dark color if you're getting some onions on your fork or some calamari.
Isabelo Garden Restaurant
(private dining by reservation)
11 Isabelo Mendoza St., San Roque, Marikina
A hidden gem at the heart of Marikina, Isabelo houses excellent continental dishes– pastas, included!
Isabelo Lokal Bolognese
If you like something oily and slightly tangy, order the Pasta Portobello. But if you're into tomatoes and longganisa, order the Isabelo Lokal Bolognese . Either way, you are sure to be filled up with the hefty servings.
Esprimere Italian Deli
8101 Pearl Plaza, Pearl Drive, Ortigas Center, Pasig
(63 2) 383-0913
Esprimere Italian Deli is an establishment in the Ortigas area where authenticity and fair costs reach a compromise.
Penne Arrabiata
Try their Penne Arrabiata (P175), a spicy, tomato-based dish guaranteed to perk your appetite or maybe the Gorgonzola (P250), a pasta dish that will definitely be a hit among cheese lovers.
Malcolm's
138 H.V. Dela Costa St., Salcedo Village, Makati
(63 2) 403-9484
Albeit known as a steak place, the dark and brooding Malcolm's can also satisfy your pasta cravings.
Homemade Linguine with Truffle Cream Sauce
The Homemade Linguine with Truffle Cream Sauce (P450), which is available only for dinner, is one sexy pasta dish, with its titillating aroma and equally exciting, luscious flavor. Truffle, cream and cheese. How can you say no to that?
For quick and budget-friendly pasta meals, we suggest you to try these places:
Goodles
Robinsons Galleria and University Mall
What to get: Creamy Sausage and Mushroom, Grape Carbonara, Mediterranean Tuna, Moroccan Beef, and Salsa Rossa Shrimp
Banapple
Katipunan, IL Terrazzo Mall, Ayala Triangle Gardens, Alabang Town Center, Greenhills, Market! Market!
What to get: Lasagna Roll-Ups, Pasta Verde, Fettuccine Jacintha
PenPen
15-A Gen. Romulo Ave., Cubao Expo, Araneta Center, Quezon City
What to get: Pinggoy's Pasta Aligue (P175)
Peanut Butter Company (PBCo.)
SM MOA, Paseo de Roxas
What to get: Classic Spaghetti (P135)