Do-It-Yourself concept is fast becoming a trend among the restaurants in the metro. At these DIY restaurants, diners get to play chef as they choose, assemble, or even cook their own food, sans the hassles of purchasing, preparing, and cleaning up the ingredients.
In this article, we've listed 11 restaurants that lets you customize your dining experience. Which one is your favorite?
Slappy Cakes
Branches: Eastwood, SM North Edsa The Block, SM Jazz Makati, SM Aura Premier
Budget: P400/person
Originally from Portland, Oregon, Slappy Cakes serves pancakes, bacon, French toasts, and the rest of the AM gang– all day, every day for those who cannot get enough of breakfast food. But unlike the other all-day breakfast places in the metro, Slappy Cakes differentiates itself by offering its guests a fun DIY experience: you get to decide what to put on your pancakes and cook them yourself.
First, decide on your choice of batter. Options are: Buttermilk, Whole Grain, Peanut Butter, Chocolate, and Vegan. Then, choose some fillings: Chocolate chips, Apples, Mangoes, Bananas, Raisins, Blueberries, Coconut, and Nutella. Finally, add some toppings: Honey, Creamy Peanut butter, Lemon Curd, Apple Sauce, Chocolate Sauce, Spring Onion Sour Cream, Whipped Cream, and Maple Syrup. Pancakes can be cooked and topped with savory ingredients, too.
Creative diners take advantage of this DIY concept by making pancakes that spell the letters of their names or drawing fun shapes and figures. Kids and kids at heart are all welcome to play with food at Slappy Cakes.
Juju Eats
Branches: Chino Roces, Makati and Eastwood
Budget: P200/person
Juju Eats is the country's first dedicated full-service salad bar and restaurant that caters to health buffs, vegetarians, and those who want to take a break from their usual meals oftentimes replete with sodium and grease. There are staples in the menu but for those who want a more personalized salad, Juju Eats encourages that you do-it-yourself.
The salad bar houses an extensive selection of toppings such as mushrooms, cheese and grilled meat, as well as salad bases like Romaine lettuce and pasta. According to their computation, over 5000 combinations can be created in store. Making your own salad at Juju Eats is easy. First, choose if you want it in a bowl or wrap. Then choose the base. Freebies, extras, and dressing can be decided afterwards. Juju Eats' website (www.jujueats.com) lists the nutrition facts of the stuff they serve, down to the calorie content.
BRGR: The Burger Project
Branch: Maginhawa St., Quezon City and Makati City
Budget: P300/person
At BRGR, you'll be given a clipboard with a checklist. The process is simple, much like filling out a survey. First, you are to choose what type and how many burger patties you'd want in your burger. One burger can have as much as three patties. Below that are options for buns, cheeses (eg. Bleu, Mozzarella, Gruyere, Cheddar) toppings (eg. bacon, chili con carne, pepperoni, guacamole, tomatoes, egg, kimchi, etc.). There's also a checklist for the sides. Finally, you'll be asked to name your burger as they total how much you'd pay for.
A plain burger here can be had at P125 while the more ludicrous ones (e.g., a Four Cheese Burger) can set you back P300+.
Ramen Nagi
Branches: Mall of Asia and BGC
Budget: P500/person
Ramen Nagi Manila offers a unique ramen experience by empowering its customers. Using the Omotenashi Sheet, you are to choose the ramen that suits your craving: Butao King (P390), Black King (P410), Red King (P410), Green King (P410), and the Limited King (P410). Once you have made your choice, customize your ramen further by ticking your preference:
Richness of Taste – light, normal, or rich
Special Sauce – none, light, normal, or heavy
Garlic – none, light, normal, or heavy
Pork topping – none, shoulder, or belly
Vegetable – none, green onion, or cabbage
Butao home made fire sauce (spicy) – level from 1-10
Noodles – extra hard, hard, normal, soft, extra soft
Ramen Nagi's Butao King with extra Tamago
Pepper Lunch
16 branches all over the Philippines
Budget: P300/person
If sizzling hot meals is your thing, then you must check out Pepper Lunch. This casual restaurant which started in Japan during the mid-nineties is first to offer the Do-It-Yourself steak topping concept to Filipino customers. The menu mix of the restaurant is composed mainly of steaks and rice dishes.
At Pepper Lunch, the kitchen staff prepares all the necessary ingredients for your meal and puts all of them on the special patented Pepper Lunch hot plate. You are to mix everything together with Pepper Lunch's special butter. Special honey brown sauce (Amakuchi) and garlic soy sauce (Karakuchi) can be added to enhance the flavor.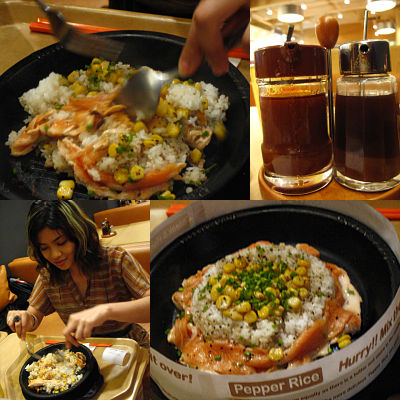 Project Pie
5 branches in Metro Manila
Budget: P400/person
Project Pie, a custom built artisanal pizza concept from the United States, opened in the Philippines last year. At Project Pie, you can order a personal sized pizza by number (P285) (seven pre-designed topping combinations to choose from; Classic Cheese Pie costs P245), or build your own (P285) from the sauce up to the many toppings.
A partner will ask you which pizza sauce would you want to go with the dough, and then hands you over to another partner for your cheeses of choice. Afterwards, another partner takes charge of the toppings, such as the meats and herbs, before they pop it in the oven and your payment at the cashier. All throughout this quick and engaging process, they call you by first name and explain the toppings. After you pay for your order, it takes just a couple of minutes for your pizza to be cooked, and they call out your name by the counter once it's ready. Then grab your pizza, and some napkins and utensils at the stand, and you're good to go and eat!
Mad for Pizza
Branch: Il Terrazo, Quezon City
Budget: P300
Like Project Pie, Mad for Pizza gives you the option to assemble your own pizza. The difference here though is the pricing is static. Put all the toppings you want on the pizza, and just pay P280. There's an extensive selection of toppings: Mozzarella, Parmesan, Romano, Asiago, Cream, Cheddar, Blue, Feta, and Provolone cheese, veggies like bell peppers and olives, seafood such as shrimps, cream dory, and anchovies, and meat: meatball crumble, Italian sausage, grilled chicken, pepperoni, sliced steak, Parma ham, and bacon.
Photo from Mad for Pizza's Facebook Page
Huat Pot
Branch: San Juan
Budget: P700/person
Huat Pot, a fairly new restaurant at Metropoint Center in San Juan, aims to carry over a sense of DIY creativity to noodle soups. They offer an all-you-can-eat dining experience at only P688, which is inclusive of unlimited access to the hot pot station, taho (silken tofu dessert), Magnum ice cream, and eleven kinds of drinks.
The first order of business would be to choose two from among four different types of soup: Huat Pot, Satay, Mala, and Vegetarian. Then you choose from an array of sauces and condiments. Finally, you choose which ingredients to include in your noodles. Few of the options are: watercress, mustard leaves, sweet potato, taro, lamb, prawn, fish, and squid balls.
Hwangso Ga
Branch: Ermita, Manila
Budget: P400/person
Hwangso Ga specializes in Samgyeopsal—a Korean style of grilling pork belly on your table. Cooking it is as easy as flipping the meat every once in a while. The level of doneness is your call. Once cooked, you wrap the meat in lettuce leaf and dip it in the different sauces available.
Hwangso Ga is an eat all you can restaurant so you may cook as many slices as you like. A DIY restaurant through and through, Hwangso Ga also has a make your own bibimbap and Korean noodles station.
Samgyeopsal Lunch Buffet – Php 349
Samgyeopsal and Beef Brisket Dinner Buffet – Php 399
Photo from Hwangso Ga's Facebook Page
Sambo Kojin
Branches: Eastwood, Greenhills, West Triangle, SM Southmall, SM Megamall
Budget: P600-P700 per person
Sambo Kojin, like its groupmates: Kamayan, Dads, and Saisaki, also offers an eat-all-you-can concept. But unlike the others, Sambo Kojin specializes in yakiniku—the Japanese style of grilling your own food. Your buffet ticket will give you access to a fairly wealthy selection of meat marinated in different sauces, a few seafood, mushrooms, and vegetables—all of which you can grill on your table. Special sauces are also provided for extra flavor.
Rates:
Monday to Friday lunch buffet: P599
Monday to Friday dinner buffet: P699
Saturday – Sunday and Holidays lunch/dinner buffet: P699
Magnum Manila
Branch: SM Aura Premier
Budget: P100
Rich and chocolate-y pleasures await dessertarians at Magnum's pop-up store at SM Aura Premier's Sky Park.
The highlight of the dessert store experience is the chance to Make Your Own Magnum where you get to create the Magnum bar of your sweetest dreams (over 250,000 possibilities!) for P100. Start by choosing between the chocolate truffles or vanilla Magnum bar then pick out 3 different toppings from the current 18 that are available. Toppings are divided into classic (mini mallows, crushed Oreos, roasted almonds), special (honeycomb, chocolate crunch balls, speculoos cookies) and experimental (Queso de bola, parmesan popcorn). Then choose between gold, white, dark or milk chocolate for your dip and drizzle.
—
Do you know of any other DIY restaurants? Share your find with us in the comments section below.