Foodies desiring to level up their food experiences are now spoilt for choice with many dinner destinations offering degustación.
Longganisa Ice Cream by Chef Jordy Navarra of Black Sheep
Degustación (or degustation) is also widely known as a tasting menu, and it is an ideal dining experience for someone who wants to fully appreciate the talent and creativity of the chef. Instead of just typically ordering one or two dishes for a meal, a customer is presented with an array of courses (from 4, 5, 6 courses and even up to 12, 14 and 16!), and these arrive in smaller plates, compared to an order that is a full-sized meal. So you have a sampling of the expertise of a chef, be it his specialty on certain cuisines, techniques, or what is readily available and fresh in the market. "It's a way to show the craftsmanship of a cook, and the way to usually do this is in small courses, and is usually in multiple courses," explains Chef Rob Pengson in an interview, "If you were an artist in music, you're judged by your whole album. If you were a fashion designer, it's your line, your collection. So if you're a cook, it's your tasting menu."
Chef Bruce Ricketts slicing up marbling blocks of fatty otoro (tuna belly) in Mecha Uma
Photo from Mecha Uma Instagram
Quesong Puti Salad from the Rizal Menu of Chef Rob Pengson in The Goose Station
As degustacions are specially curated, freshly prepared, with plates arriving on your table course by course, expect your dinner to be slow-paced, lingering to even up to two hours (or more, depending how many courses you will partake). Ambiance plays an important role, too, and usually restaurants serving degustation step a level up on interior design and decor. Your server for the evening, or even the chef himself, will present each course and explain the dish, transforming your dining experience into not just an activity of sustenance, but also entertainment. This is also a reason why tasting menus are priced considerably higher–prepare a budget of over P1,500 to P3,500 per person (and some dinners can cost even more), depending on the number or courses, and also if you opt to pair your courses with wine.
Inside Gallery VASK in BGC, where dinner is served from 6:30pm to 8:30pm

Inside Black Sheep in BGC
For evenings you want to impress your date, celebrate special events or milestones, or simply when you are craving to pamper your palate with a unique gustatory experience — here's your cheat sheet of ten places in Manila where food, art, and entertainment combine.
Photo from 71 Gramercy website
1. 71 Gramercy (Chef Carlo Miguel)
71gramercy.com | FB: /71Gramercy | IG and Twitter: @71gramercy
At the tallest restaurant-lounge in the country, expect a evening cityscape view unlike any other in the metro. To go with the stunning view, Chef Carlo Miguel of Draft Gastropub, Beso Cucina Vinoteka, and Black Olive Cerveceria fame transforms fine dining into 'fun dining' with his take on modern European cuisine and molecular gastronomy.
Budget: Two 6-course menus available – Degustation Classic (P1,880) and Degustacion Modern (P1,880)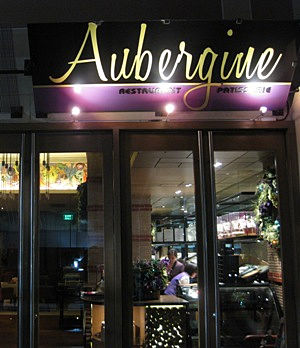 2. Aubergine Restaurant & Patisserie (Chef Julian Köberl)
Aubergine.ph | FB: /AubergineManila | Twitter: @auberginemanila
The Austrian Chef de Cuisine's talent in fine dining cuisine was honed in European restaurants and hotels, and his previous culinary stints include 101 Restaurant at Enderun Colleges and Joël Robuchon's fine dining restaurant in Singapore. Aubergine also combines culinary professionals and seniors from International School for Culinary Arts & Hotel Management (ISCAHM), and in 2009 was listed in Miele Guide as one of Asia's Top 20 Best Restaurants.
Budget: Their most recent Degustacion Menu for last December was a 10-course dinner priced at P2,750+ (P3,100+ for steak option and additional P200+ for a cheese course); check their website or inquire via 856-9888 for their latest menu.
3. Black Sheep (Chef Jordy Navarra)
blacksheepbgc.com | IG and Twitter: @BlackSheepBGC | FB: /blacksheepbgc
Chef Jordy's modern approach to local fare and showcasing our local culture through his food has been garnering much attention ever since Black Sheep opened. The talented Filipino chef has worked in some of the best Michelin-starred restaurants: Bo Innovation in Hong Kong, and Heston Blumenthal's The Fat Duck in England.
Budget: 5-course dinner for P1,900+, 7-course dinner with drink pairing for P3,400+ (add P1,900 for Tenderloin, P1,900 for Striploin, and P2,200 for Rib Eye)
4. Gallery VASK (Chef Jose Luis 'Chele' Gonzalez)
galleryvask.com | FB: /galleryvask | IG: @galleryvask
At the helm of all VASK concepts (Dining Room, Gallery, Curve, and Deck) is Chef Chele, who's previous culinary stints include elBulli, Anda Mari, and Mugaritz. Also, he is opening his new paella restaurant, ArroZeria, by February 1st. At Gallery VASK, he showcases what he calls 'Creative Conceptive Cuisine.' The Spanish chef is slated to participate at Madrid Fusion Manila, a prestigious 3-day gastronomy congress this April.
Budget: Two degustacions highlight Chef Che's love for Filipino cuisine — 'Alamat' (16 courses) is the whole menu experience, while 'Lakbay' is a reduced course option. Both are seasonal and constantly changing, along with the new art installed in the gallery. Expect to shell out about P5,000 per head, and for wine-pairing an additional P2,500+.
5. The Goose Station (Chef Rob Pengson)
thegoosestation.ph | FB: "The Goose Station" | IG: @thegoosestation_mnl
Considered one of the pioneers of degustacion in Manila, Chef Rob is now on a mission to challenge what is known as traditional Filipino cuisine with his progressive Filipiniana concept. In his Rizal-inspired menu, he re-imagines our country's history in ways we have never experienced before. Like Chef Chele, he will be participating in Madrid Fusion Manila.
Budget: 7-course Discovery Menu is P2,500 (add P950 for wine pairing). The Filipiniana Menu (8-course for P3,500+) is available only for pre-bookings, is subject to the availability of the chef (he is required to be present during service), and is available for a minimum of 12 persons.
The restaurant will be closing for repairs on February 15, 2015 and will re-open March 12, 2015.
Photo from Lechon Degustacion at Pepita's Kitchen Facebook page
6. Lechon Degustacion at Pepita's Kitchen (Dedet dela Fuente)
FB: "Lechon Degustacion at Pepita's Kitchen" | IG: @pepitaskitchenph
Known in foodie circles as the Lechon Diva, Dedet dela Fuente's home transforms into a beautiful venue for a private dining experience with her signature lechon de leche as its main attraction. Her stuffed lechon de leche is a hit among parties and is available to-go, but her lechon-filled degustation (previous dinners were 12, 14, and 16 courses!) also shows off her finesse in other ingredients and techniques, proving her cooking prowess goes beyond the porky protein.
Budget: 'Hayop na Degustacion' menu is available for a month, and afterward will give way to a new degustacion menu. Each degustacion carries a theme, so every dinner event is different. P3,500+ per person (minimum of 15 people) for a 12-Course, 3-hour Degustation Lunch or Dinner, inclusive of 1 stuffed lechon de leche of your choice. Private degustacion dinners by reservation only, e-mail pepitaskitchen@gmail.com
7. Mecha Uma (Chef Bruce Ricketts)
mechauma.ph | IG: @mechauma
Bruce Rickett's artistry on a plate has been highly praised (and Instagrammed) since his days in Sensei Sushi in the south. As the head kitchen ninja at Mecha Uma, the twenty-something chef serves his creative takes on global cuisine with Japanese inflections, and his tasting menus highlight seasonal ingredients. Highly recommended to book seats weeks (even a month) ahead, as the fairly new restaurant is already that popular…and good.
Budget: The Tasting Menu is a 10-course Omakase ("no menu" a.k.a. "all up to the chef") that changes every evening, as it is based on the seasons and availability of ingredients. Expect a price range of P3,000 to P3,800 per head.
8. Ninyo Fusion Cuisine & Wine Lounge (Chef Niño Laus)
FB: "NINYO Fusion Cuisine" | IG: @ninyofusion
This Quezon City garden restaurant has constantly evolved its food through the years, and continues to be a top date place in the north with its cozy and intimate atmosphere. Chef Niño fuses Filipino, Japanese, and French in creating his artistic dishes.
Budget: Many tasting menus to suit different cravings and budgets — Degustation Tokyo (P1,200), Degustation Lyon (P1,500), Degustation Osaka (P1,900), Degustation Burgundy (P2,950), and Degustation Paris (P2,990 for 2 persons, by reservations only). A special 7-course Valentine's menu (Degustation Nostalgie, P2,500) will be available from Fenruary 11-15, 2015.
Photo from Sala website
9. Sala Restaurant (Chef Colin Mackay)
www.salarestaurant.com
Chef Colin Mackay's most recent culinary offering to the metro is the much talked-about Blackbird, a fine dining aviation-themed restaurant at Ayala Triangle Gardens. But the Scottish chef's long-standing restaurant, Sala, still shines bright in Makati–as is his other establishments, Sala Bistro and People's Palace. Expect a fine sampling of European and Mediterranean flavors showcasing their newer items on Sala with their degustacion.
Budget: P2,100 for 5 courses, additional P1,400 for 5 suggested wine pairings (90ml pours)
Photo from City of Dreams Manila website
10. The Tasting Room, City of Dreams (Chef William Mahi)
www.cityofdreams.com.ph | FB:/cityofdreamsmanila | IG:@cityofdreamsmanila
City of Dreams is yet to have its grand opening, but already an upscale dining destination at the Crown Tower has been garnering raves from discerning foodies. With a French chef armed with Michelin-starred restaurant experience, The Tasting Room is out to redefine fine dining.
Budget: 'Make your own degustacion' concept is currently priced at P3,200 for 5 courses, P3,600 for 6 courses, P4,200 for 7 courses, and P4,500 for 8 courses.