Attending college in UP Diliman is as intellectually stimulating as it is gastronomically.

Practically every street has a stand for street food: isaw (chicken or pork intestine marinated in a sauce of your choice), squid balls, fish balls, chicken balls, cheese sticks--and nobody didn't eat these. The SC (Shopping Center) has eateries facing one another that sold everything you could possibly add -silog to. You can buy sticks of the sweet snacks like banana cue, turon, and carioca from the (usually) old ladies with trays who roam from one college hall to the next. Then there's the manong who surreptitiously sells monay that you can have with cheese all for ten pesos. Just don't let the UPD Police see him selling from his bike so Manong can keep his ten pesos and you can eat your monay without guilt.

The freshman survival guide catalogs it all, giving just enough caution and leaving the adventure to the freshie. Certain colleges' canteens even get famous for a specialty, like the stir fry at the the College of Science. And if you know where else to look, surprises lurk in some corners. Those with higher allowances can go to the establishments all the way in Katipunan, or visit the Chocolate Kiss Café. But even with a limited budget, it seems that you couldn't graduate without having eaten at the Choco Kiss. Otherwise, college life in UP just wouldn't be complete.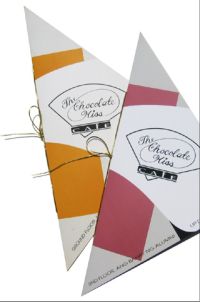 From its name alone, it's easy to take it as a cafe that strictly serves sweets and coffee. But sweets are just one of its offerings. There's more on the menu to satisfy a spacious stomach.

Soups come in three choices: chicken asparagus, cream of mushroom, and fresh tomato. Sides include chicken lollipops (P128), French fries (P75), garlic mashed potatoes (P65), baked potato (P102), or focaccia bread with a pesto dip (P80). Salads go from P120-160. You can have a Cesar's, Chef's, or Taco Salad for starters.

Most sandwiches come with a side salad or French fries/potato chips. Try the three-in-one Kiss Club (P140) which is made up of chicken asparagus, tuna, and German frank or the Adobo Pan De Sal and Spanish Sardines which are served with good old pan de sal.

Ten kinds of pasta dishes are available, and all come in servings that may be enjoyed by two. The Chicken Alfredo (P140) is recommended, along with the Gamberi and Seafood Pomodori for seafood lovers. The House Specialties all live up to their collective name. Some are served with a rice or garlic mashed potato option (+P20), like the Barbecued Chicken (P175), Hickory Smoked Spareribs (P195) and Chicken a la Kiev (P185). The Chix in a Basket (P160) is their version of chicken fingers, and may be ordered as an appetizer. The Beef Stroganoff (P145) comes with either rice or fettuccine noodles.

Filipino Favorites include Beef Tapa, Chicken & Pork Adobo, Daing na Bangus, and Longanisa (pork sausages come from Vigan, Ilocos Sur) which all go for P148, except Lumpiang Ubod (P98, two pieces) and Beef Caldereta (P170). These are served with garlic rice, tomatoes and salted/fried egg.


For the beverages, the fruit shakes are the most costly at P70. Most of the drinks would feel like a steal, though, especially the coffees. Whereas a cup of hot chocolate can cost as much as P80 in other cafes, here it costs half. Tea, soft drinks, and cappuccino are available. Beer seems to be absent from the choices, though. Just as well, because it's better to enjoy the bestseller, the iced tea. A bottomless glass is P55. Enjoyed with honey that you pour onto your glass yourself, many swear by its distinctive taste.

Of course, a restaurant whose name is crawling with ants would not let sweet tooths down. Their array of sinful cakes include Devils' Food Cake, Blueberry, Cheesecake, Carrot Cake, Dayap Chiffon Cake, Kahlua Butter Cake, Prune Cake, Date Walnut Cake, and Spritsar. Many are drawn to the Cheesecake and the Devils' Food Cake; it's enough to go back again and again just for these.

As you may have noticed, to enjoy a full course at Chocolate Kiss would mean a safe budget of P500. But their prices are actually already as faculty-friendly as they are student-friendly. Sometimes the meals and bills are split so that P200-300 will do. And it's obvious how many are willing to make this "sacrifice," or Choco Kiss wouldn't be so popular.

Since 1997, the restaurant has been serving the UP Diliman community. It has two venues in the same building, the UP Bahay ng Alumni across the UP Film Center. The cafe has tasteful interiors that students find refreshing. Often, the walls are covered with paintings and other works of art by exhibitors, so that a visit is at once a dining experience and a brush with art and culture.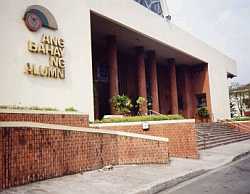 The original cafe situated on the second floor of the Bahay ng Alumni sits 90 who can enjoy the view of the track and field oval. It serves music along with food four times a week, from 6:30 PM to 9:30 PM, and is open for lunch, merienda and dinner from Monday to Saturday.

The ground floor branch, meanwhile, is a smaller cafe that sits 50 people who are served breakfast, lunch and afternoon merienda. Fresh morning air may be enjoyed since the setup is for eating al fresco. The newest branch in Roces Avenue that opened last July has light green walls and the same menu that those who don't stray into the UP campus may now check out.

The Chocolate Kiss Cafe is at the Ground Floor and 2nd Floor of Ang Bahay ng Alumni, UP Diliman, Q.C. It is also found at 91 A. Roces Avenue, corner Sct. Tobias Street, Q.C.