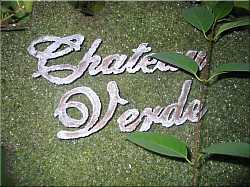 In smog-clobbered Manila, a city of 12 million souls, it's rare to find a dining place that also offers a free dose of real oxygen.
Behold
Chateau Verde
, literally a green mansion--a colonial treat for the palate in a rainforest-like atmosphere.
Inconspicuously set behind a wall of shrubs that seem to have grown in a state of unforced grooming, a small nameless leaf-shaped signpost marks its understated facade fronted by a gravel patch that doubles as a parking lot.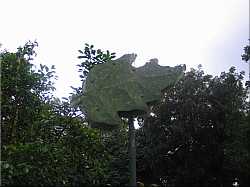 The arrangement though gives a hint of sophistication, a stark contrast to a whole slew of fancy restaurants in gigantic food courts and themed malls inside some of Asia's biggest shopping complexes.
A walk through a quaintly landscaped narrow path past a flower-decked arch that stands on mud brick-made posts leads you to a few steps under the canopy of towering acacia and mango trees to the main dining area.
Inside, you're cocooned in a lush tropical rainforest-like atmosphere.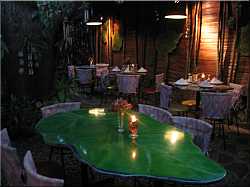 A leaf-shaped table that can sit a six-member family under a huge mango tree standing right smack in the middle of the dining area gives you a meal-in-Mt.-Banahaw kind of experience, though you're nowhere close to the foot of Ka Roger's turf.
It's actually inside the 495-hectare campus of the University of the Philippines in Diliman.
In the last six years, Chateau Verde has become a dining haunt where local and international academics, alumni, environmentalists and visitors gather. Everything about the place is right, especially the food. Despite the colonial motif of the restaurant (not far from the garden of orchids on Apacible Street near the University Shopping Center), it is also unmistakably Filipino.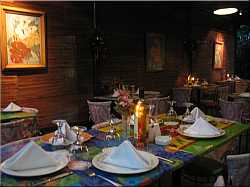 Local paintings adorn its walls covered with roll-up blinds made of tiny bamboo sticks and its floor is part-gravel patch, part-cobblestones. The soft tunes that mingle with the invigorating sound of an artificial small waterfall dripping on moss-covered stones could lull you into a relaxed, unhurried snooze--inadvisable if you're a student cramming for exams that's only an hour away.
What of the food?
A mouthwatering choice of appetizers range from the exotic, such as the Ostrich Carpacio (thin slices of ostrich meat topped with capers and olive tapenade, P175), the signature Gambas al Ajillo (shrimps sauteed in olive oil, garlic and chili pepper, P190), or the Salpicados Ala Miguel (beef tenderloin cubes sauteed in garlic and olive oil, P190).
There is a rich a range of soups, salads, pastas and desserts. There are nine signature dishes on their menu. You can start off with the Minestrone soup--Italian soup with vegetables, ham, bacon, beans and pasta (P80). Follow it up with the delectable Pasta ala Gondola (P150).
Although this is supposed to be a continental-Spanish gourmet, the
dalandan
and tropical mango fruit shakes scream Pinoy. On weekend buffets, Chateau Verde offers a generous feast of bottomless fruit drinks. A selection of wines from Spain, Chile, Australia are also available.
Chef August Gomez, who specializes in
paellas, lenguas
and
callos
, says they are happy with their loyal following, mostly from the academic community.
A weekend brunch turns the restaurant into a hive of urbanites. Its proximity to the UP Chapel (Church of the Holy Sacrifice) also makes it a shoo-in eating place for Sunday church-goers.
Mrs Gregoria de Leon Cervantes, the owner who taught at the UP Integrated School until she retired, must have mastered the way to keep a select group of loyal customers.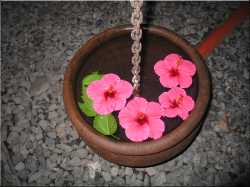 The place--being clean, green, and well ventilated--is conducive to discussing the things that have gone wrong in the country and the world over red wine and paella. Visit it as an alternative to a weekend brunch in an enclosed Tagaytay garden: minus the view but with the same air, especially when there's the slightest drizzle.