Legaspi Sunday Market
posted on

Mon, 26 Sep 2005 12:00 AM
If Salcedo Village in Makati has the
Salcedo Saturday Market
, then Legaspi Village also has the
Legaspi Sunday Market
.
More than promote competition, the two complement each other in providing a weekend market to its residents and other visitors. Salcedo and Legaspi are after all neighboring villages in Makati and best of all, you don't have to choose which to visit on a day because--as should already be obvious--they sell goods on different days.
Like the one in Salcedo Village, the market at Legaspi Village is in business between 7 AM and 2 PM. Initiated just last Independence Day by Barangay San Lorenzo's inhabitants, the Legaspi Sunday Market allows stalls beyond food and plants; they also carry bags, crafts and furniture stalls. Below, the other interesting finds there:
Slippers good for the heart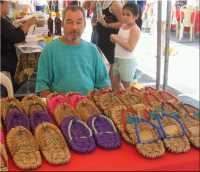 Don't be surprised, but these slippers have been around since 1983. If it's the first time you've heard of them, that's because they're the only one of its kind made from abaca, claims its maker, Mike Hosoya. He is a 55-year-old Japanese-American who has been living in the country since the 1990s because this is where he gets the material for his product, which he hawks from time to time in other parts of the world like the US, Australia, Japan and of course the Philippines. Mike says if it wasn't for the illegality of vending in the streets, he would still be selling in Baclaran.
Mike can finish about five pairs of these "healthy" slippers in one day. What makes them unique is that these slippers are woven in such a way that the feet wearing them are massaged. The rough lumps of abaca are fashioned to get specific reflexology points of the feet so as to help in healing and relieving stress, true to the Japanese belief that there is a second heart in the sole.
Two kinds of these slippers are available: for indoors (P400) and outdoors (P300). The one with a piece of bamboo in the middle is for indoor use; the bamboo is meant to help in circulation as it stimulates the curve in the sole of the feet where there are small veins connected to specific internal organs. So does it work? Only one way to find out: try on a pair.
Mike's stall is part of the organic produce section of the market, where organic meat, vegetables and fruits may be bought. There is an array of organic products ("organic" means free from synthetic chemicals may be bought) from The Source, an organic café and store run by Mara Pardo de Tavera who also opened the
Organic Market
at
Greenbelt 1
back in 1993. Other products in this section are eco-crafts like beaded jewellery and woven baskets.
Loco for choco

The stall most hunted by ants must be the Cocoa Loco, which has a range of chocolate choices. You can go crazy over chocolate cheesecake with sweet cream, cheesecake with chocolate cream, banana cake with chocolate cream, and mud cake with sweet cream--which go for P80. If you're not sure what to get, you can sample each one first. When you're finally sure on a type of cake, it's also up to you what toppings to put from among these: cereals, banana chips, Kisses, Toblerone, Kitkat, Crunch and Cadbury. It's all about sweet freedom!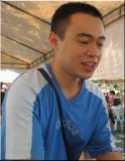 All these are churned out by the enterprising Eric Angeles, 31, who is on hand to attend to his baby business. He quit his marketing job to give us these delights, which his sister Erlinda helps him with. Other delectables are milk-white chocolate fondue sampler (with a choice of melted chocolate or white chocolate with milk--better both--for coating), sugar-free choco pudding with cookie bits, and big choco marble ensaymada with Nuttela on top, chocolate lemon fusion bar, cookie crumb mud bar and choc nut mud bar. Choco curious? Who isn't?
Xango tango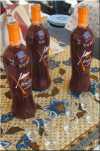 If you ever stray over to the Xango juice station, you will see a very visible tarp with a long list of words beginning with "anti." The good thing is, it's not followed by any suffix that's really a name of a politician but rather by diseases or illnesses--which means that this product is a health product. Made of mangosteen, the Xango juice is sold in bottles.
Mangosteen is not mango but more like an orange in size and tastes like a mixture of apple and grape or an underripe strawbery (at least according to the dictionary and others who have tasted it). A purple tropical fruit, it grows in Southeast Asia (particularly in Malaysia) and seldom reaches the West as a commodity. It's highly prized because of this, and especially because of its acknowledged health benefits. Found not just in the inner flesh of the fruit but also in its outer rind are xanthones, defined as among the most powerful antioxidants known. Shall we drink to that?

Besides these, there are other notable finds at the Legaspi Sunday Market. Put on colorful flip-flops from the Atillo booth and feel like a beauty queen, just like its designer, Cathy Santamaria Escaño, a former model.

Floor cushions, tissue holders, gift holders, etc. made of pandan are available at the Blue Dragon and Brothers stall while embroidered gift pouches, shells and jewelry boxes made of mother of pearl can be bought from Titay's Arts & Crafts.

Lead-free stoneware like teacups, plates and candle burners made out of raw materials (clay and glaze) from Germany and produced in Northern Mindanao are likewise available, as are high quality rattan furniture by the
Mckenzie & Wells Corp
.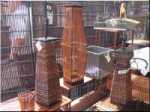 There are also stalls of more famous establishments in
Greenbelt 3
like
Café Havana
and
Bollywood
besides the smaller ones selling local viands and desserts like
leche flan, kutsinta, puto
and all those delicacies that make your mouth water! There are tables set up so patrons can enjoy meals while resting from all that shopping.
Just like the market at the Salcedo park on Saturdays that is understandably more popular since it had a year's head-start, this one at the Legaspi carpark on Sundays looks all set for brisk business. It doesn't hurt that people-watching (read: celebrity-spotting) is not discouraged here, either.