Locals and travelers alike come in herds at Subic Bay's Meat Plus Café -- just from the name, you could tell that this is a place to unleash your carnivorous self.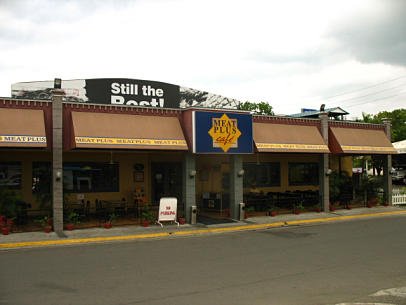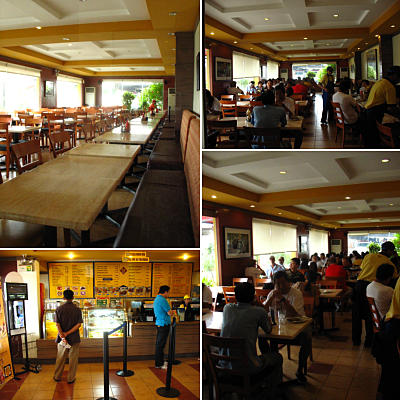 Meat Plus is Subic's undisputed king of steaks -- "
Pinaka
-the-best!" was what our local tour guide said, as our coaster passed by the restaurant. I remember how Meat Plus only used to accommodate a few tables and chairs, being more of a store selling other knick-knacks, rather than being an eatery. It has evolved from a little store about only a third of its current size, when I first visited the restaurant nearly a decade ago. Now, everything is bright and sunny and roomy, with a bigger space at the back that can be reserved for functions. Come noontime and dinnertime, and the counter is in full fast-food mode. Seems like a whole lot of people need their meat!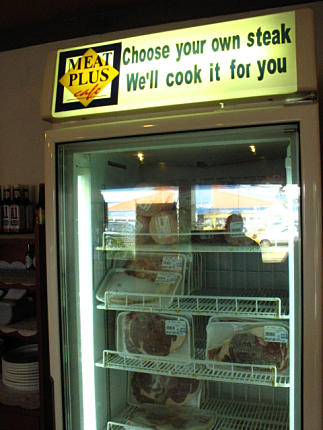 For the more serious carnivores, Meat Plus also offers a wide range of chilled steaks stored in the refrigerators by the counter. You can choose your own steak and have it cooked. You get the frozen meat at retail, and add P100 cooking charge. I, on the other hand, am already contented with what I see on their menu, so along with my family we ordered our food for lunch.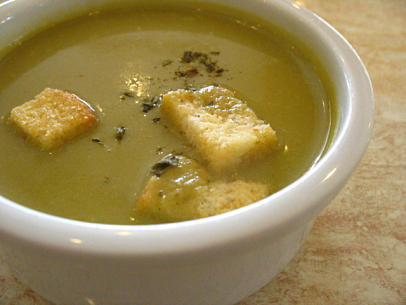 Soup of the day
We began out lunch with a cup of
Soup Of The Day (P45)
, which was cream asparagus topped with three crunchy croutons. Meat Plus also offers different kinds of salads, sandwiches and pastas, but the meat of their menu is, of course, steak.
For the price, they offer a pretty hefty portion of meat, so it really is good value for money. Aside from the no-frills and casual set-up, I bet the affordable steaks are what locals and travelers alike come to Meat Plus for. The restaurant serves
Topsirloin Steak (P270)
,
New York Steak (P325)
, and
Tenderloin Steak (P240)
for some serious meaty grub. They also have
Barbecue Beef Short Ribs (P385)
,
Baby Backribs Platter (P260)
and
Hamburger Steak (P170)
.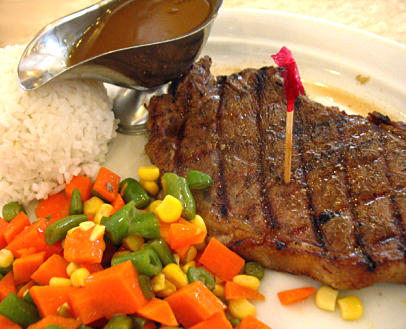 New York Steak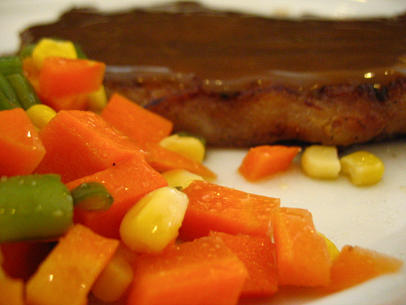 The New York Steak weighs in at 180 grams, and is served with steamed rice and vegetables (corn, string beans, carrots). It is decently thick and tender for the price, and when drizzled with gravy, you got yourself a fully loaded meal.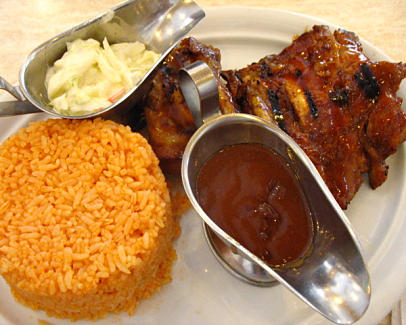 Baby Backribs Platter
The Baby Backribs comes with java rice, a siding of coleslaw, and a sweet and spicy barbecue sauce. From the serving size of my order, I can say that you can even share the ribs, as I wasn't able to finish mine. Since the meat was already coated with the barbecue sauce, I skipped the extra sauce and got myself some Worcestershire and A1 steak sauce to mix and match.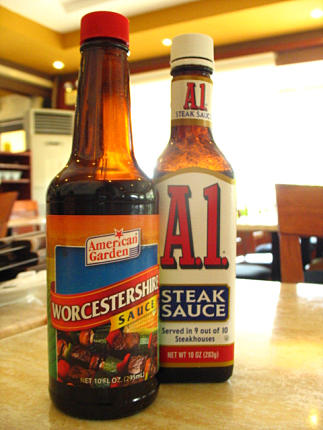 If you want to add on some sidings, you have the choice among
Mashed Potato (P40)
,
French Fries (P45)
, and
Garlic
,
Java
or
Adobo Rice (P35)
. their mashed potato is of the finely mashed kind, very smooth and coated with a layer of gravy.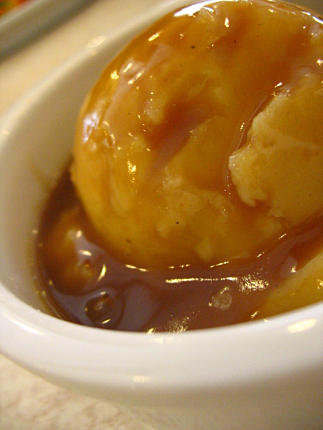 Mashed Potato
For the old, regular customers, they are in the know of Meat Plus' famous
Potato Skins
. It's not on the menu, perhaps it's an insider's secret because it's just absolutely yummy! Thin, lightly salted, and crispy, the bite size pieces go well with any of the meaty dishes.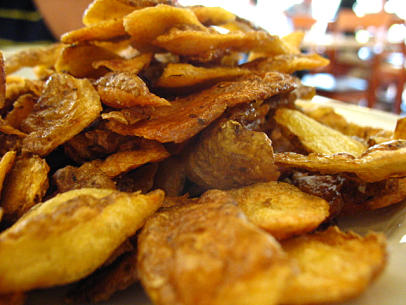 Potato Skins
For desserts, you can choose to cool down with some ice cream treats, like
Ice Cream Sundae (P120)
or a
Banana Split (P175)
. I hear from my dad that their take on the
Rum Cake (P75)
is pretty good, too.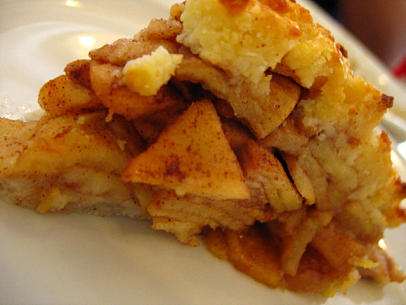 Apple Pie
For that lunch, we ordered
Banana Fritters (P105)
and slices of the classic
Apple Pie (P100)
. The fritters I could not get enough of, served ala mode. Their version of 'maruya' is oh so yummy, with a crunchy coating. Once you take a bite, the insides are warm and sweet. The outer coating is dusted with cinnamon and sugar, making it extra sweet-toothy. Topped with vanilla ice cream, it's one dessert that makes me forget that I had too much to eat for lunch.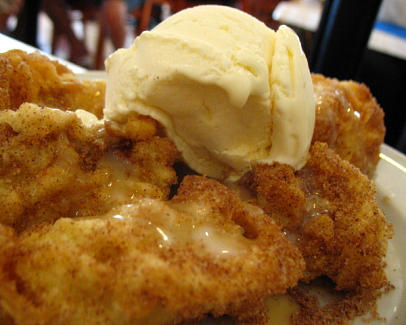 Banana Fritters
Conveniently located across Freeport Exchange, Meat Plus Café is a sure stopover to wind up a session of duty-free shopping. Succulent slabs of meat cooked up the way you wish, and enjoyed in a casual, family-friendly set-up. It's one way of treating yourself at Subic Bay, without much wallet damage.