"Are you sure this is it?" I asked Bea then I scratched my head. We were still inside the car and in front of us was an unadorned silver gate. A plain old silver gate. No sign. No picture. No arrows. No nothing. Half of me felt lost. The other half was pretty sure that we were in the exact spot the star in the map locates. That half was hopeful. After all, Marikina is a long way from our office and retreating is not an option.

After a minute or two of going over and over the map , checking all the possible ways that we could've taken a wrong turn, we finally decided to honk the horn. The guard obliged and opened the gate.

I didn't know it yet then but that exact moment, I discovered a treasure.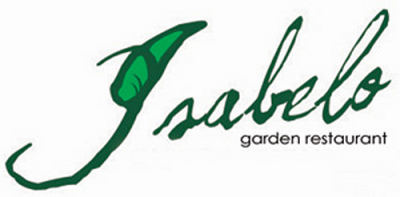 Its website says "Discover a treasure trove of art and food in the tourism hub of Marikina." I cannot recount anymore how many links I clicked before landing on that page.
Portia Baluyut
, the co-owner of
Isabelo Garden Restaurant
asked me how I found out about the resto and however hard I try to recall exactly how, I couldn't. I could tell she was surprised. Save for the restaurant's website, she never used any form of advertising-- an ironic move from someone who used to thrive in the world of advertising.
"The discovering part, that's part of the experience," she explains. That is also her reason why she never put up any sign. There's no use, too, asking the locals for directions for a few know the restaurant's existence in their neighborhood. What we experienced: exchanging puzzled looks, lingering a few minutes in front of the gate, and hesitantly honking, were after all common for Isabelo's first timers. A quirky right of passage, I suppose?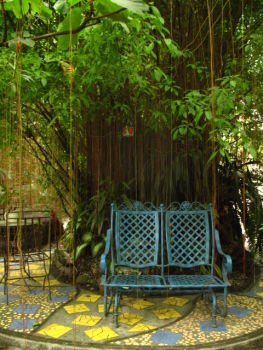 Past that rocky and spacious garage which I reckon could fit quite a number of cars was a tiled pathway. A huge
balete
tree obscured what was ahead and a curtain of fine vine plant just heightened our anticipation.
As we entered the restaurant proper, a very familiar backdrop was revealed. It was like being in someone else's backyard. Well technically, Portia's backyard. Plants and trees envelope the place, colored bottles hang on branches, copper pans and trinkets on walls... a great contrast to the busy and polluted cityscape we passed by on the way here.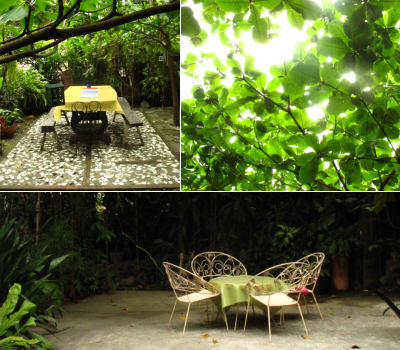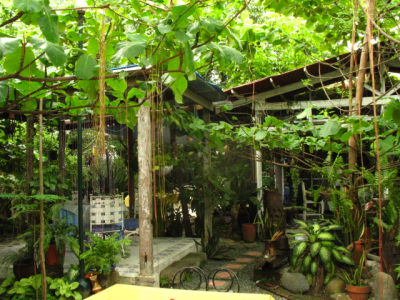 Portia came out of the kitchen to join us. As soon as we settled ourselves, she related the progress of Isabelo from being a sideline business to a full fledged
resto
. "It all started with the Spinach Artichoke Dip," she recalls. Pun unintended, our meal, too started with the
Spinach Artichoke Dip (P350)
with focaccia bread. A total of twelve focaccia bread slices were served alongside a small bowl Spinach Artichoke dip. Initially, this was the only thing she sold but after a number of satisfied stomachs, she was advised by her mom to open up the patio of her house to sell more sandwiches. Gradually, more and more items were added until finally, she decided to put up a dinner by reservation restaurant in her backyard.
Hearing this, my expectations rose up. If this is enough reason to start up a restaurant, then it must be really good. I immediately pulled the serving dish towards me and helped myself.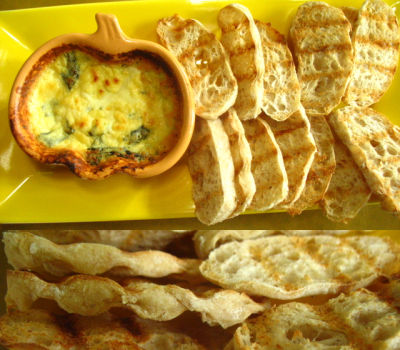 I liked it instantly after figuring that the bread was thin and crunchy. I liked it even more when a few minutes inside the mouth transforms it into a chewy delight which was good enough to eat with relish. Finally, I dunk it into the gooey dip and took a bite. It was very cheesy. No, make that ultra cheesy with just a hint of spinach to it. This would undoubtedly qualify as the dream dip of cheese lovers. Good thing I was one.
Before we were able to finish that appetizer, the
Pinoy Tuscan Salad (P190)
came in. The same focaccia slices mouthwateringly contrasted against the red plate but this time, tomato pieces were served alongside.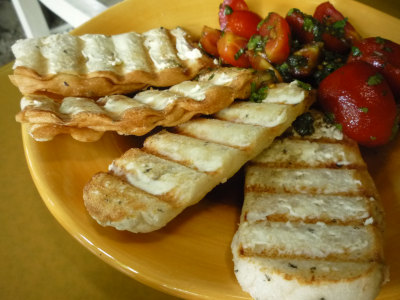 My bias to cheese made me expect less of the salad. On the other hand, Bea, who love anything tomato-ey turned giddy at the sight of it. But after sampling it, I ended up liking it much more. The sweet-sour blend of the vinaigrette definitely won me over!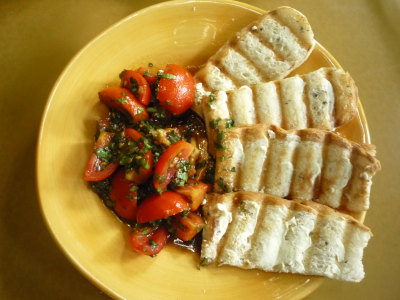 Both of us pretty much cleared up that dish in just a few minutes. Not one drop of vinaigrette was left when it was brought into the kitchen. I dare say you shouldn't leave Isabelo without ordering the Pinoy Tuscan Salad!
The rest of the meal was brought in simultaneously. At last, the
Orange Herbed Chicken (P560 small; P900 large)
arrived. We've been subject to its drool worthy aroma wafting from the kitchen since we arrived. The smell alone is divine!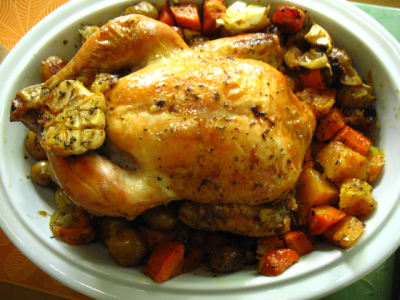 When eating this dish, make sure you remember these two reminders. One, make sure to have a bunch of people to share this with. The serving can feed a family. If you're ordering this during a date though, come in with a growling and very hungry stomach. Two, consume the entire garlic that comes with it. You're going to love the chicken even better.
Comparing the
Pasta Portobello (P350)
and
Isabelo Lokal Bolognese (P280)
is like comparing apples and oranges. Both are good, but both are also very distinct. If you like something oily and slightly tangy, order the Portobello. But if you're into tomatoes and longganisa, order the Isabelo Lokal. Either way, you are sure to be filled up with the hefty servings.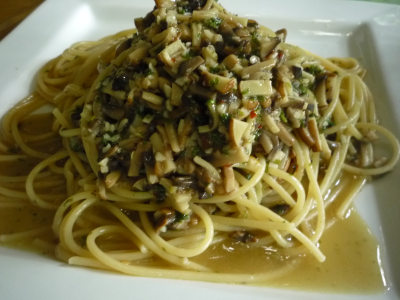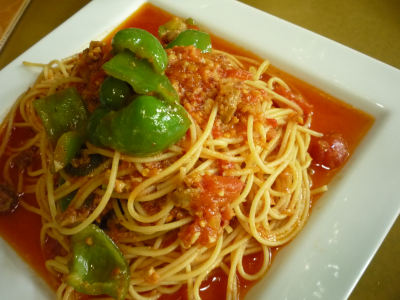 The last dish I've tried is Portia's take on
Quatrro Formaggio (P450)
. Just like the Spinach Atichoke Dip, it was very cheesy. The crust, too was just the way I like it: thin and chewy. If only I weren't already full from the dishes I've tried before this, I could've easily consumed the whole of it.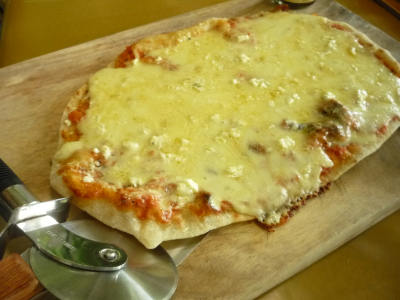 Aside from the delectable array of pizzas, pastas, meats and salads, Isabelo Garden Resto also offers one of a kind desserts. That time, we were served with the refreshing
Watermelon Sherbet (P80)
with lime slices. Nothing else could've perfectly culminated our meal.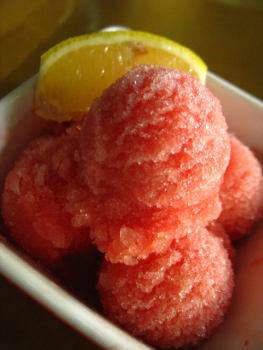 After I've savored the last spoonful of my sherbet, I sat back and took pleasure at the sight of the invigorating place I was in. I haven't been somewhere that calm and harmonious for a while and I don't know when I could have the time again to go back.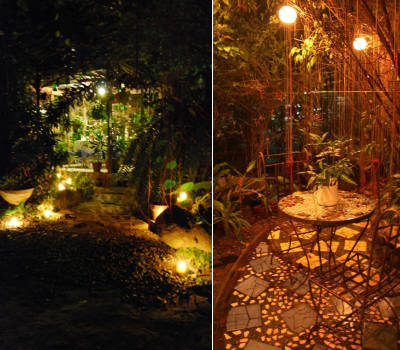 If ever you decide to find this
resto
and you get lost on your way there, don't worry. Once you've had the taste of the Isabelo Garden Restaurant experience, I'm sure you'd find your out of the way trip all worth it.