Tucked along Scout Lascano in Barangay Sacred Heart, Bagoong Club Resto's relaxed atmosphere is a welcome escape from the craziness of Tomas Morato Avenue in busy Quezon City.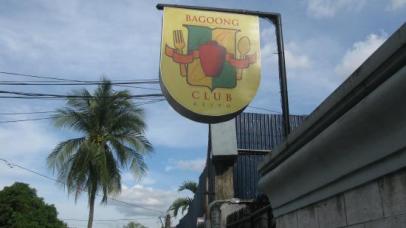 At the receiving area, you are greeted first by an interesting collection of framed photographs: pictures of famous regulars like Erap Estrada, Judy Ann Santos, and Sharon Cuneta adorn their walls.
Despite their star-studded clientele, Bagoong Club's customers are remarkably diverse.
"[Even] my waiters go here with their families during their days off,"
Rosky Sevilla
, founder/president of Bagoong Club said.
"We serve quality comfort food. The food is good and our prices are very affordable. People often get shocked when they see their bill!"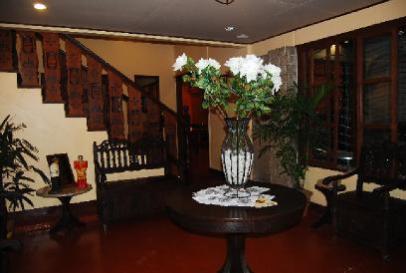 Reception area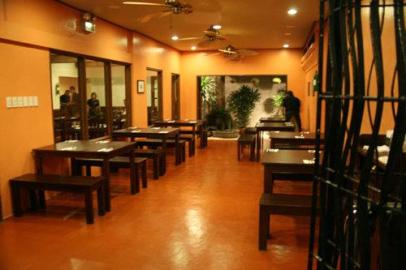 Smoking area
Much of its appeal has to do with the restaurant's look: a consistent and elegant, brand of Filipiniana. Its wooden furnishings, framed articles, exude a classic style while at the same time, makes you feel at home.
"Deliberately, we wanted to create a homey atmosphere, where people can be themselves," Rosky said.
It's airy function rooms and comfortable al-fresco area, are already a popular venue for all kinds of events, the perfect space for the perfect fiesta.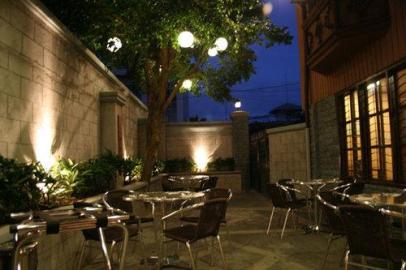 Al fresco area
Moreover, Rosky was also quick to clear one common misconception about the restaurant: not everything in the menu tastes like bagoong.
"If it's not
bagay
, it's not
bagay talaga
. We are very sensitive to the customer's preferences," he said, "In most cases, bagoong is the special ingredient, that subtle difference that makes the dish special."
We ordered their six best-sellers. The waiters' service was excellent, and we soon found ourselves in front of a gorgeous spread.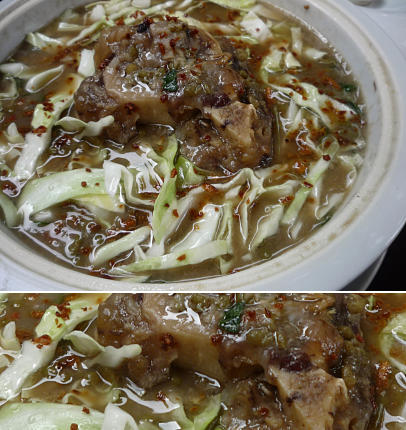 Bulalo sa Monggo
First, we tried what was considered to be one of the restaurant's signature dishes in
Bulalo sa Monggo (P290)
. Warm and generous with monggo portions, it proved to be a refreshing take on an old standard. This is slow food at its best: allow the monggo to guide your tongue towards the bagoong, and be filled with a warmth that reminds you of mom,
manang
, and whoever it was that took care of you as a child.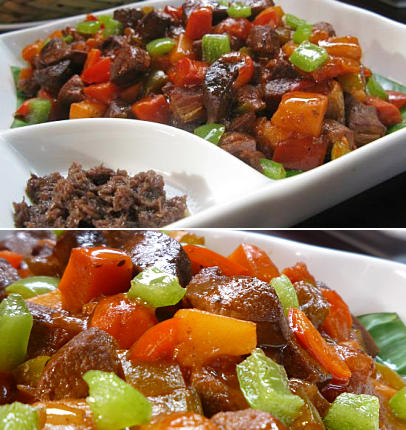 Menudong Bagnet
Menudong Bagnet (P230)
was far less dramatic. A very straightforward dish, it proved to be a very solid main course. The bagnet wasn't as subtle.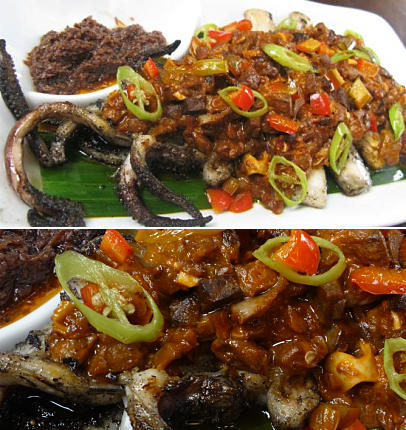 Inihaw na Pusit na Busog sa Bopis
The next dish proved the restaurant's amazing range:
Inihaw na Pusit na Busog sa Bopis (P280)
surprised us with its intensity and inventiveness. Essentially two dishes in one, a generous amount of bopis overflowed over luscious strips of fresh grilled pusit, eloping in our mouths: they were made for each other.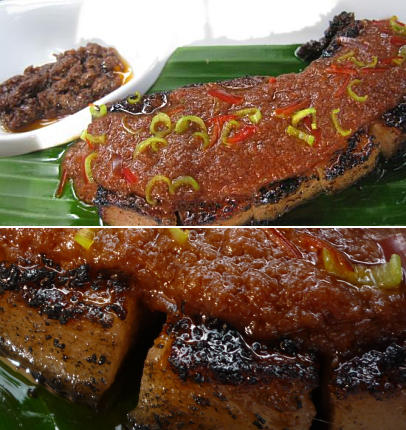 Grilled Pork Binagoongan
Grilled Pork Binagoongan (P240)
proved to be just fantastic. Sliced liempo style, the grilled pork grilled in binagoongan was very addicting. The pieces were huge, delicate, and tasty enough to require no sauce. It was cooked perfectly, and it was easily, the quickest dish to be finished by a mile.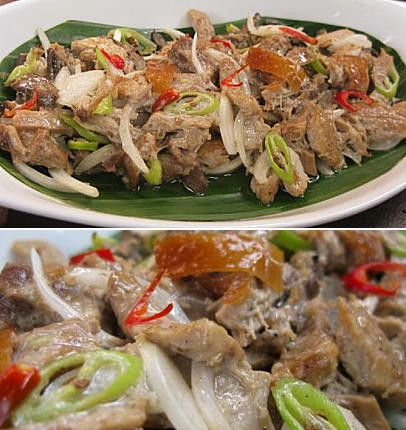 Dinakdakan Lechon
We had high expectations for the
Dinakdakan Lechon (P310)
, and to use a cliché, it was everything we hoped for and more. Every hint of flavor was intense: the lechon, pork brain, onions, calamansi, and vinegar hit our tastebuds violently with flavor. We were blown away.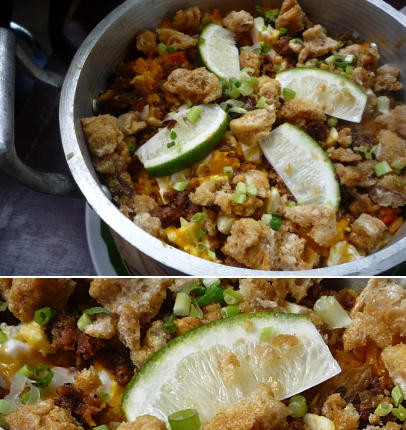 Pinoy Paella
Pinoy Paella (P220)
, a Valentines special that was extended, followed, and just like that, we are back home again. A truly Filipino re-imagining of this difficult the dish, the ingredients were very rich.
Itlog na maalat
(red eggs), adobo flakes, Vigan longganisa meshed wonderfully in our mouths, a very satisfying, very effective dish that should very well be a must-try.
Because of the amount of food we were ingesting, we almost forgot to try the six kinds of bagoong, a Bagoong Club specialty.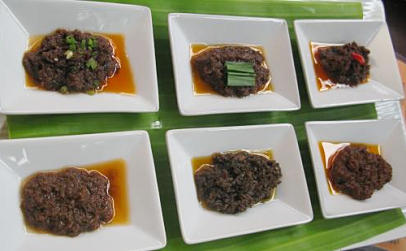 Counterclockwise, from left:
Bagoong Traditional, Bagoong Asya, Bagoong Umaga
Bagoong Special, Bagoong Europa, Bagoong Buhay
We found that each flavor could be distinguished --
Bagoong Lipunan (P15)
was the traditional bagoong,
Bagoong Umaga (P15)
was wonderfully spicy;
Bagoong Buhay (P15)
was doused lovingly in gata;
Bagoong Europa (P15)
was like pesto;
Bagoong Asya (P15)
had hints of spices.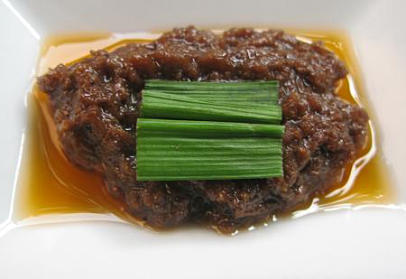 Bagoong Asya
Bagoong Club Special (P25)
, clearly was the winner, and could actually be a meal in itself. With that, we recommend the
Bagoong Sampler (P100)
, each kind of bagoong adds a different element to every dish: making that in itself, reason enough to visit Bagoong Club.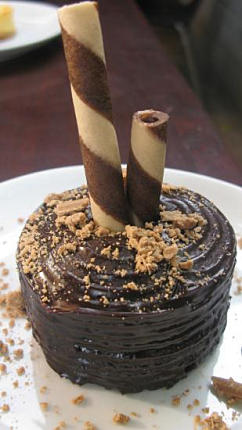 Choco Chocnut Cake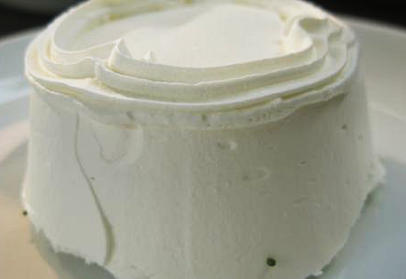 Pastillas de Leche Cheesecake
We were then served
Choco Chocnut Cake (P130)
and
Pastillas de Leche Cheesecake (P150)
, two desserts that taste as good as they sound. The Pastillas de Leche Cheesecake in particular, was a winner, the kind of cake that deserves more than one slice.
Our table ate everything. By the end of the meal, we sat back and rubbed our bellies, reading the menu and taking note of what to order for the next visit. Should we try the very popular
Boneless Garlic Chicken Inasal (P290)
? Or the
Bagoong Club Kare-Kare Combination (P360)
?
Bagoong Club is one of those rare restaurants that requires multiple visits, a very creative and very satisfying dining experience that can be enjoyed by all.