I found my favorite Thai restaurant at Dusit Thani Manila one Friday noon. It wasn't a particularly good day because I had just endured the wrath of the twelve o' clock sun and then learned of rapper Francis Magalona's demise. I was undecided whether my appetite has gone awry or the need for comfort food was heightened by half of the day's unfortunate events. I entered Dusit Thani Hotel and ascended to the second floor, where Benjarong Royal Thai Restaurant is located.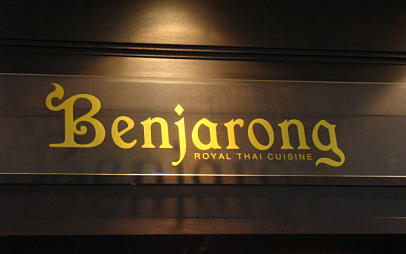 A lady greeter by the door was wearing a traditional silk dress. She welcomed me and led me to a spacious dining hall. Gilded chandeliers adorn the ceiling; and ceramic plates, bowls and lids decorate the walls. I surveyed the cushioned wooden chairs and the tables with neatly-folded table napkins. When I reached the private function room, I knew I was in for a fancy dining experience.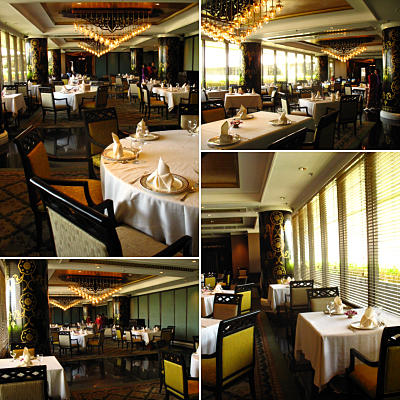 My friends had already settled in their cozy chairs and were being served
Tom Yam Gung (P370)
in little white ceramic bowls. Benjarong's lovely manager
Kullanit Yingkayun
, dressed in silk too, was sharing interesting tidbits about Thai cuisine. She explained that a "benjarong" is a type of painted porcelain from Thailand and the word literally translates to "five colors." Thai cuisine has five tastes--salty, bitter, sweet, sour, and spicy—and like a benjarong, everything is complete.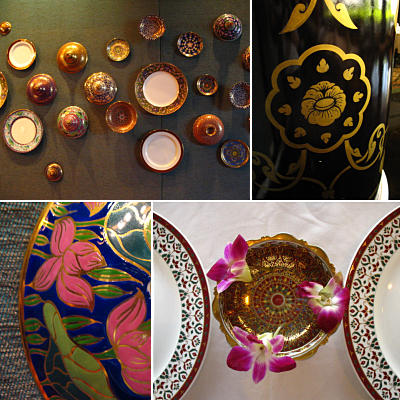 I took a sip of the sour prawn soup the waiter immediately poured in my bowl and reached a decision without much doubt: consoling myself with comfort food would be the way to go about on this dismal day. Thailand's famous spicy and sour soup is a great appetizer, but can also be a meal on its own if you're on a diet. The Tom Yam Gung can be made with fish and squid but the most popular, and personally, the most satisfying, are prawns. It is reminiscent of the Filipino's sinigang in more ways than one, especially in its preparation. Nevertheless, no matter how you prepare it, the idea is to have a soup that is sour, spicy, salty and fragrant. Here's a shot of my bowl of Tom Yam Gung, with generous servings of prawns, mushrooms and basil leaves. The hot sour soup can be made mildly or wildly spicy, depending on your preference.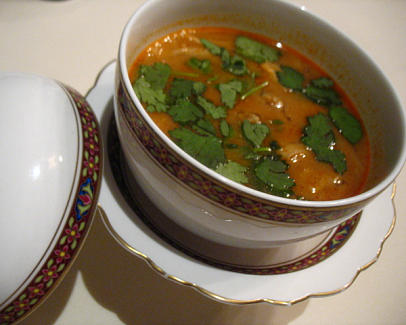 Tom Yam Gung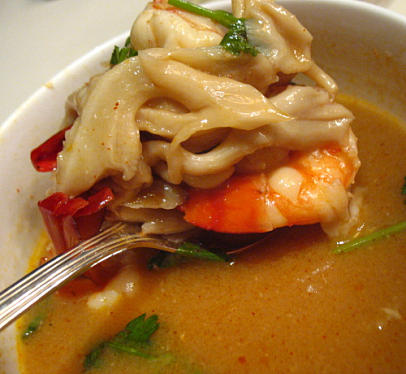 In Benjarong, Thai chef
Khun Phacharaporn
would be more than willing to adjust the amount of spice he'll put in your orders. Personally, this is is a big plus because I want my meals to possess varying degrees of spiciness to avoid numbing my mouth. The Tom Yam Gung I had is only moderately spicy and goes smoothly down the throat, leaving a lingering sourness in the mouth. It's just enough to make you purse your lips, which for me is an indicator of good sour soup.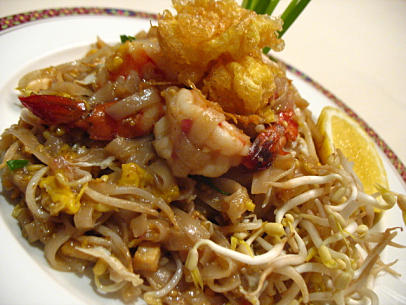 Phad Thai Gung
I proceed to another Thai favorite—the
Phad Thai Gung (P440)
. It is stir-fried rice noodles with prawns, bean curd, bean sprouts, eggs and minced peanuts sprinkled on top. It's a really healthy dish that has all the food groups down pat. Phad Thai Gung is sometimes referred to as the Thai
pansit
, minus the overloading of veggies. Benjarong's version is not dry, the noodles are moist but firm and don't parch the throat; the toppings are plentiful.
Then, there are the requisite salads. We had the
Yam Sam O (P280)
, a wonderful combination of sour, sweet and spicy flavours—a steadfast trait of Thai cuisine. The pomelo is mixed with chicken strips, shrimp and whole peanuts served in its own pomelo shell.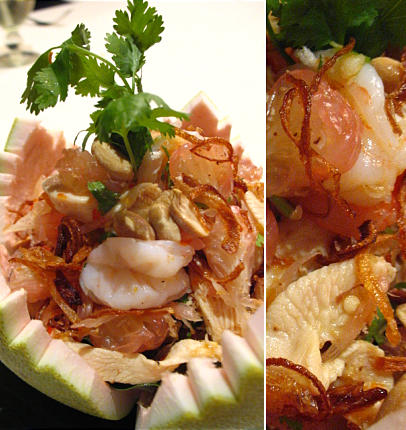 Yam Sam O
Kullanit explained that food presentation is also crucial in Thai dining. The ideal Thai meal ought to be equally satisfying to the eye, nose and palate. I agree, eating should always be a multi-sensory experience.
I tasted the
Yam Pla Duk Foo (P290)
next and liked it more than the Yam Sam O. I'm a big fan of mangoes, I don't think I will ever not like it. Combine strips of fresh green ones with crispy fried catfish, roasted cashew nuts, red onions, minced red bell pepper and a dash of herbs—you get gustatory heaven. I particularly liked how the catfish isn't dehydrated; it's chewy and already good enough to eat on its own.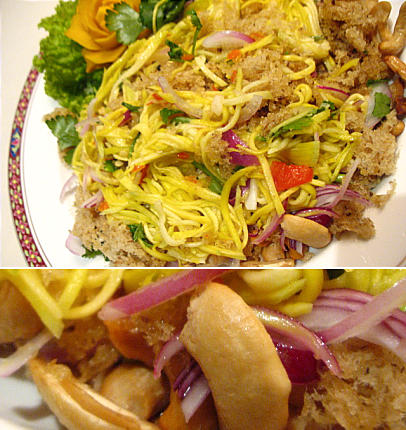 Yam Pla Duk Foo
For more consolation, although I already have quite a consoled stomach, I proceeded to acquaint myself with the dishes perfect with rice. The white rice was served inside an inverted cone made of banana leaf, and topped with lovely orchids. Unravel the leaf and out wafts a sweet aroma of the steaming rice. It's every South Beach dieter's nightmare.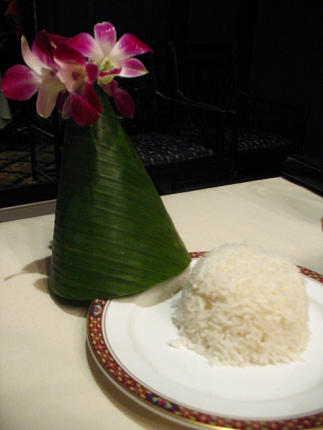 What better to pair with rice than curry? We get a bowl of
Gaeng Khieo Wan Gung (P520)
or green chicken curry with coconut milk. There are three kinds of curry: red, green and yellow. Quite simply, red uses red chillies; green uses green chillies; and yellow; which is more common to Indian cuisine uses turmeric and cumin. I like pairing green curry with chicken; red with beef; and yellow with shrimp, respectively. The Gaeng Khieo Wan Gung has been infused with coconut cream, which made the dish creamier and tastier. It had green chillies, which I would encounter every now and then with every spoonful. I liked how the periodic bursts of heat enveloped the chicken, and then its flavor heightened by the curry and coconut. This is exactly how good curry should taste like.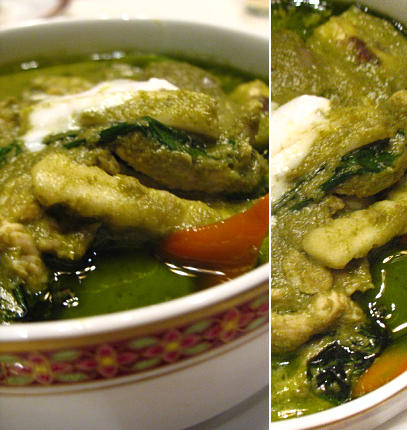 Gaeng Khieo Wan Gung
Then, I smelled an irresistibly delicious fish aroma. The
Pla Krapong Jean Nam Makham (P655)
, which is deep-fried lapu-lapu fillet in tamarind sauce, has been laid out in front of me. I pierced the golden brown skin and sink my fork into the white meat. A little steam erupted and I doused it with a spoonful of tamarind and fish sauce. I mixed everything with the steamed rice and rediscovered lapu-lapu in an entirely new level. It's so good with the fish sauce and chilli oil, I had more rice than necessary.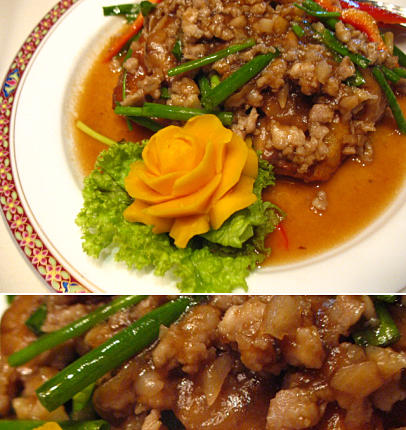 Pla Krapong Jean Nam Makham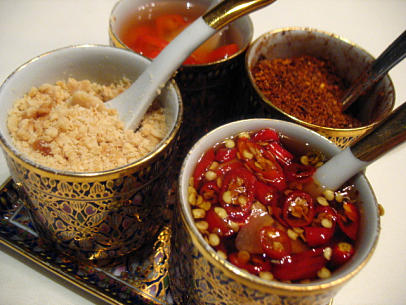 Another seafood dish is the
Thord Man Gung (P400)
. I'm amazed at how succulent these deep-fried shrimp cakes are and how tasty they are even without dipping them in chili sauce. They weren't drowned in cooking oil, too but are still crispy on the outside. In my mind, I knew I could finish an entire platter but I exercised restraint. I kept on munching them until there was only a piece left and I felt obliged to share it with my friends.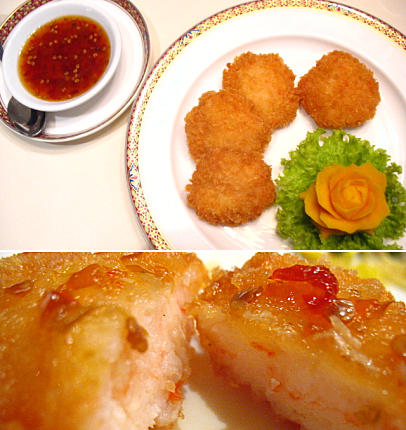 Thord Man Gung
Finally, I had to stop eating everything being served to me, so I have space for dessert. Thai desserts are usually heavy because coconut, rice, kneaded flour and root crops are the common ingredients used to make them. I'm glad I saved room because the
Khao Niao Mamuang (P190)
deserved my undivided attention. This treat is the famous sticky rice with mango, which I've eaten a lot of from a number of Thai restaurants I've been to. Nevertheless, I would have to say this is the sweetest mango I've tasted. It was so sweet I had to clarify if it had sweetener. Kullanit was quick to point out that their mangoes are ripened naturally and were not infused with any sugar of sort. The sticky rice had a decent amount of coconut cream on top and a sprinkling of sesame seeds. Paired with the fresh mango, it was divine. I expressed my admiration by wiping the plate clean.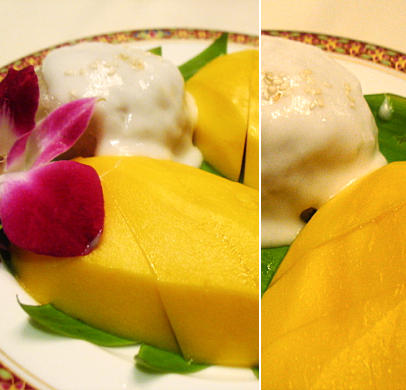 Khao Niao Mamuang
A not so familiar dessert is the
Khanom Tako (P155)
, which is sweet water chestnut and coconut cream in a cup made of pandan leaf. While it tasted good, it's not really my kind of dessert. I would imagine Thai locals would like this a lot because as Kullanit said, it's their version of pudding. I suggest trying this if you want something new but tame.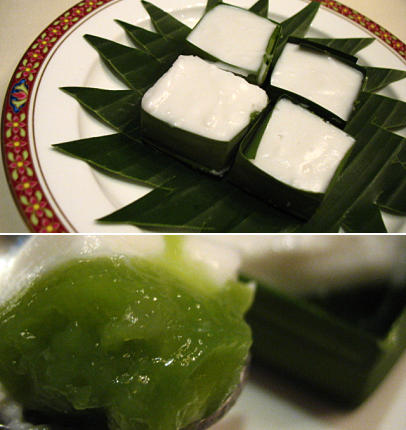 Khanom Tako
Thai chefs describe Thai cuisine as rót châat, which is a phrase shortened meaning "natural flavor." Given the Thai's inkling towards combining a melange of flavors in a dish, freshness is key to flaunt all the original components of a dish successfully. This is where Benjarong has kept its focus, which made it my go-to for serious Thai food—be it on a good or bad day.