"How come it's only now that you're featuring me?" That question came from Hossein Sohrabi, the verbose and moustached owner of the Serendra restaurant we were in at that moment. Together with that sentence was an honest but nevertheless happy surprise expressed by his pleasant face.

Hossein's Persian Kebab is older than me by a couple of years. Established more than two decades ago, the hole-in-the-wall restaurant in Jupiter, Makati, catering Middle Eastern cuisine has gone far from being a well- concealed secret. I wasn't surprised that he asked the question, though. After a slew of magazine, book, and other media features, here I come intending for yet another feature on this popular restaurant.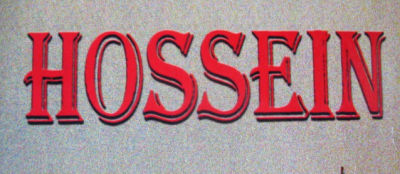 The reason is simple though. In contrast to featuring new establishments, I decided to look for those who stood the test of time. I wanted to know what separates them from those flash-in-a-pan restos, and why after all these years, they are continually patronized. My search led me to Hossein's.
I have several theories on what makes restos stay. One big factor, I think, is the creator himself. In this case, that's Mr. Hossein, who by the way, is also the head chef. Owners are the driving force of restos; the source of passion and ideas. And this I could say surely, Hossein Sohrabi is doing a hell of a job. Head chefs usually create the recipes of all the dishes, but to Hossein, there's a lot more than that. Every single day, he rounds up each and every branch (there are 5 all in all), marinades their meats, and cooks. Oh, and if I may add, he also does the marketing. Talk about quality control!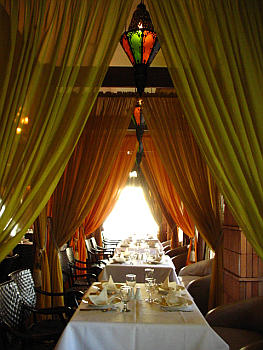 Beautiful interiors is always a plus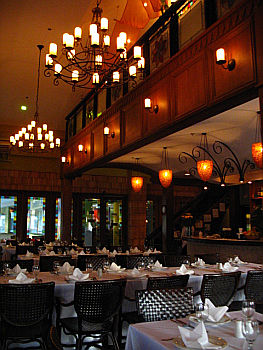 Ambiance fit for royalty
But this man never took up a culinary class. He has no formal training whatsoever under his belt. What he has though, is something inherent: passion for food -- lots of it. He took up Engineering, then got masteral and doctoral degrees in business. But his love for his country, Iran, and its cuisine, were all he needed for the success of this restaurant. Informal training from his mother, who I suppose is a superb cook, is his bonus.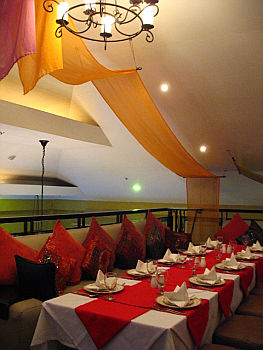 The second level is open for function reservations.
Another major must (if not the king-of-all-musts) for you to stay in the food business is the quality of food. That is, excellent quality. Hossein's Persian Kebab, gets an A for that -- go ask the numerous patrons they have, both foreign and local. You may even ask the Prince of Bahrain who Mr. Hossein recalls to have dined some time ago. But since you can's ask him, then allow me to share to you how good their food is.
Non-discriminating people might find his food overpriced and so-so and would head instead to the ubiquitous shawarma and kebab stands scattered around the metro. But for those who duly appreciate and know how much saffron spice is (which they use a lot in Hossein's), they'd know what gustatory treasures this place has.
With over 300 dishes, encompassing flavors from the Persian, Indian, Arabian, Malaysian and even Thai cuisines, I understand why Sassan, Hossein's son, found it hard to determine which is the crowd favorite. Nevertheless, Mr. Hossein served us the stellar among the roster.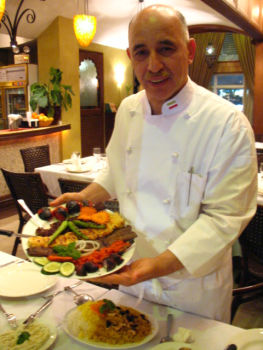 Mr. Hossein Sohrabi taking pride in his masterpiece
I am itching to gush over their kebab platter but I am reminded not to skip mentioning the
Whole Salad (Persian) (P290)
which I discovered is a bountiful toss of lemon, olive oil, olives, and greens. And of course... their
Motabal (P210)
, popularly called the
Baba Ganoush
. We weren't told what ingredients Motabal had beforehand, so my companions and I kept on guessing. Guesses on what comprises this cold and creamy platter went as far as including melted cheese. I checked on the menu afterwards and found that it was simply eggplant with tahina paste, totally not what we expected. One of us, who I'm stressing isn't fond of eggplant, ended up craving for more of it.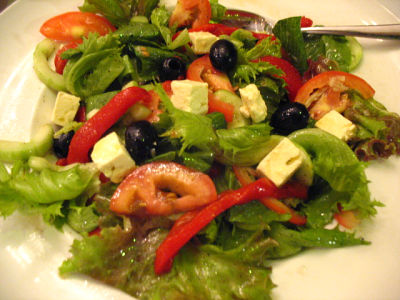 Whole Salade (Persian)
And then we had the
Supreme Kebab II (P2,500)
-- that platter with "Eat me, I'm so good!" written all over it.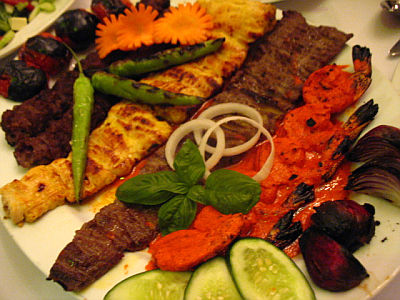 Supreme Kebab Platter II
The moment it was brought into our table, everyone was in awe. It was as if someone royal just came in. The platter, looking fit for a king, wafted a lip-smacking scent, warning us that the meal will definitely be opulent. Mr. Hossein did the honor of dividing all of its contents to our plates. Everyone had their share of Beef Kebab, Barg Kebab, Shrimp Tandoori, tomatoes, chilies, and onions. He also divided the saffron and
Biryani
rice that came along with it.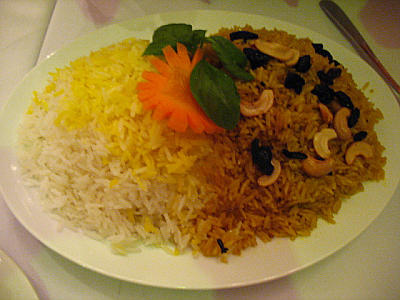 Saffron and Biryani Rice
We took our bites, and then there was silence. For several seconds, or maybe minutes, each of us took time enjoying each and every spoonful of succulence. After a while, we commended Mr. Hossein in unison how eating everything from that platter is many times fascinating. We've also decided that among the items in the platter, the shrimp tandoori stands out most especially.
If there's something divine about this particular dish, it is that luscious orange sauce, the exact ingredients of which, Mr. Hossein won't disclose. I could go on all day finding words how to exactly define the goodness of that sauce (which still haunts me every now and then), but the words and adjectives will not parallel the experience. If I were you, just taste it.
For the last part of our main course, we were also served
Roulette (P815)
, an original creation Mr. Hossein is certainly proud of. This kebab features shrimps, beef tenderloin, and chicken, altogether rolled in a leaf, then skewered and grilled. It had a different sauce, creamier and slightly tartier, but nevertheless, it was still as good as the ones in the Supreme Kebab Platter.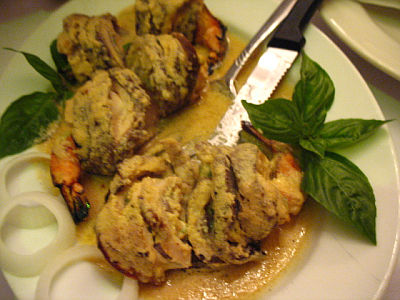 Roulette
The toothsome
Baclava (P80)
came in last, perfectly capping off our luxuriant meal. After all the eating, chomping and swallowing that we did, this dessert is well-deserved.
That's all it took to get us to surrender. There were four of us -- six, actually -- including Mr. Hossein and his son Sassan, and yet we didn't get to finish everything. That I guess would pretty much give you the idea how big their servings are. Prices in their menu may really intimidate you at first sight, but as evidenced by our dinner, everything is good for sharing already.
This brings me to the last item in my musts to survive the food business theory. I'm torn by this, actually. Of course I recognize how businesses depend on the patronage of people and the patronage depends on the prices they pay. The existence of Hossein's even with their premium prices however says something, too. If people find the food and ambience worthy, some will definitely be willing to pay the price.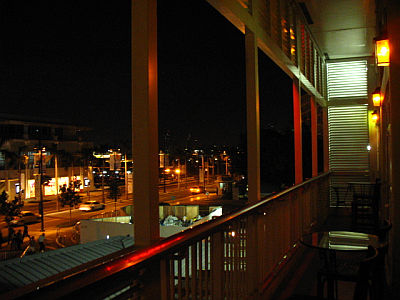 Only Hossein's has this magnificent view of High Street.
23 years and still alive and kicking, Hossein's has given me enough reason to share my excellent dinner to everyone. I experienced myself what everyone has been writing about for more than two decades, and what can I say? You must experience it, too!