While strolling along Serendra, a resto tarpaulin caught my attention. When you're constantly in search for new and unique establishments to feature, you are likely to develop more stringent qualifications over time. Also, it usually takes more than marketing paraphernalia to make you stop at that new place you've seen and consider it feature worthy. That particular tarp however, was difficult to snob. Written boldly all over it are the following: ostrich burgers, tuna burgers, sea bass burgers, wagyu burgers, and a couple more of unlikely meat burgers. Their tagline "Burgers, sliders, and damn good wine!" convinced me even more to check out the place. Ostrich burger is odd enough, but to pair it up with wine? That's even weirder!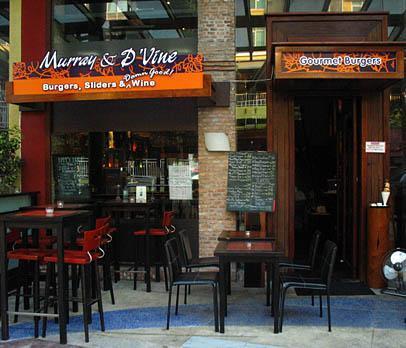 Instinctively, I probed for more details. First of what I learned is that
Murray & D'vine
is the latest venture of Murray Hertz and his associates who have decades of experience in the local food industry under their belts. Secondly, is that I was wrong with my guess why the resto is named such. I was right that Mr. Murray is foreign but wrong that 'Divine' is his wife. According to Mr. Hertz, who very well accommodated my curiosity, 'D'vine' is the contraction of 'the vine' or 'the wine.' When I asked why he put up a gourmet burger place, he related his dismay on the lack of gourmet burger joints here. And since burgers are considered to be comfort food by many, it isn't that hard to market.
Murray & D'Vine, which now stands in what was formerly Brava, has two dimly lit floors for its diners. This small, unassuming space is where the supposedly "soon to be world famous burgers" will emerge.
Mr. Hertz invited me to come back and have a taste of how real burgers should be. Together with friends, I went back to sample a few from Murray and D'vine's menu. I was forewarned by Mr. Murray to come with an empty stomach and I almost ignored the warning since I'm used to eating more than what's expected of my size. That was until he mentioned that their burgers are half pounders. "Half pounders? Seriously?!," I almost gasped in reply. Oh well, at least I was forwarned.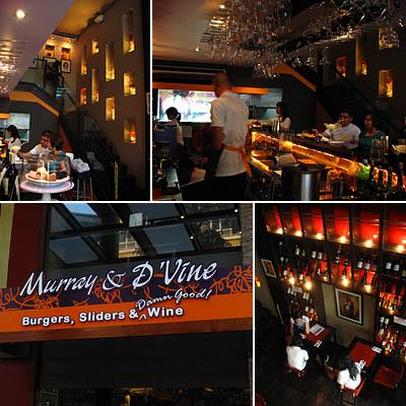 So there we went with empty, grumbling and almost roaring stomachs at 2 o'clock in the afternoon. We were all quite sure that with stomachs as hungry as ours we're more than prepared for Murray and D'vines half pounders. Again, I was wrong. But before we get to that, let me first describe how the meal went.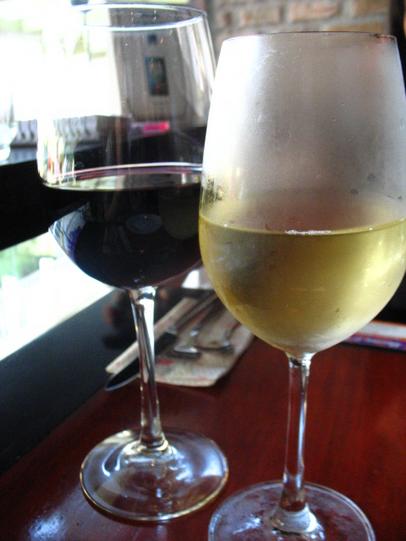 We were first asked for our wine orders. Both my friends ordered
Mapu Cabernet Chilean Red Wine (P785 per bottle)
while I opted for a
Mapu Sauvignon Blanc Chardonnay (P165 per glass, P785 per bottle)
. For appetizer, we got
Crisscut Fries (P175)
and
Wedge Fries (P110)
, both of which, are good for sharing. According to Mr. Murray, all their fries are imported from the US so they're as American as they can get. Their fries are definitely better in comparison to what fast food burger joints offer, a lot crispier and less salty.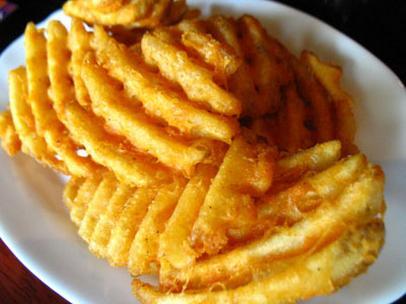 Crisscut Fries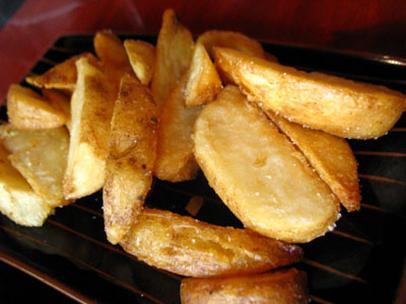 Wedge Fries
While enjoying the crisscut fries, I asked him what 'Sliders' are. He then brought in a sample: 3 little burgers skewered like a burger kebab, served with fries on the side. You can choose from the following types of meat:
Pork (P385)
,
Chicken (P370)
, and
Beef (P395)
. By 'little' burgers, he means thats they are almost the size of the regular burgers in fastfood joints, but definitely with thicker patties. This I think is good for kids or those who aren't really ready for the size of Murray and D'vine's burgers. It could also work well for those who want to sample all three of their available slider burgers
(Slider Sampler - P380)
.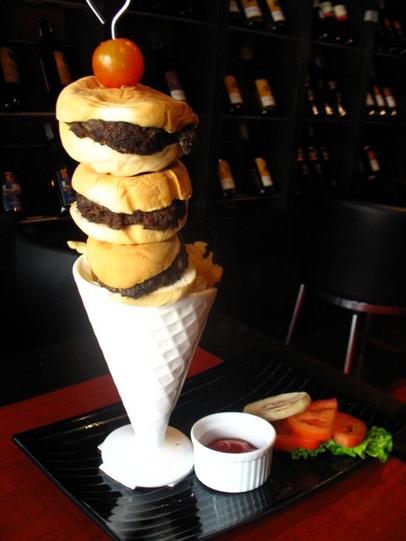 Slider
After this slider demonstration, our burgers started to arrive almost simulataneously. For this late lunch, we are having
Tuna Burger (P280)
,
My Son in Law's Spicy Beef Burger (P295)
,
Wagyu Burger (P535)
and
Juicy Turkey Burger (P235)
. I initially intended to try their
Ostrich Burger (P495)
but sadly, it was not available at the moment of our visit.
Because we wanted to sample all of the burgers, we decided to slice them and share them. The first one I tried was "My Son in Law's Burger," a recipe made by, yep, Mr. Murray's son in law. As recommended, the burger was served medium rare in order for us to appreciate the flavor better. I had no qualms with that. I don't like my burgers too dry, anyway.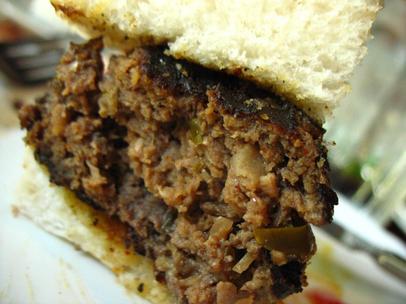 My Son in Law's Burger
A closer look at the cross section of the burger would reveal herbs and jalapenos incorporated in the juicy chunk of meat. I like spicy food but I am very picky with the level and impact of the spice in my food. I don't like it too strong to the point that it's already numbing nor too tame to be even labelled spicy. Good thing this Spicy Beef burger was neither of the two. All three of us fancied the mexican appeal the burger had. No wonder that within a few weeks of opening, they declared this item as their best seller.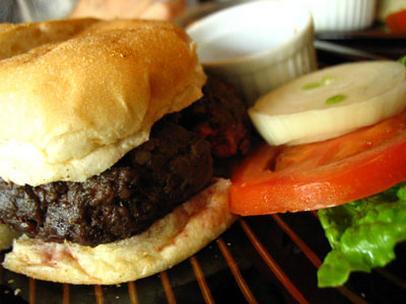 Wagyu Burger
The one with the darkest patty is the Wagyu Burger. We also had this served medium rare. It was also good, though I still prefer the flavors of the Spicy Beef burger I had previously. Price-wise, not bad at all for a half pound of premium Wagyu.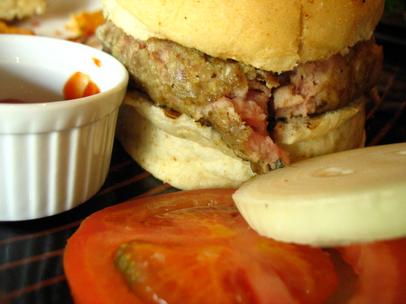 Turkey Burger
The Turkey Burger on the other hand fell just a bit flat compared to the previous burgers. It wasn't bad though, it just didn't measure up with the stronger flavors of the previous burgers I've had so far. But for those seeking for the healthier alternative, you may opt for this one or the Ostrich burger, which, according to Mr. Murray, tastes like beef.
At this point in our dining, we've already started feeling heavier. Eventhough we're eating slices of the bugers, a third of half a pound still equates to a lot of burger patties and bread cramped in our bellies. For our last burger, we had the thickest one left: the Tuna Burger. Well, it's fish, so most likely, it wouldn't feel as heavy as the beef and turkey we had before. Still up for the last hurdle, we each took our slices and munched on this seafood burger.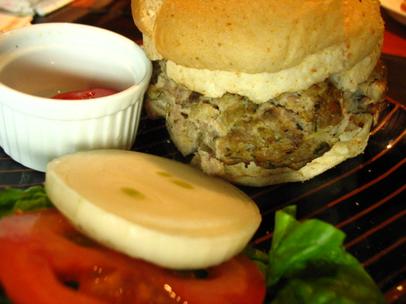 Tuna Burger
A bite into it and I knew I immediately fell in love with the eclectic taste of the burger. The taste isn't that what I expected so I believe this added up to its wow factor. The tuna wasn't 'mashed' up and you could acutally see chunks of it in the patty. The tuna flavor was defnitely there, vibrant but in a way, still subtle. This coupled with its great texture, got my two thumbs up.
If you think that that was the end of our challenge, well, you're wrong. We had to try their desserts. They're desserts.... and that was enough reason for us not to say no. That day, Chocolate Truffles cake, White Chocolate Cheesecake, Strawberry Yogurt Cake and Apple Crumble were available. Among the four, the White Chocolate Cheesecake impressed me the most.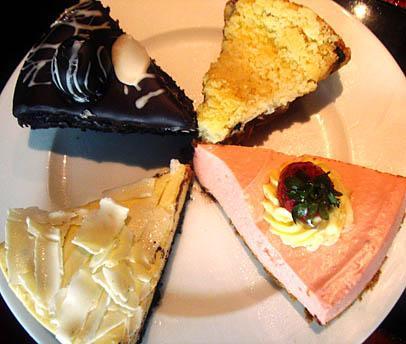 Save room for dessert!
Here are few tips if you're planning to dine at Murray & D'Vine:
1. Remember to remind the wait staff whether you like your burger rare, medium rare, or well done so that he or she can suit it to your taste. Mr. Hertz highly recommends medium to medium-rare to bring out the moist richness of the meats.
2. Leave room for dessert. It's worth it!
3. For the upcoming Valentine's celebration, they'll be serving heart shaped 1 pound burgers. So burger lovers (pun not intended), this might just be the perfect date place for you. Burgers and wine may just be divine!
4. Don't forget to take advantage of their cheap wine prices. You can even get in 30% less the menu price if you order them for take-out.
5. If by chance Mr. Hertz is present when you're there, chat with him and you'll surely be entertained.
If you think you're up for the same challenge of eating half pound burgers of different sorts, or would just like a breathe of relief from the same fast food type burgers you've been consuming all your life, a visit to Murray and D'vine would do you good.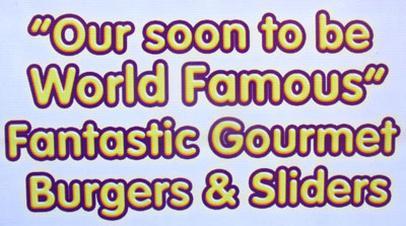 And oh, wondering how well the wine complemented the burgers?
Very well, surprisingly.