Mention The Chocolate Kiss Café to any UP Diliman student and for sure the name is familiar to them. Mention it to alumni and most likely they have fond memories of dining at this cafe: whilst busy cramming for an exam, group-studying with blockmates, or taking out a new friend on an unofficial first date. With the raves from within the campus, Choco Kiss soon enough was invaded by people outside college life, seeking for some sweet treats and savory comfort food. Popular and successful this family business was that eventually the opened up shop at Roces Avenue in Quezon City.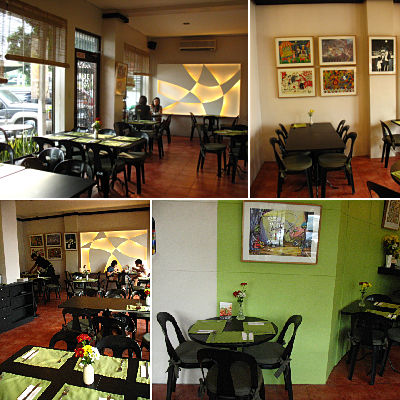 Chocolate Kiss at Roces Avenue
Their humble little space is known for being decorated with an assortment of visual art, as co-owner Liza Flores is an artist herself, displaying some of her pieces and her colleagues' (and some are even for sale). Simple yet comfy, customers are seated in Monobloc chairs fitted with cushions.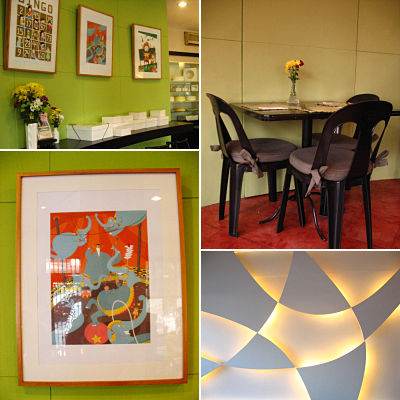 This year, Choco Kiss proudly turns 12 years in operation. Their life, indeed, has been sealed with a kiss. As they turn 12 this February, I paid a visit to their Roces branch to have myself some of their time-tested and well loved favorites.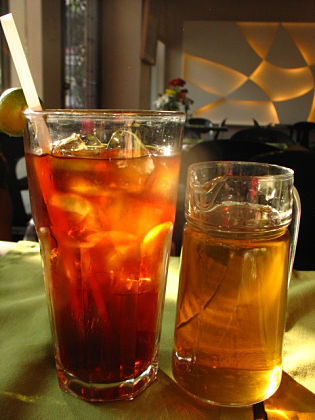 Iced Tea
Chocolate Kiss Cafe's iced tea has been raved about for years.
Twinings Infusions Iced Tea (P70)
is a best-seller, and I agree that it's something to come back for in Choco Kiss. The brewed tea squeezed with calamansi is served chilled with ice. It comes with a jar of gooey syrup for you to blend with your refreshing drink and mix to your taste. Can't go wrong with that.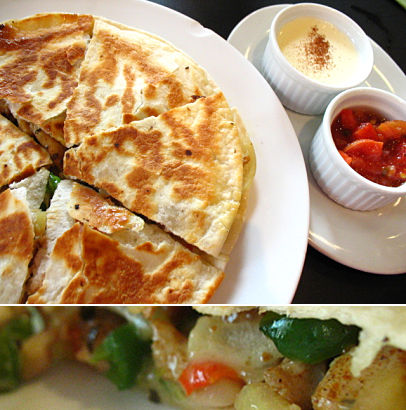 Quesadilla
One order of
Quesadilla (P205)
comes in six big slices. Their version of the tortilla dish is generously stuffed with sautéed chicken strips, melted cheese, crunchy bell peppers and onions. The warm and crispy tortilla seals everything in -- a great merienda item to order with friends, or something to order as a starter for a heavier meal to come.
Margarita
For a light and guiltless pasta,
Margarita (P160)
is a great vegetarian dish to have. Fresh and ripe tomatoes are simmered in olive oil, and mixed in with assorted herbs and cream. This healthy sauce weaves its way through layers of al dente fettuccine. If you want to skip the meat without scrimping on flavor, this pasta dish is worth a try.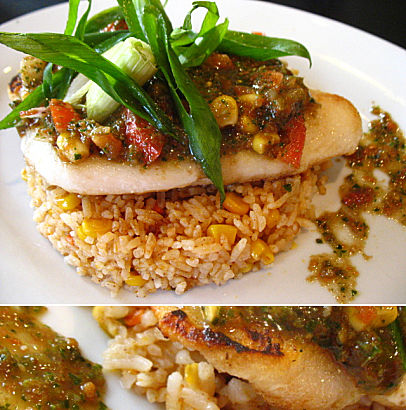 Fish Fillet with Pesto Salsa
The
Fish Fillet with Pesto Salsa (P225)
is a pretty little number, bursting with color from its white plate. A piece of grilled fillet of fish sits atop a heap of flavorful paprika rice. The corn-pesto salsa adds a playful dimension to the texture of the tender fish and the warm spoonfuls of rice.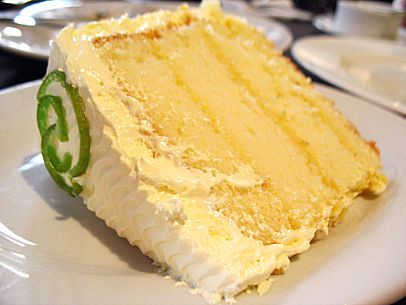 Dayap Chiffon Cake
To end the meal on a sweeter note, a slice of
Dayap Chiffon Cake (Slice-P75, Whole-P750)
arrives on our table. It first deceives me: it looked so simple and plain, almost spongy and dry to look at. But it proved to me once again how looks can be deceiving, with its light body giving a delicate balance of moisture and fluffiness. Same kind of balance can be mentioned with its flavor - a tinge of zest from the dayap, and an irresistible sugary sweetness from the layers of yema. Pair this sweet little number with hot tea and it will be delightful!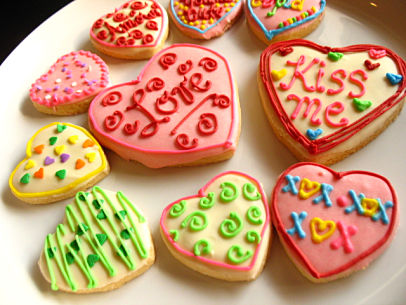 Assorted heart shaped cookies
To celebrate the month of their anniversary and the month of romance, The Chocolate Kiss Café offers colorful heart-shaped cookies to bring home to delight your loved ones.
Heart Shaped Mini Cakes:
Date Walnut, Prune, and Kahlua Butter
Their cakes may also be ordered to be in heart shape instead of the traditional round, and it will cost the same. Customize messages if you wish, let Choco kiss give your cookies and cakes some statements of love with sweet icing. And if you want to keep it simple and traditional, all their timeless cakes are still available, such as the
Classic Chocolate Cake (Mini-P190)
, and the whimsical
Devil's Food Cake (Mini-P140)
.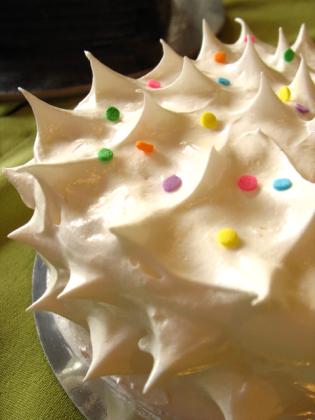 Devil's Food Cake
From hearty, flavorful entrées to saccharine-filled desserts, there are many ways that they serve you the good stuff and fill your craving with love at The Chocolate Kiss Café. Why not seal it with a choco kiss with an old favorite this coming Valentine's Day?