Capricciosa
has been around over 30 years and pleasing people's palates in over 150 branches in six countries. This successful 'Ristorante Italiano,' albeit spearheaded by a Japanese chef, promises its customers that authentic Italian experience all set up in a casual atmosphere.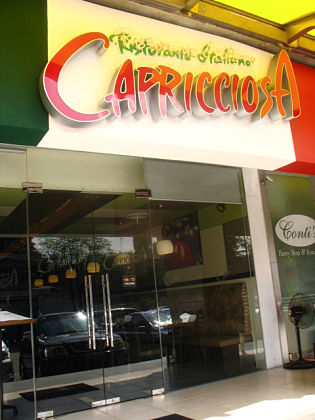 Chef Masaaki Honda was schooled at the National Culinary Academy of Italy and worked at an Italian cafe, and later on moved back to Tokyo to open the very first Capricciosa in Shibuya. It then was coined by the media as the 'Italian Eatery with a Line': due to its immense popularity, customers would actually wait in queues just to experience dining at the restaurant.
At present, Manila is getting a taste of the popular franchise with its two branches: one in Greenbelt, and its newer branch in Greenhills.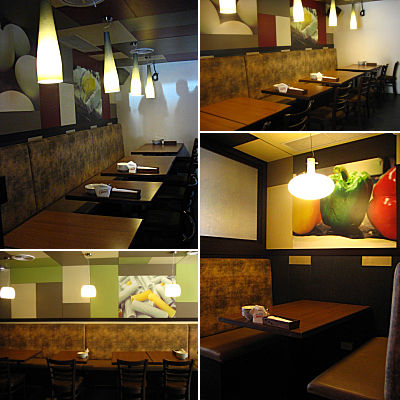 Located in Fox Square Building along Connecticut Street, their Greenhills branch seems unassuming, and gives that hole-in-the wall vibe because of its simpler facade and its proximity to private subdivisions. Inside, you will find simple and sleek furnishing, a couple of booth seats, and a few artworks on their walls showing off the flavors of Italy. White bowls and containers for silverware are already laid on top of tables along with paper napkins, giving you hints of their casual, free-flowing style.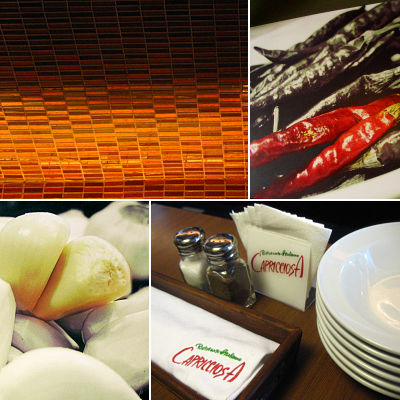 Simplistic and small it seems, but this is a little restaurant that could -- especially on Sundays. You will find it more difficult to grab a table as hungry people after mass would have the family in tow, seeking for good grub. A church is just a stone's throw away from Capricciosa, and now that this branch is offering breakfast specials, it welcomes the morning masses (and morning joggings) with a warm smile.
Capricciosa Breakfast
From 8am till 11am, one can enjoy a hearty breafast at the Greenhills branch (I hear they're planning it soon enough for their Greenbelt one). You may order their
Breakfast Specials (P225)
, heartwarming dishes that are served with toast or garlic rice, scrambled or sunny-side up egg, and coffee or tea.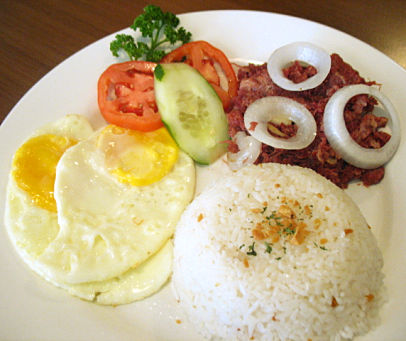 Corned Beef
Choose among Corned Beef, Longganisa, Daing na Bangus, Tocino, or Tapa; they also serve a hefty portion of
Hamburger Steak (P325)
which comes with garlic rice, egg, and coffee or tea. Also, all their coffees are under P100.
But if you're really graving good old Italian, their menu will not disappoint. They offer a good number of Antipasti to start off your feast, and follow it up with a lot of pizza-pasta combination and rich entrées to fill you up.
Buon Appetito!
During my first time at Capricciosa, I ordered a hot bowl of
Italian Vegetable and Meat Soup (P335)
since I was feeling a bit under the weather. At first I was quite taken aback by its price, but when it arrived on our table and when we tasted it, it was wonderful. First off, it's a huge bowl, huge enough for three. My mom and I both exclaim that the soup seems homemade, the type that doesn't scrimp on the chunks of ingredients found inside: a medley of chopped veggies and tomatoes abound, adding a playful texture to the warm, creamy, tomatoey soup.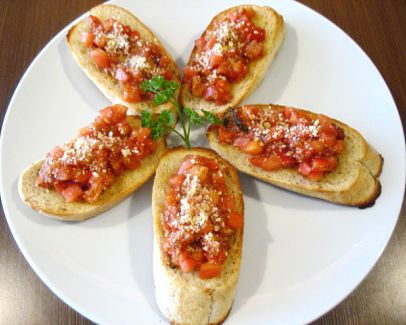 Bruschetta
Other Antipasti I recommend for you to try out are their
Bruschetta (P320)
and
Rice Croquette Sicilian Style (P310)
, the former being a familiar flavor with a comfort-food feel and the latter being a really rich and fun starter.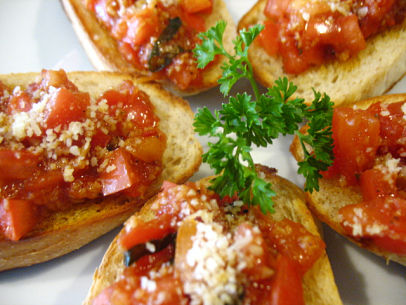 Their serving of Bruschetta comes in five, and the garlic toast was surprisingly soft and did not give me a hard time to chew. Buttery and smothered in garlic, the toast is added with color by a topping of chopped tomatoes, olive oil, and basil.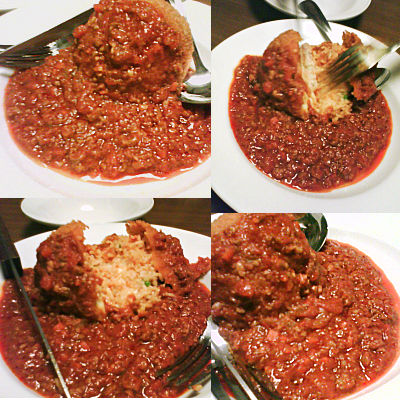 Rice Croquette Sicilian Style
Capricciosa's Rice Croquette looks like a huge meatball drizzled with a meaty spaghetti sauce. It was exciting to look at just as much as to eat: slice it in half to reveal a ball of steaming hot rice. Grabbing a forkful, I mopped up some of the meat sauce and savored the crunch of the coating, the mushiness of the rice, and was delightfully surprised with gooey Mozzarella cheese hidden inside. Oh, the cheese sealed the deal. This appetizer alone is filling enough as it is!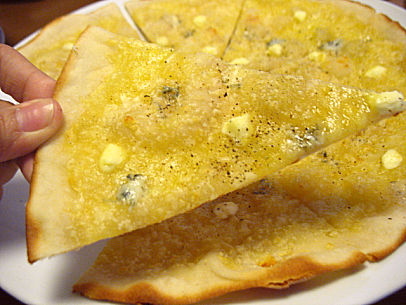 Quattro Formaggi Pizza
Fellow thin crust lovers will enjoy their pizzas, with crusts balancing the thin and crisp, the dough firm enough to hold, not letting the piece of pizza fold while it is in your hands.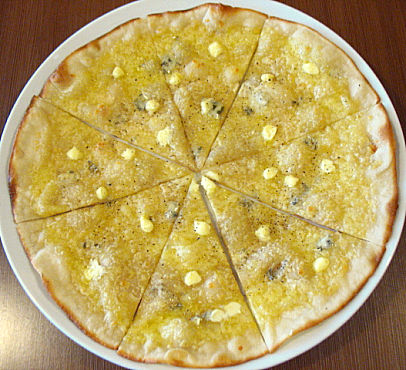 Slightly burnt borders with a chewy center, the
Quattro Formaggi (P485)
is one of their lighter pizzas. The pizza bubbles with different kinds of cheeses --- Mozzarella, cream cheese, Parmesan, and blue cheese, to be exact. You may add smoked salmon for P100, but the pizza alone (plus a little sprinkling of freshly ground pepper upon request) is commendable.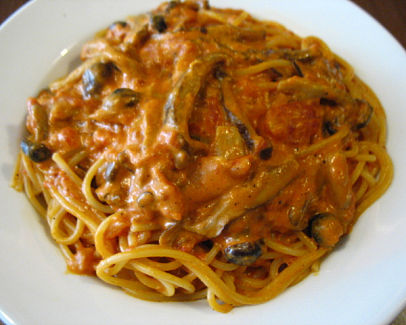 Mushroom Spaghetti In Tomato Cream Sauce
I have to confess: I'm quite a sucker for anything tomato based. So it was no surprise that I loved the bruschetta, the croquette, and their bowl of
Mushroom Spaghetti In Tomato Cream Sauce (Small - P365, Large - P650)
. I had the small serving for lunch, but for Capricciosa's standards, that's good enough to feed two people (or one very hungry individual). I shared mine with a friend, and we had a good time finishing our pasta.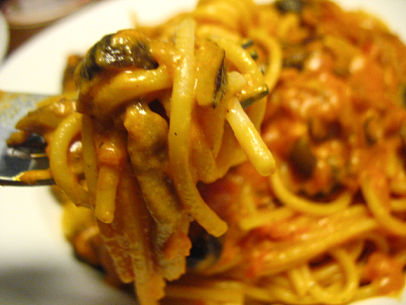 The noodles are firm, with the right kind of bite to it. The Capricciosa menu mentions that this item is "Yummy", and I wholeheartedly agree. The sauce smothers the spaghetti generously, and oh so creamily. It has a good mix of milky, and zing of tomato flavor and also of cheese. In fact, I felt no need to add extra parmesan onto my bowl as it was rich enough already. And then, the mushrooms compete for my attention -- long stemmed Japanese mushrooms frolic around the bowl of spaghetti, probably added as a shout out to the chef's homecourt, Japan. This dish may not be 100% Italian, but it was truly delicious.
But before I declare the tomatoey pasta as my best pick from the resto, let me tell you about their infamous 'Squid Ink Spaghetti.'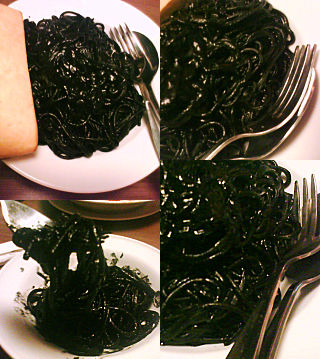 Calamari and Onion in Squid Ink Sauce
If one dish should embody Cappriciosa, then
Calamari and Onion in Squid Ink Sauce (Small - P365, Large - P650)
is the one. If in music 'Capriccio' means free-form intrumentals with brilliant style, then this spaghetti dish is just as refreshing and unpredictable for one's palate. In the two times I've egged on others to order and eat this dish, they all were surprised on how much they loved it. I say it's Capricciosa's 'ugly duckling': it looks slightly unpleasant and will probably not incite hunger. Everything is slick black, like a little oil spill mishap right on your pristine white bowl. 'It looks like Medussa's hair!', I told a friend once. In reply, he looked at me with disgust. He later on takes it back, loving the spaghetti.
Before your squid ink pasta arrives, waiters will give you a plastic bib to protect your clothing from accidental splatter -- then you get a bit iffy, thinking if you made the right order. Well, you did. It's a surprising rich flavor of squid, with little crunches of onion. The thick sauce makes the experience a little more playful, since it's hard to tell with the dark color if you're getting some onions on your fork or some calamari. And there's surely going to be big black grins around the table with this dish, followed by laughter. I dare you to try this dish out on a date, that would surely be a hoot! But really, get past the color and you will discover a very delectable pasta.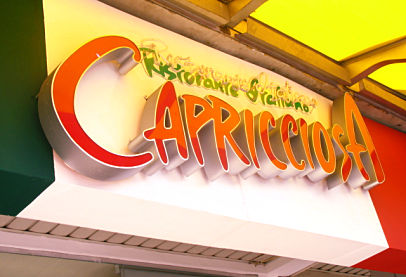 If you ask me, the heart of Italian cuisine goes beyond its rich flavors. It really is all about food meant to be shared: everything in hefty proportions, all ready for each of your loved ones to experience with you by their company. Perhaps this is why Italian food is close to the Filipinos' hearts, it is very much like our Pinoy fiestas. So if you're one to not miss out on Italian dining in great quality and quantity, Capricciosa may just tickle your fancy.