You come home and you find your house furniture out of their usual places. You tune in to the daily news and find some geomancer announcing his predictions. You open the refrigerator and find a stack of tikoy boxes piling up. Then, you realize that your mom somehow weirdly and suddenly became addicted to green colored apparel. You've guessed it right. It's again the time of the year to blurt out 'Kung Hei Fat Choi!' and don your lucky color. A few days from now, Chinese and non-Chinese alike will welcome the Year of the Ox.

Chinese New Year, especially here in the Philippines, has always been one of the most colorful and gregarious of all festivities. I am by no means Chinese but even so, I partake in the said festivity just like how everyone else in the Philippines does: greeting everyone 'Kung Hei Fat Choi!', receiving Tikoy, watching the dragon dance, listening to Feng Shui forecasts, and most especially, feasting on Chinese food!

And to all of those who, like me, find it compulsive to eat Chinese food in celebration of the new year, you might want to check out the latest no-frills and authentic Chinese resto I found at the Fort.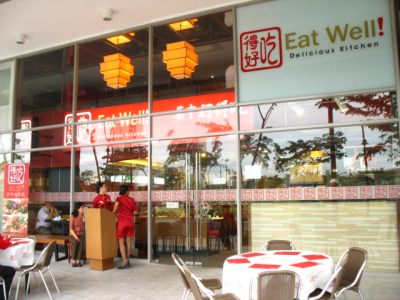 My friends and I were invited by
Jennifer Chua
, Corporate Secretary and Consultant of the company behind
Eat Well!
to feast on an advanced Chinese New Year lauriat. With
Chef Lao
(who is originally from Hong Kong) at its helm, and the cityscape of Hong Kong plastered on the restaurant's wall, who needs a plane ticket for an authentic Chinese lunch? And as you know, lauriats are eat 'till you drop occasions, so we've had the chance to sample a lot from the extensive menu of this month old restaurant. The following top the list of our recommended faves.
We first shared Eat Well's take on
Crispy Pork (P200)
or locally known as Lechon Kawali Hong Kong Style for appetizer.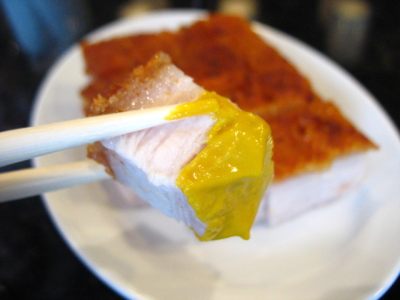 Crispy Pork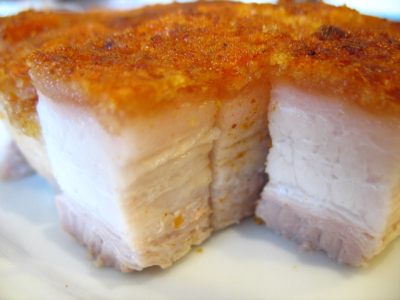 One look at the dish and you already know that it is a far cry from the commercialized version of lechon kawali. Cut in bite sized pieces and served with a mustard dressing as the dip, the Crispy Pork got a unanimous vote from us as a definite must-try! Be sure you have a good sense of control before eating this because you might find it hard to resist its evenly brown and oh so crispy skin, not to mention the very tender and non-oily meat. We even tested how long it will stay crispy so we held our greed and left it out in the open while we enjoyed the rest of the meal. An hour after? I swear it is still as crispy and good.
And of course, a lauriat isn't a lauriat without the duck. The
Roast Duck (¼ for P425)
came in mouthwateringly glossy. Unlike the other duck dishes elsewhere, it isn't at all oily even when left lying out for an hour. This one is served with both Hoisin sauce and plum sauce so you can dress it according to your preference. For non-Chinese, Hoisin is more 'Pinoy' and at home to our taste, being salty and sweet at the same time. The plum sauce should be picked by those who are after it's fruity-tangy flavor.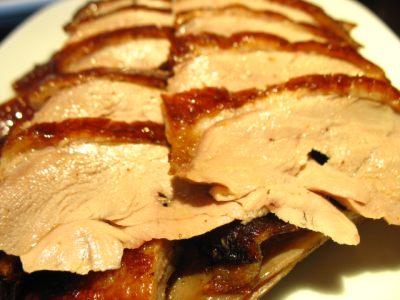 Roast Duck (1/4)
If you find those appetizers too heavy for you, you may opt for their bowl of
Deep Fried Golden Mushroom with Dried Japanese Shrimp (P145)
, a crunchy starter which can be eaten pica-pica style.
Deep Fried Golden Mushroom with Dried Japanese Shrimp
Aside from their appetizers, Eat Well also serves high-end tasting dimsum at very affordable prices. Ms. Chua, who has done her rounds of Chinese restos in Hong Kong, proudly offered us Eat Well's
Xiao Long Pao (4 pieces for P88)
served in it's traditional way: with chicken broth soup inside.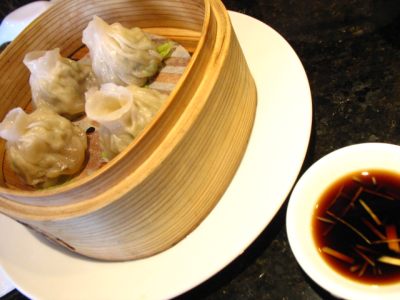 Xiao Long Pao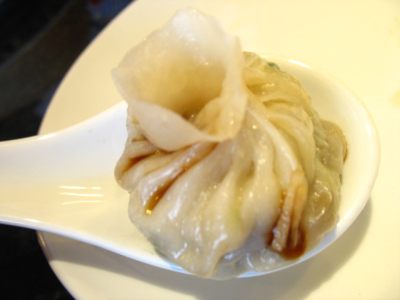 Another commendable dimsum from their menu is their
Steamed Pork and Shrimp Siomai Topped with Crab Roe (P98).
I'm a big fan of siomai and I literally became ecstatic after tasting their siomai generously laden with chunks of fresh shrimps.
Hakao (P125)
lovers will also surely find delight in their take in this compact dimsum enveloped in their non-chalky and almost translucent homemade wrapper.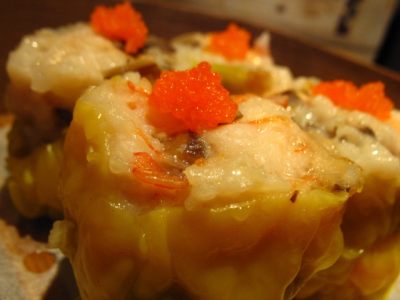 Siomai
The main star however was the
Steamed Prawns in Garlic Sauce (P280)
. It was so beautifully presented that we all found it hard to mess it up and devour. What made their semi-sweet and spicy prawns stand out is its unique sauteed garlic and corrinder sauce.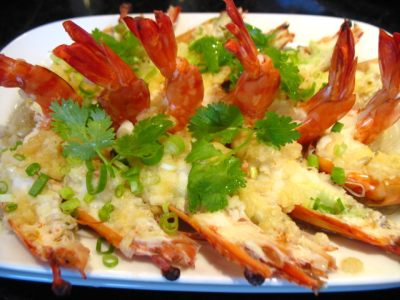 Steamed Prawns in Garlic Sauce
Pair that up with the
Braised Pork with Chinese Sausage & Taro rice (P120)
and you are sure to be filled up and satisfied. You may opt for their
Yang Chow (P148)
, which if I may add is also superb, but I suggest that you really try their Taro rice if you're raring for something unique.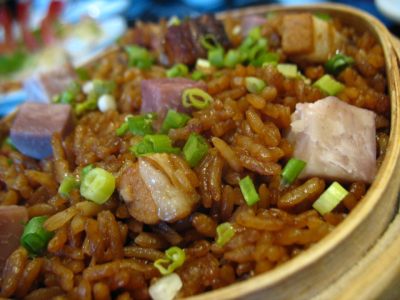 Braised Pork with Chinese Sausage & Taro rice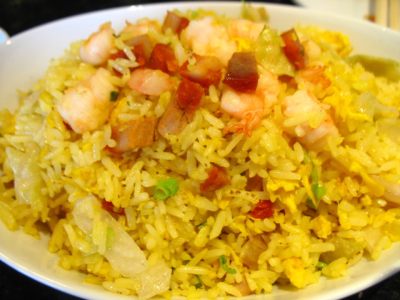 Yang Chow
And as if everything we feasted on isn't still enough, Jennifer made us try their specialty desserts:
Chilled Almond Jelly with Mango Sago (P55)
and the
Masachi with White Chocolate (P48 for 6 pieces)
, both of which are perfect to cap off the very heavy meal.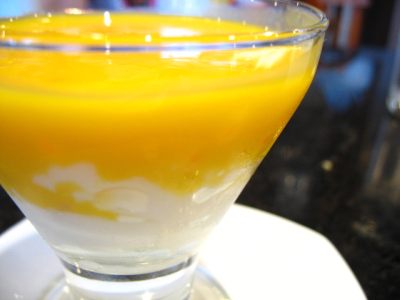 Chilled Almond Jelly with Mango Sago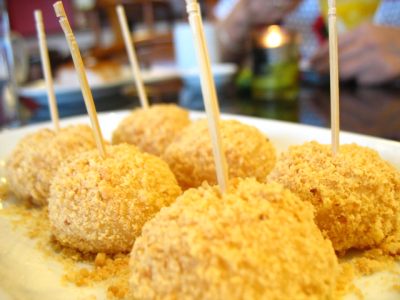 Masachi w/ White Chocolate
I must say that the people behind
Eat Well!
chose the perfect name. As ubiquitous as it seems, the name basically sums up what to expect in this resto, food-wise and ambiance-wise. If you're up for a casual dining spot serving authentic Hong Kong cuisine at very affordable prices, now you know where to go. Kung Hei Fat Choi, everyone!