I am a big fan of buffets, as I can stretch out my appetite to go a long way. What can I say, I really like to eat. The beauty of a buffet set-up is that you're most likely to enjoy your meal, since you get to choose whatever you like, and go back for more. And a little more, or much, much more.

A couple of recent buffet experiences here in the metro proves to myself (so far), that it is the ultimate buffet in the metro. Its scope is wide and grandiose, it encompasses two levels of a prestigious hotel in Makati. I have wined and dined there twice, and both times I have headed home completely satisfied, with that groggy after-effect of a huge pig-out. Folks, I have discovered an amazing race of gastronomic proportions at Dusit Thani Manila.

Family Sunday Brunch

Dusit Thani Manila, recipient of Best City Hotel Award at the 2008 TTG Annual Travel Awards, introduced this unique and captivating dining concept mid-2008. The Family Sunday Brunch, more popularly known as the Crossover Buffet, gives you a culinary adventure with its different cuisines and venues. Four out of Dusit's seven outlets participate in their Crossover Buffet which happens regularly on Sundays, from 11:30 in the morning until 3:00 in the afternoon. What does this mean? It means you get to restaurant hop and eat all you can, drink all you can in all four restaurants!


The lobby level houses two of the restaurants, namely,
Umu
(a crowd favorite) and
Basix
. At the Mezzanine (one level up) is where you can find
Tosca
and
Benjarong
. If you're all geared up for the Crossover experience, it's best to wear comfy shoes (ladies, ditch those stilettos!) and clothing as restaurant hopping means doing some walking. Also, it may be best to eat a light breakfast (or none at all) before heading to Dusit for the buffet, if you really want to maximize your experience. First-timers at the Dusit restaurants can also try the buffet as a teaser to what each establishment has to offer, to decide which among the four restaurants win you over.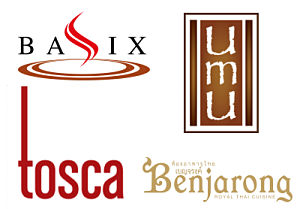 The Fab Four: Participating restaurants in the Dusit Crossover Buffet
Really interesting, huh? The first time I heard about this buffet concept, my eyes widened and my jaw may have dropped to the floor, I'm quite sure about that. Let me take this opportunity to give a run-through of what you can eat, based on my buffet feasts.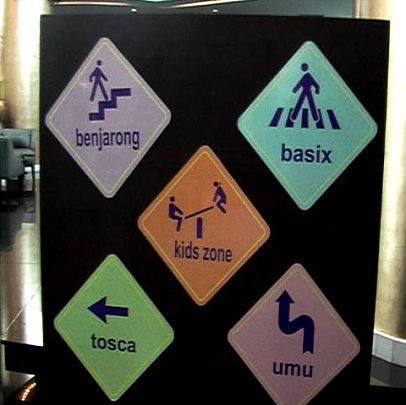 At the hotel lobby on Sundays, you will find by the doorway a reception area for the Family Sunday Brunch, next to a board with 'street signs' posted on it to guide you to the different places you can eat. Once you register and pay at this area, they will give you a wristband that serves as your passport to the four restos. You also choose which restaurant will be your 'base', the main area where you will be dining.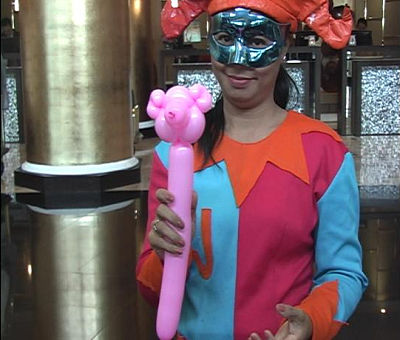 Also around the lobby are live entertainment to delight kids and the young at heart - some magicians, mimes or clowns, balloon artists, men in stilts, and the like.
Umu
During my first time at the Crossover Buffet, my family and I decided to stay at Umu, Dusit's signature Japanese restaurant, as all of us in the family love Japanese food.
The classy atmosphere is impressive, and if you are seated near the windows, the view of their Japanese garden is delightful --- it gives you an impression that you've been whisked away and brought to the heart of Japan. It's no wonder Umu made it to the Final Four - Best Design award for Best Restaurant category in the Hotel World Global Hospitality Design Awards held in Las Vegas.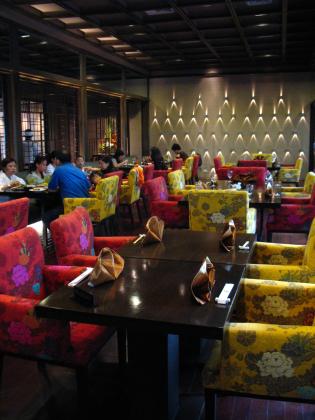 Now, the food. The buffet has Sushi and Robata counters, teppanyaki tables. Sushi, sashimi, soba, sukiyaki and tempura were my main targets for my first plate.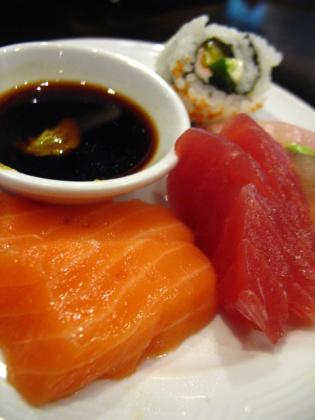 I kept things light first and just got a little sampling of each, because I knew I had three more restaurants to go. My father was content with his Japanese grub, so he happily finishes his plate and got more rounds, as my brother and I stood up to attack our next venue.
Basix
Just a short walk away from Umu is Basix, Dusit's all-day dining restaurant offering international fare and live cooking stations. My brother went crazy with the meat carvings and assorted sausages, while I was a bit overwhelmed with the selection, that I took several minutes to look around first and double check what I wanted to sample. The spread was varied and aplenty - cheeses, breads, meats; salad and cold cuts, halo-halo and crepe station, hummus and other dips and sauces, seafood.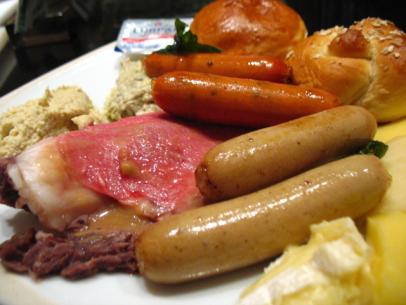 Check out my brother's plate!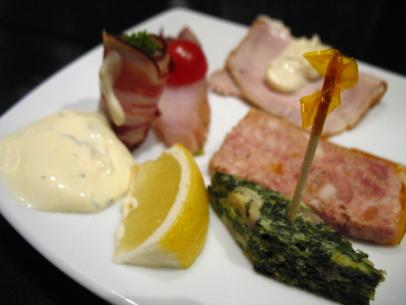 My plate of cold cuts
After filling up my plate, we head back to Umu to see my father with his second round of Japanese food. I think he completely forgot about the 'crossover' in the buffet, but he seemed very happy with what he was having anyway. I also realized that it was quite brilliant to have people resto-hop for their buffet because the in-between time of walking, standing, and walking back does burn some calories and gives the much needed time for digestion.
Benjarong
Past 1pm and it was time to level up our lunch. We opted to take the stairs to Benjarong to see what's in store for us. The Authentic Royal Thai restaurant had its buffet spread outside, making it more convenient for us since Tosca is right beside it.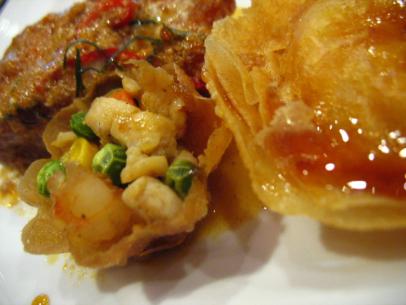 I decided to skip the items that needed or have rice since that would be more filling, and filled my plate with the fried finger foods like shrimp cakes and seafood patties, drizzled in spicy or sweet-sour sauces. Not to be missed is Benjarong's pad thai which is cooked upon order.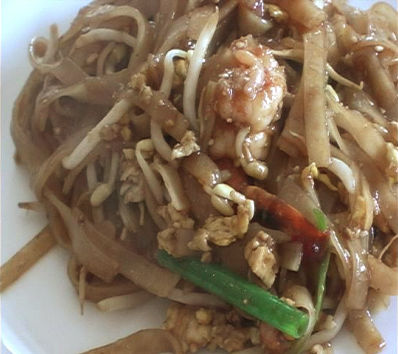 Pad Thai Gung
Tosca
The Italian restaurant Tosca has a cosmopolitan vibe and has the perfect atmosphere for dinner-dates and intimate gatherings. I also have been told that it is the 2-time recipient of Wine Spectator Magazine's Award of Excellence. The New York based magazine remains to be the leading authority on the world's finest wines, best dining and travel destinations.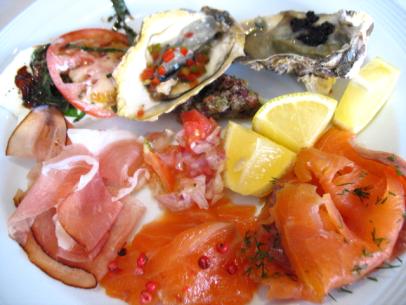 Assorted cold cuts, salmon with red peppers, oysters with caviar
While my brother headed straight to the create your own pizza and pasta station, I was all too happy to try out their oyster selection and cold cuts. Some sparkling wine called for my attention too, so I had myself a glass.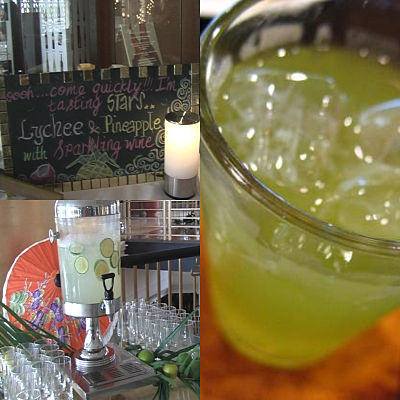 Unlimited drinks!
I took a mental note to come back to Tosca as we headed downstairs back to Umu, as their dessert spread was being crowded over by other buffet guests.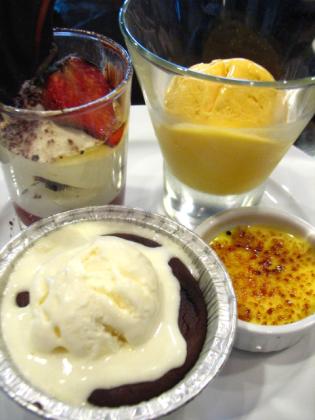 Save room for a sweet ending: assorted desserts from Tosca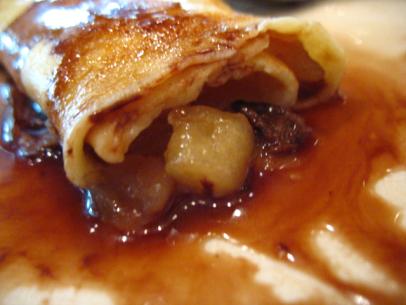 Apple compote crepe with caramel sauce
Now, it's time for dessert. In my world, there is always room for dessert, even after consuming four plates of food coming from four different restaurants. A crepe and ice cream scoops from Basix, cheesecake and molten chocolate cake a la mode from Tosca all sealed the deal of my Crossover Buffet experience. It was grand, it was fantastic, it was a total pig-out experience.
From my two brunches, I have developed some favorites - Umu and Tosca. Hoard their sushi and sashimi because they are really amazing, and grab some tempura and gindara while you're at it. Tosca will fill you with some good sparkling wine, delicious oysters and cold cuts (their salmon is excellent). Their molten chocolate is the best! Top it with ice cream for a real treat. Don't forget the pad thai and tom yum of Benjarong, and the meat carvings, crepe station and assorted breads and spreads of Basix.
At the end of the feast, I can say that my appetite was totally satisfied. And I can tell from that familiar sleepy-dazed look on my brother's face, and by the way my father was patting his stomach and sighing, that my company felt likewise.
This 'Crossover' Family Sunday Brunch is an Amazing Race of sorts, where you're limited to about three hours to consume as much food as you can, scurrying over to four different places to try out food from around the world. Your only opponent in this case is time, and your gut, of course -- you can only take in so much.
For the Crossover Buffet, the damage is
P1450 Net
-- that's all in: eat all you can, drink all you can. I have to emphasize how drinks are part of the buffet: free-flowing fresh fruit juices, sparkling wine, refreshing teas. Oh, and that's food and drinks from four different restaurants, if in case you forget. Children ages 6 to 12 get 50% off, and kids 5 years old and below eat for free. I think this is a great deal, especially for families. And hey, Sundays are special days to treat yourself to a really, really wonderful meal. Think of it as a pat in the back for being extra hardworking during weekdays, or simply being your super self, everyday.
So if you're a fellow buffet lover like myself, you should not miss out on Dusit's offering. Challenge your stomach to a whole new level at the Family Sunday Brunch!