When I was in high school, my friends and I liked hanging out at Il Ponticello ("the little bridge" in Italian) during weekends because it was the kind of place where faces were familiar but not overly so. 'Ponti,' as we fondly call it, was laid-back, well-kept and gave us a feeling of exclusivity since not a lot of people, then, knew where it was. Basically, you discover Ponti because a friend raved about their hardcore Azzurri cocktail or their steady ambiance or their new bar drinks. Ponti is a secret that is best shared to a friend or a favorite person. I guess that's what exactly made this resto bar thrive even after ten years in the business and despite the coming and going of a lot of similarly-themed joints.



All these years frequenting Ponti, and I never knew they served food. I mean real entrées and not just typical bar chow. I have been passing up on excellent cuisine all these years! This is what happens when your day starts at 10pm. To make up for this, I went to Ponti with an empty stomach one fine afternoon. I was raring for something that will convince me I can still get back all those years of missing out on good food which was right under my nose.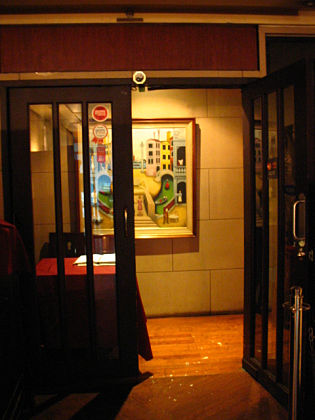 Toasting to Ten Years
It has been months since I've last visited Il Ponticello, that's why I was surprised to find out their interiors have been updated with new pieces and intimate booth-style seating. I liked the change instantly because it lent an understated elegance that is often amiss in other modern resto-bars. The floor has been divided to two sections—the bar and the restaurant. The former is more laidback and modern while the latter has a formal, Old World charm accentuated by a subdued color palette of midnight blue and browns. Interior designer Lisa Antonio had just returned from a trip to Italy when she recreated Ponti's space, probably the reason why there was so much authenticity in her décor.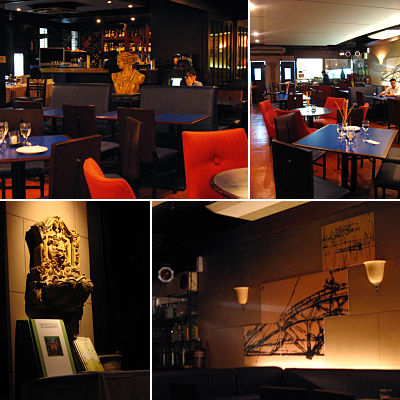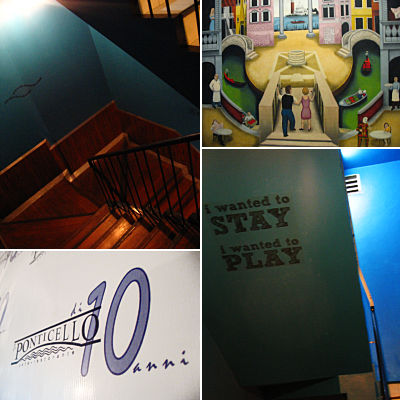 This revamp, I will later find out, is a toast to Il Ponticello's tenth anniversary. It has been a decade long already, but they are still on top of their game. In fact, Ponti has been chosen "Best Authentic Italian Restaurant in the Country" in 2006 by TV program Executive Class hosted by David Celdran on ANC. Philippine Tatler also included Ponti in their list of "Best Restaurants in the Philippines," and they've received this distinction since 2003 and every succeeding year thereafter. I attribute this to constantly being updated with the fickle tastes of cosmo Manille and always offering something new to whet appetites. In celebration of their tenth year, Ponti has a new menu, in addition to their popular traditional Italian fare. Called the Rinascimento menu, which was inspired by the Renaissance period in Italy, Executive Chef Romeo Garchitorena let creativity and innovation loose in his new and unusual culinary masterpieces.
Something Old, Something New
As I studied the menu, a waiter brought a handful of tall breadsticks on a glass. Out of impulse, I took one and munched. I wasn't expecting something as mundane as bread sticks to make sense, but they did.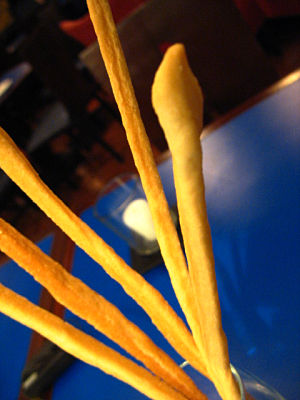 After I finished my stick, I had this tingly sensation of excitement, sensing Ponti might really have a good menu if their breadsticks were already this good. I was pleased that they would put effort into something as unnoticed as breadsticks and aim to make them great-tasting ones. It was a brilliant move because it set the mood for the entire meal.
Being a first time diner in Ponti, I indulged in both the old and new dishes. First off, the classics:
Gorgonzola Pizza (P630)
and
Al Quattro Formaggio Pizza (P570)
.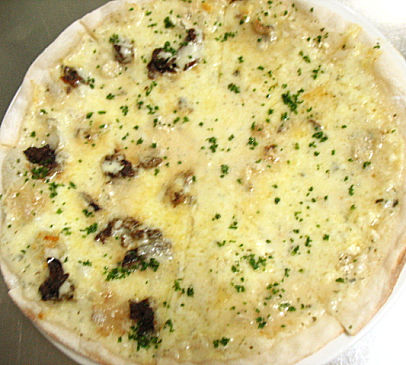 Combined Gorgonzola Pizza and Al Quattro Formaggio Pizza (P630)
Guests have the option to combine two flavors in one crust, if variety spices up their dining. That's what I did and opted for an overload of cheeses on my pizza. One bite and I knew why Ponti's pizza is steeply-priced compared to the other pizza joints I've been used to. It's simply flavorful but stripped off of unnecessary additives or artificial flavors. I watched how my pizza was made right in Ponti's kitchen and it's just dough, cheeses and porcini mushrooms—nothing more. It makes you wonder where all the very potent flavors come from. Then, it starts to make sense when I'm told that Chef Romeo, who lived in Italy for 19 years, only uses the freshest ingredients flown in from Europe. Now, that is authentic Italian dining.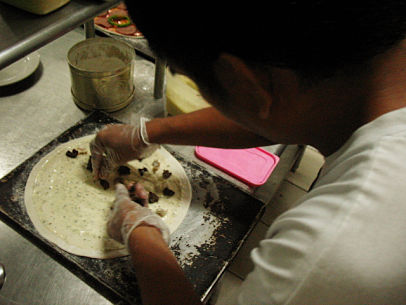 Pizza won't be complete without the requisite pasta. I attacked the
Frutti Di Mare (P510)
next, which I've been told is another Ponti favorite. The seafood pasta was served with a basket of fresh, warm bread, which was soft in the middle and crispy on the edges. This is comfort food I will never tire of. The sauce is real tomatoes, with the familiar slightly sun-dried taste I absolutely love.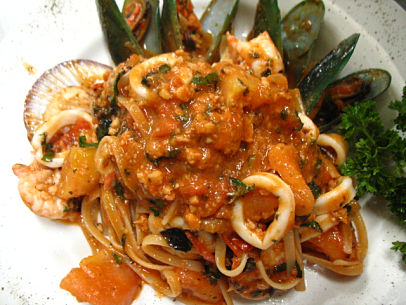 Frutti Di Mare
Then, there are unforgettable flavors that linger, even when you've just been acquainted. I said hello to the
Terrina Di Anitra Ruspante E Fichi Glassati (P470)
for the first time and it was love at first bite. It isn't just a fancy name for a duck dish. It's a fancy name for a really wonderful duck dish, specifically, farm duck confit with mango chutney and balsamic vinegar.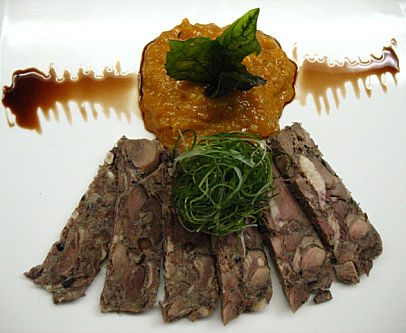 Terrina Di Anitra Ruspante E Fichi Glassati
The duck meat was served cold and sliced, like cold cuts on a platter. Then, there's a dollop of mango chutney, which goes well with the balsamic vinegar strewn over it. Salty duck + sweet mango + sour vinegar = an orgasmic experience for the taste buds. I paired everything with the remaining bread from my Frutti Di Mare to make it a complete meal.
Like always, a meal isn't over without dessert. Ponti's
Operations Manager Alberto Besa
, who has been managing the resto-bar since day one, unabashedly recommended to me what is deemed by most food critics "The Most Deliciously Sinful Chocolate Cake In Town." The dessert has been in Ponti's menu for a decade and still remains a bestseller.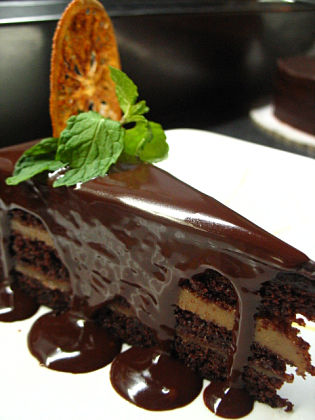 Ciocolato Della Nonna
The
Ciocolato Della Nonna (P210)
was moist and decadent but not too sweet. It was topped with chocolate ganache and paired with orange marmalade. It was such a blending of sweetness and sourness, with just the right kick of citrus.
The Ponti Drinking Spree


Of course, I cannot leave Ponti without drinking—especially, when
Managing Director Patrick Santos
kept on boasting about their new cocktails, saying it's all innovative and groundbreaking.
There's the
Italian Flag
, which is Ponti's alternative way of drinking tequila. I was presented with three shot glasses—with red, clear and green liquids in them respectively, explaining its name.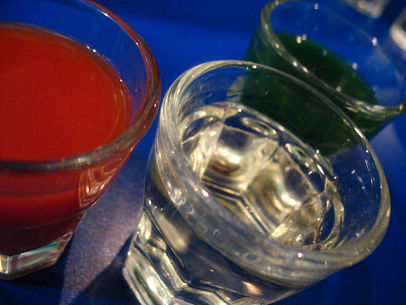 Italian Flag
I drank the red liquid first, and discovered it was tomato juice. It's the equivalent of rock salt in your usual tequila drinking sequence, since the juice was very salty. Next, I downed the clear liquid, which was 100% agave tequila. Then I grabbed my version of lemon, the green liquid which tasted like calamansi (Philippine lemon) extract. When everything was done, I had become a convert. I discovered my new way of drinking tequila—in a less messy and less time-consuming way but still with the same (or even better) taste.
Another must-try and should I say, a "traydor drink" is the Bikini Bottom, which is tequila with a "special" chaser. I asked what the chaser contained, and Patrick smiled sheepishly and said, "Secret!" It looked like pineapple juice mixed with "secret ingredients." The chaser is said to completely clear your taste buds of tequila, so much that it will make you think you're capable of drinking more. I tried it—tequila first, then chaser—and wow, it does make your taste buds forget what you drank in the first place. I guess if you don't like the taste of tequila, this is the drink for you. Nevertheless, if you're one to not keep track of what you drink and then pass out, better stay away from the Bikini Bottom.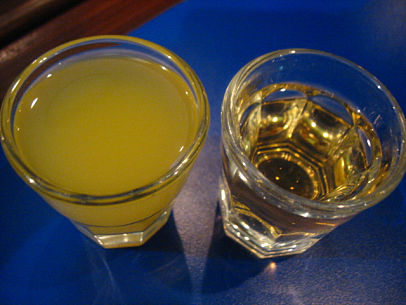 Bikini Bottom
As if those weren't enough, I sipped on one of Ponti's signature drinks—the icy blue
Azzurri (P220)
. Patrick said it's basically a lot of sugar mixed together with five deadly kinds of liquor. True enough, finish a glass and you're good for the rest of the night. It's a cheaper alternative but still does the work.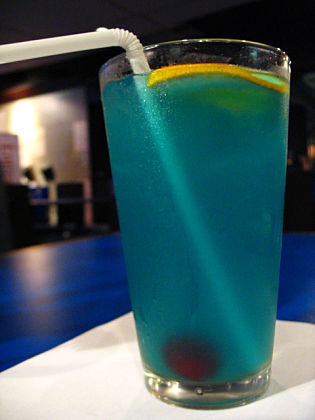 Azzurri
The finale for the night is a drink called
What Did I Do?
. I really put it off until I've finished eating and drinking because I was afraid I'd forget what I've tasted and put a perfectly great dinner to waste. Good thing I only had a shot because Patrick guaranteed amnesia after a few shots of this venom. It tastes and smells strong, like isopropyl alcohol--perfect for those drinking to forget.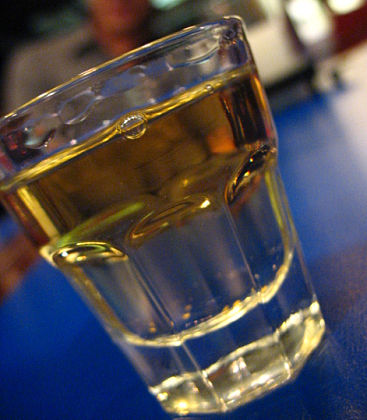 What Did I Do?
After a decade, I still couldn't see anything I disliked about good old Ponti. It still is a destination for those very discriminating with their food and drink, but not uptight about letting their hair down and having fun. Ponti has been there since time immemorial and I'm glad it's still going strong at a time when I already have purchasing power. I can't help but wish that they continue to be around for another set of ten years, and another, and another, and another.