What started as a small-time business of selling honeycured ham over fifty years ago has now become a staple item at Filipino households come the colder months of the year.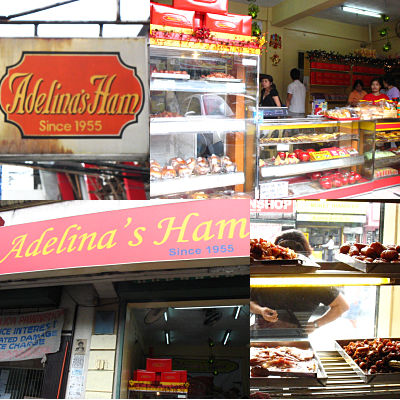 When one talks about Christmas ham, one of the more popular brands is Mandaluyong's pride,
Adelina's Ham
.
Lloyd Chiam
, grandson of enterprising couple
Vicente and Adelina Uy
, shares that his grandparents had started the business of ham simply to differentiate the grocery store they owned along Kalentong Street. "They first sold one
pata
just to differentiate their grocery among the nearby ones," he shares, and the rest is history.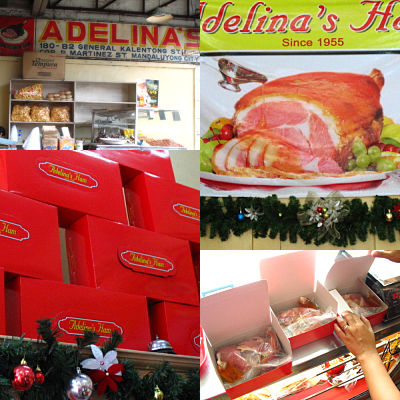 Loyal patrons swear by this brand when it comes to the holiday season, with the older ones raving how Adelina's Ham has maintained its unique flavors in their special sauce. With a sweet, sugary amber coating the ham that cracks when the meat is carved, each slice of Adelina's Ham is a decadent treat meant to be shared with loved ones.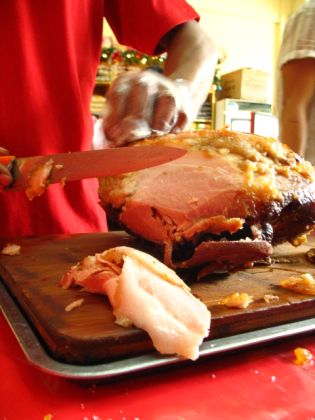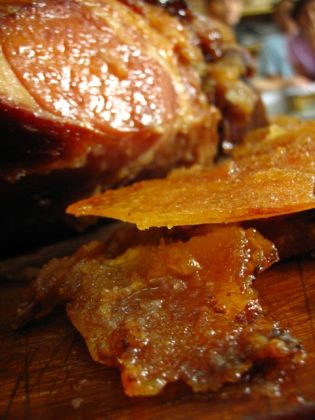 A big slab of
Bone-In Ham
costs
P770 per kilo
while the
Boneless Ham
is
P730 per kilo
. The smaller size for Boneless Ham is ideal for small gatherings and families. The Bone-In Ham, however, gives one that authentic Chinese style flavor of Adelina's Ham that has been consistent throughout the years.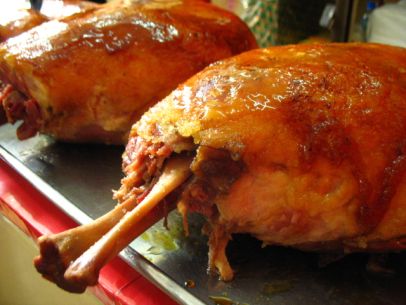 Bone-In Ham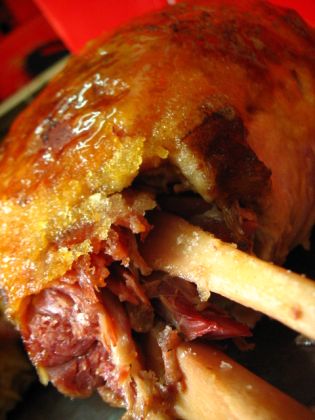 I've been told by the grandson of Mrs. Adelina that the authentic flavor of Chinese ham - sweet glaze on the outside, while retaining the saltiness of the inside - is best achieved in the curing process of a bone-in compared to its boneless counterpart, hence the reason of a higher price for the bone-in hams.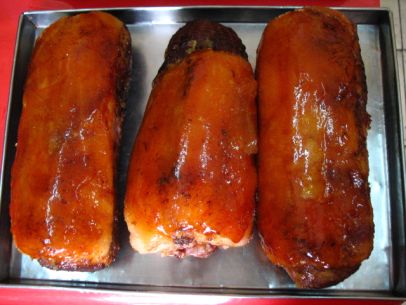 Boneless Ham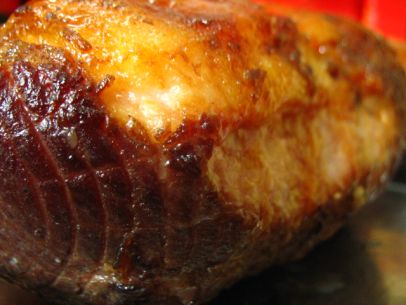 You can also bring home a box of ham, already sliced for more convenience if you're picking up the ham in time for a party, to save you some time from carving the meat. Sliced Ham without Sauce is priced P890 per kilo, while Sliced Ham with Sauce is P790.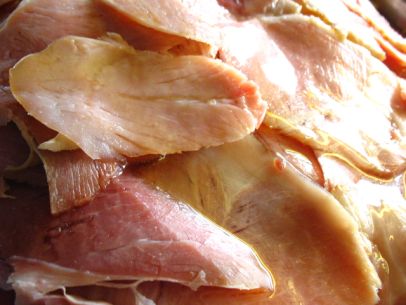 Sliced Ham
While I know everyone feasts on the huge slab of sweetened ham, I just go gaga over the
Scrap Ham (P66 for 100grams, P165 for 1/4 kilo, P330 for 1/2 kilo, P660 for 1 kilo)
! While it may look less beautiful in presentation, it's these little chunks of scrap ham that packs in more flavor from the sweet marinade.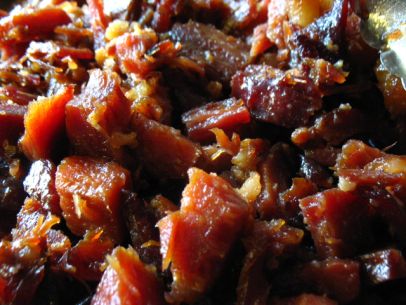 Scrap Ham
That sugary-sweet just seeps into the edges and corners of the meat much better. Frying these little flossy pieces and serve with rice makes for simple comfort food. Some add this to their soups, or even the bone of the ham, to put in more meaty and sweet flavor in their stock. I heard from one friend that she experimented with the scrap ham for her own version of sinigang! The ways to cook and eat the scrap ham seem endless.
One of my favorite ways of eating this festive meat is as a pandesal treat. Adelina's Ham also sells
Ham Pandesal
in their outlets for
P60
. A ham pandesal is most excellent when you use freshly baked bread that's so soft and warm (I often use Pan De Manila). Put a slice or two of Adelina's Ham in the toaster for a couple of minutes, and once heated, drizzle the famous Adelina's nectar-like sauce on top. Place on the pandesal and enjoy! Others like to toast their bread too, to give that crisper texture, but I prefer my sandwich fluffy and soft. If you want to go richer on the flavor (and disregard calorie content for the meantime), slather some margarine or butter on the bread, or slice some queso de bola to add to your ham pandesal. Or you can do both --- 'tis the season to eat and be merry! You can walk off the calories while gift shopping, anyway.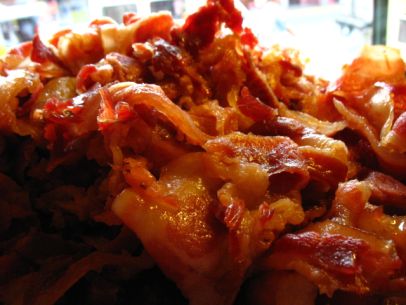 Cooked Bacon
If you are a huge fan of the honeycured flavor of Adelina's Ham, you will surely enjoy a hearty breakfast of hot, steaming rice, scrambled eggs, and some
Cooked Bacon (P57 for 100grams, P142 for 1/4 kilo P285 for half kilo, P570 for 1 kilo)
. Frying their version of the bacon won't give you that super-crisp, burnt texture as their bacon is thicker and leans on the meatier side. The bacon fat is a total heart-stopper but absolutely yummy. For a sweeter take on the bacon and less of the salt, this one's a must-try at home for a good breakfast. I think it's what woke me up to a happy day today.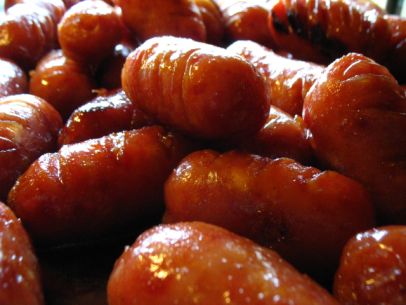 Chicken Longanisa
For a Pinoy all-day breakfast treat, they also sell
Chicken Longanisa (P95 for 1/4 kilo, P190 for 1/2 kilo, P380 for 1 kilo)
, glazed with, yet again, their irresistable ham sauce that people seem to never tire of. I've heard people asking the store if they can buy the sauces in jars, separately --- yes folks, their sauce is truly a winner. For the record, their sauces cannot be bought separately, but is available when you buy their hams (and you can ask for a little extra, they won't mind).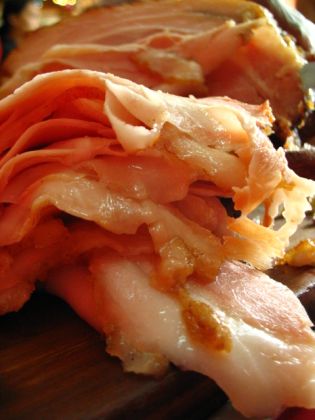 Whether boneless or bone-in, sliced, diced or otherwise, the classic Adelina's Ham has stood the test of time, ranking as one the the most popular holiday hams in the country. So loosen those pants a bit, because it's that time once again to say "bah" to dieting, and yes to a wonderful meal shared with special people. Why not get yourself a box or treat someone with one and have yourself a hammy holiday?
Adelina's Ham main outlet is located at 180 General Kalentong St., Mandaluyong City. Their other outlets are located at Fiesta Market of Market! Market!, Ground Floor of V-Mall Greenhills, and at the Weekend Bazaar of Hypermarket Mall of Asia.