Since Christmas is fast approaching, we here in ClickTheCity are working on good-for-holiday features in time for the upcoming festive season. And as we speak of the holidays, it is impossible to miss out on the food that we plan, prepare, and (of course!) devour as we celebrate this time of the year.

We also thought that aside from the usual dishes served in our dinner tables, we should put spotlight on the timeless Pinoy delicacies that are perfect to be enjoyed together with our families.

I originally did not intend to include Suman in the list of articles I am to write for the holidays, but after I made an early Christmas shopping discovery, I knew right then that suman should be on this list.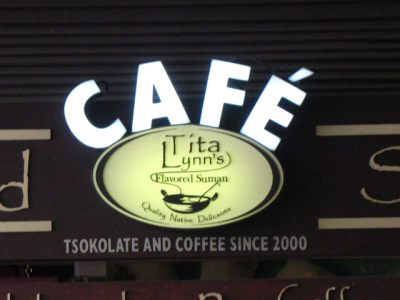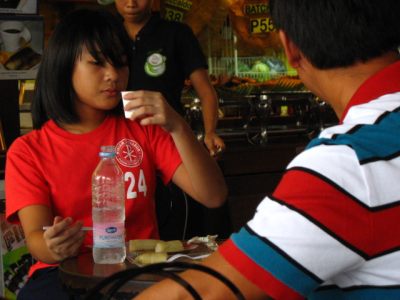 Frankly, I cannot recall of a year when suman was served in our dining table, be it
Noche Buena
or
Media Noche
. The mention of suman makes me think, neither of Santa Claus nor the sleigh bells. It however takes me back to my childhood years when we used to visit the mother side of the family in Pampanga during their fiesta. Suman in their
handaan
is a staple. The huge, fat slabs of sticky rice wrapped in a dark banana leaf is always there, sitting beside the bowl of
ginataang kuhol
,
buro
jar,
morcon
,
embutido
, and
bringhe
(which I personally love). If not the Pampanga memories, flashbacks of the lazy afternoons I spent as a child with a
platito
of suman and brown sugar in hand, are caused by the mere mention of suman.
It is the Antipolo suman (which is medium sized, wrapped in a twirling strip of a yellow green leaf, and usually bought in bundles) that I favor the most. A piece or two of this native delicacy together with a sprinkling of white sugar can instantly satisfy and fill me up. It is only recently that I tasted the famous
Tita Lynn's Flavored Suman
suman in
Tiendesitas
, established a couple of years ago. Since I do not frequent the place, I had no idea that such stall existed.
On one casual afternoon while doing an early christmas shopping in Tiendesitas, a friend recommended that we eat in Tita Lyn's Flavored Suman for merienda. Curious but a bit hesitant after the mention of 'flavor' (as in yellow, brown, and pink suman?!), I agreed. I asked her if there's an unflavored one so that if I find the flavored suman too much for my palate, at least I'll have the normal suman to eat. She said yes, so it was fair enough for me.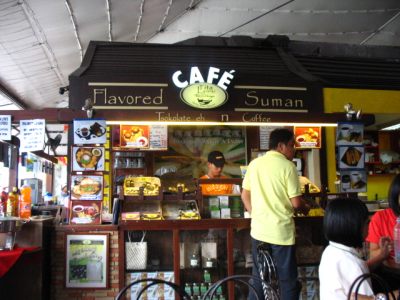 A humble stall, barely noticeable amidst the colorful food units in the area is Cafe Tita Lynn's Flavored Suman. Displayed are trays of mango suman, ube suman, chocolate suman, macapuno suman, mais macapuno suman, langka suman, and the regular one (
P25 per piece
). They also offer different drinks to go along with your suman such as
Tsokolate-eh!(P45)
,
brewed coffee (P35)
,
Capucocoa (P55)
, Alamid coffee and even
frapuccino with caramel (P85)
.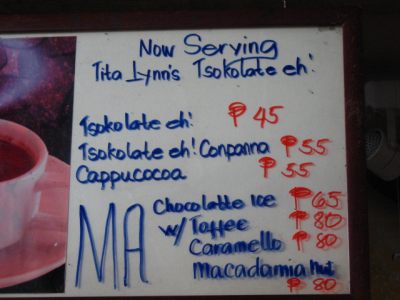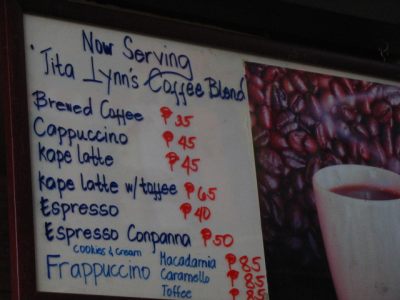 I sampled first the
Original Suman
. The leaf covering is darker than the Antipolo suman and isn't twirled, but folded. It is of the same size though. When unwrapped, the main suman is of a shade darker and also glossier. After a couple of bites, I was able to conclude that this definitely is tastier than the Antipolo suman and is very much like what we have in Pampanga before. Eating the Antipolo suman requires sugar and to my taste preference,I could do without sugar in my Tita Lyn's original suman. It already has the right amount of sweetness.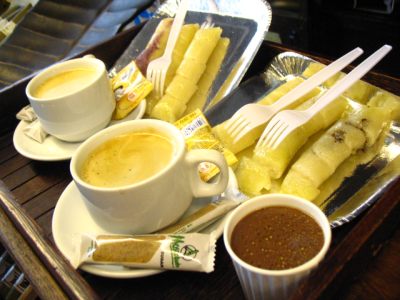 Satisfied with the taste of the original suman, I proceeded in ordering and asked for the
Mango
and
Chocolate
. Mangga't suman is a tried and tested combination so it's more of a safe option for those who haven't tried flavored sumans before. The chocolate on the other hand is a personal preference. I like chocolate, so why not chocolate suman?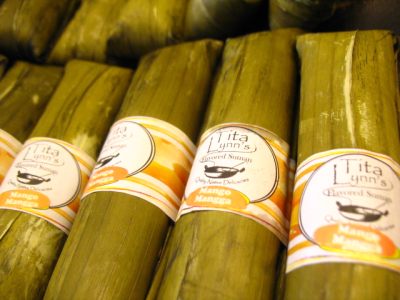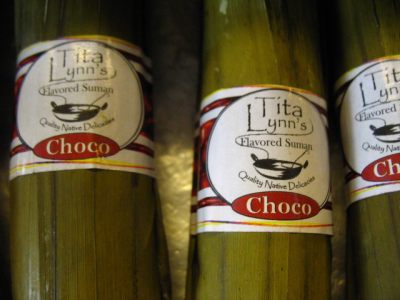 The mango flavored suman isn't yellow as I imagined it to be. It is of the same color as their regular suman only, a yellow strip of mangga can be seen incorporated with it. When I tasted it, the mango flavor is subtle yet present. Neither of the flavors (suman and mangga) dominates the other so the blend is perfect.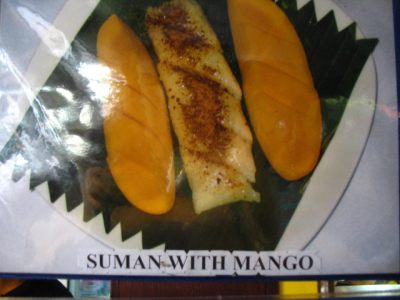 I next tried the chocolate suman. Like the mangga, it isn't really entirely colored brown. It's still the same color as the origial one with some faint chocolate swirls on it. After tasting this, I was greatly pleased as well. I never imagined that suman could go well with a lot of flavors. Good thing Tita Lynn did.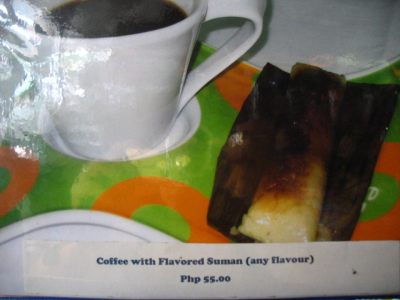 If only I hadn't eaten a heavy lunch before that shopping trip, I could have easily consumed pa two more sumans. But since I'm already full, the Macapuno and Langka would have to wait for the next time.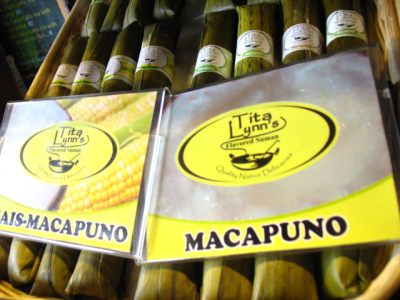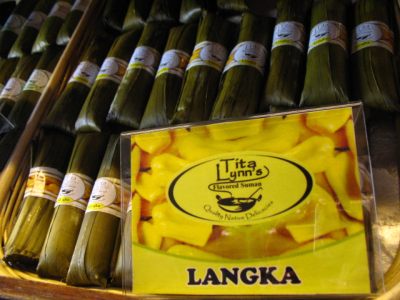 Thanks to my friend who introduced me to this newfound favorite, my shopping time was cut. I then knew what to buy for my balikbayan relatives coming over this Christmas. One can buy a dozen for
P270
, and a native bag as a package can be bought for an additional
P30
. 24 pieces already packaged in a native bag is sold at
P600
.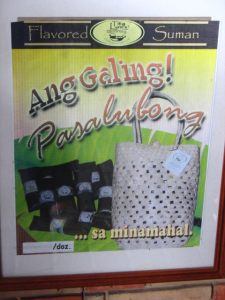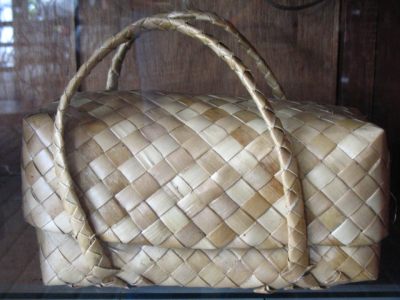 Best served with a cup of hot chocolate, suman will surely be a filling delicacy for the holidays. Even though this Pinoy tradition is widely appreciated by balikbayans as well as the older generations in our family, a plateful of Tita Lynn's flavored suman is a great way to introduce this timeless
malagkit
to the young ones.