If you're like me who simply loves Italian cuisine (and loves it even more if priced inexpensively!), I don't see any reason why you would not fancy Focaccia in A.Venue Mall.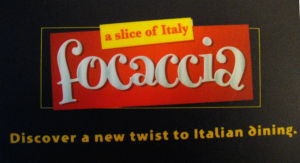 It's near, it's affordable, and food is superb. Those are just few of the many reasons why Focaccia is always one of the first restaurants I mention whenever asked by my friends for a recommendation.
This half a year old resto, which already managed to gain a following over that span of time, is surprisingly the first business venture of two guys who've known each other for ages and simply share the same passion for Italian food.
RG Gamboa
loves to eat, while
Chef Ivan Tajonera
loves to cook. Since they both consider Italian as their comfort cuisine, they decided to put up their own place, thus, the birth of this cutesy and casual Italian diner located in A.Venue Mall, Makati.
The vibrant colored wall will surely grab your attention the moment you step into Focaccia's little nook. And when I say little, I mean little. According to RG, approximately 30 people could fit in here but I'm not exactly sure if a place this tiny could handle a crowd. We went in a little after lunch time so it wasn't crowded. But I could only imagine how hard it is to get a table during the weekends. So if you're planning a weekend family or group affair, it is still best to call ahead and reserve. Nonetheless, the place is comfy and charming. The testimonials scribbled on colored glass by one wall are also quite interesting and entertaining. There's an entire wall for you to read if you want something to do while waiting for your order.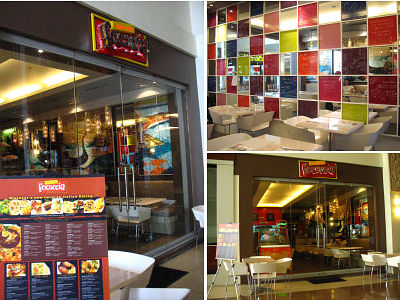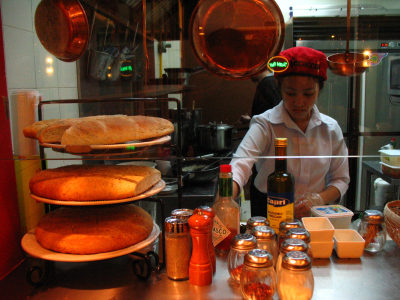 I was about to ask them why they named Focaccia such, but after sampling the complimentary
Focaccia Bread
they offered us while waiting, I just knew they picked the perfect name. Their version of this soft, flat Italian bread is served in a homey basket. Guaranteed baked fresh every day, the bread is best paired with the balsamic vinegar that comes with it. Bea, who was with me during that late lunch also gave the bread two thumbs up. Focaccia's focaccia is simply addicting! No wonder other people make their way here just to buy and take home a loaf or two.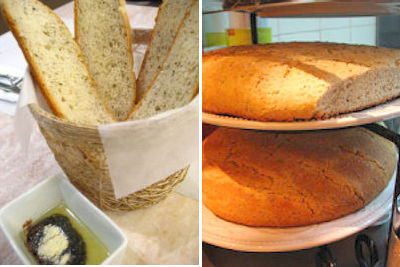 The gastronomic satisfaction in Focaccia doesn't end with their bread alone, though. For those who haven't tried Focaccia yet, here are the things I recommend you to try out.
For starters, their
Cream of Tomato and Basil (P90)
soup is a must-try. Served in 3 small shot glass-like containers, the soup is already good for sharing. I found the cheesy-tangy-creamy blend of this thick tomato soup very much comforting to my taste buds. It is definitely tastier and way creamier compared to those in others places I've tried. And oh, be sure you haven't consumed all of your focaccia bread while waiting as it greatly complements this soup.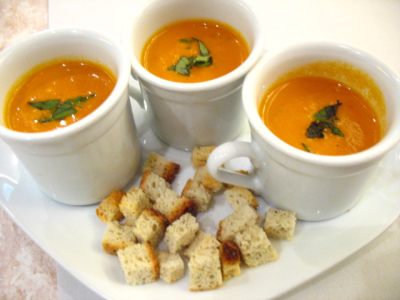 Cream of Tomato and Basil
The
Assorted Garden Salad (P220)
is basically a huge bowl filled with tossed grapes, apples, black olives, capers, feta cheese, fresh greens and Focaccia's citrus vinaigrette. The salad enthralled Bea who likes her food tangy. I on the other hand found it a little too sour for my liking. Maybe next time I'll give their Caesar Salad a try.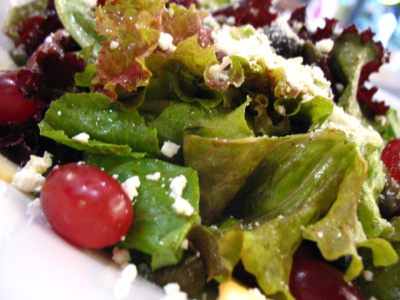 Assorted Garden Salad
If you want something filling,
Cannelloni in Bechamel Sauce (P240)
definitely is the right pasta dish for you. Beef (lots of it!) and spinach fill the four big soft cannelloni shells. You'd have to be really really hungry to be able to devour all of the shells! But I still think this is best to be shared or else, you'd be instantly weighed down by this extra rich pasta meal. And believe me, you'll need to save some space for the main star of Focaccia: the
Pazzo Rollo
.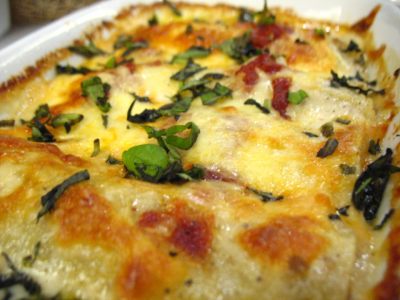 Cannelloni in Bechamel Sauce
Skip everything else but never
ever
Focaccia's 'crazy roll pizza'. Most people would find the Pazzo Rollo unlike all the other pizzas they have tried before: appearance-wise and taste-wise. For the record, this definitely is the thinnest crust on a pizza that I have ever seen. Since it is impossible to lift the paper thin crust cut into strips like your typical pizza slice, eating the Pazzo Rollo is also as unconventional as its looks.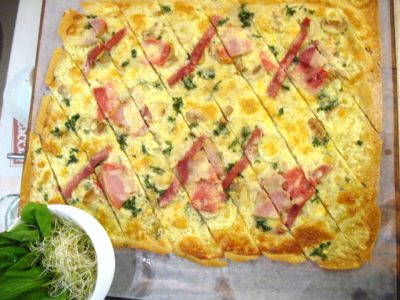 Pazzo Rollo
First, you are to put the arugula and alfalfa leaves on top of a pizza strip. The arugula and alfalfa are responsible for a bitter kick in the taste afterwards so if you prefer your pizza without the leafy bitterness, you could always skip this part. If you're nonetheless game to try something new, you'd be surprised how well both of these veggies matches your pizza.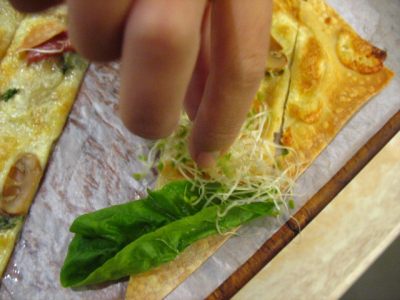 After placing the leaves on top, roll it just like how you would roll a regular
lumpia
.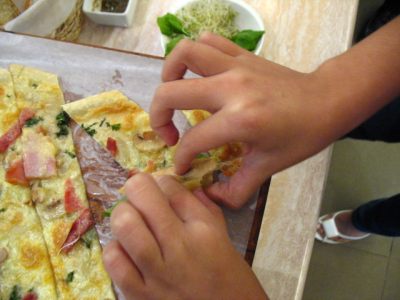 Then
voila
! A crazy roll for you to enjoy.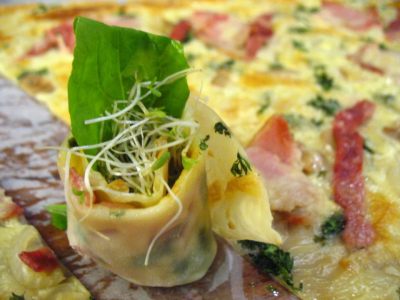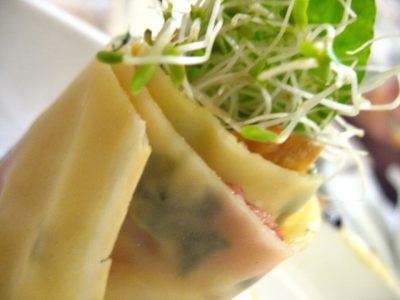 Prices for the Pazzo Rollo ranges from
P250 to P380
, depending on what pizza flavor you fancy. This is good for sharing too, but if you're a pizza fanatic like me, you might find yourself rolling and devouring these light and scrumptious slices one after the other and be surprised that you have consumed the entire square. Well, that happened in my case so I'm not really sure about the sharing part. But one thing is definite, any time soon I'll be back for more of Focaccia's Pazzo Rollo.
Sadly for a sweet-tooth like myself, there isn't much choices for desserts in Focaccia. Sure, they offer the
Angelati Italia
gelato (
P80
per scoop). I've mentioned in a previous article that I enjoy their gelati a lot. They have some mini cakes
(P120)
, but I wish they had more unique desserts to offer. Their own take of Panna Cotta and Tiramisu, perhaps?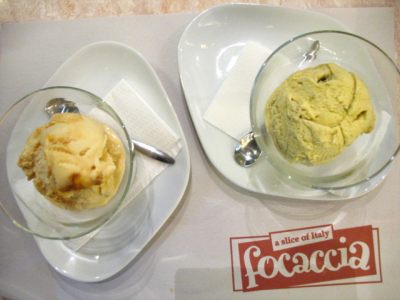 Angelati Italia Gelati
Other than having little dessert options, Focaccia is really worth your regular visit. So far, the people I know who have tried dining there also commended the quality of their food and service. If you haven't eaten at Focaccia yet, now is the time to head to Makati Avenue to discover a new twist in Italian dining.