There's this fun new place over at Power Plant Mall that glitters in pink and purple, all bright and bubbly as if Barbie herself waved her little magic wand to create the cheery atmosphere. Kids and kids-at-heart alike enter with big smiles, as the ones behind the counter take in orders with equal cheer on their faces. A little girl tiptoes in vain to see what colorful bits of toppings she wants with her ice cream, until the bright pink cow with tiny wings call her attention. A parent prods the tot, "Who's that?" With a toothy smile and stubby finger held up high in the air, the little one replies, "Lulubelle!"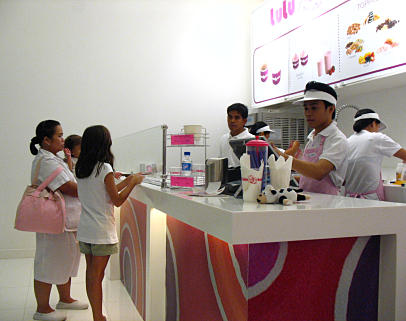 Imagine my surprise when I find out that a high school friend is the part-owner of this cheery little nook at Playground, the newest section at the R3 level of Power Plant.
Isabel Celdran
, part-owner of
Lulubelle
, happens to be the daughter of Yoli Celdran of FIC (Fruits in Ice Cream) fame. A little more trivia: apart from giving us the famous frozen desserts that we've grown to love with FIC, Pinoy Sorbetes and
The Ice Cream Bar
, Yoli makes pretty dresses and also makes time to manage a local band. But hey, that's another story altogether.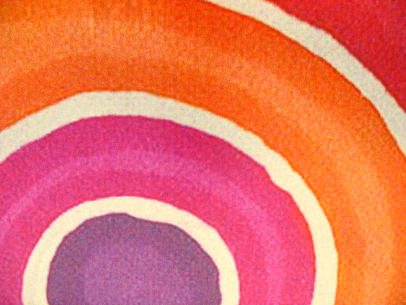 Lulubelle's colorful palette: bright and bold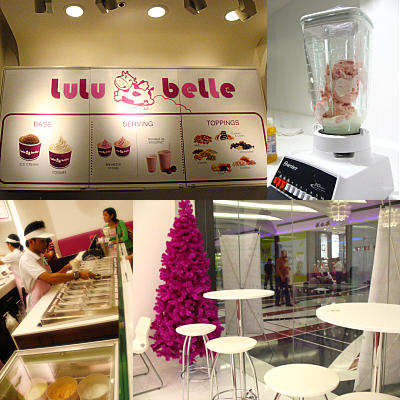 Inside Lulubelle
A visit to Lulubelle turned into a tiny reunion for myself and an old friend, another "small world" moment, indeed. In between exchanges of pleasantries and catching-ups, I got to know more about the cute cow and what it has to offer.
Meet Lulubelle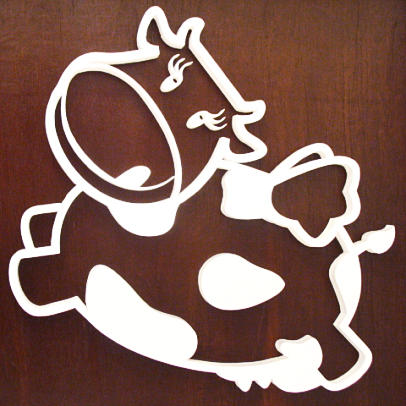 The store's mascot is a darling, managing to charm its way to both the hearts of young and old. Why, if only I could pinch its chubby cheeks I would! The winged cow with the prettiest of eyelashes reminds me of that cute and fat caterpillar in 'A Bug's Life', that transformed into a, well, cute and fat butterfly with the littlest pair of wings.
Isabel laughs as I share this with her, and tells me that they went through a whole bunch of cow designs with their artist to make the perfect Lulubelle that we see right now, prancing about the store. "The kids now actually recognize her," Isabel adds, as the regular child customers would point out to the cow and call it by her name. How adorable is that?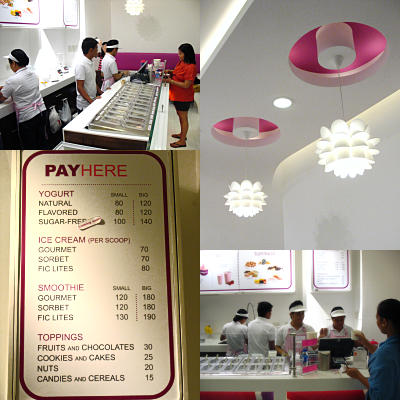 Healthy and Heavenly Frozen Finds
Lulubelle calls itself a frozen dessert bar. While it is growing popular with fro-yo fanatics, it simply offers more than a cup of frozen yogurt. Since it is the sister company of FIC, you can look forward to your favorite FIC, FIC Lite, and Pinoy Sorbetes flavors here, served plain or with toppings of your choice.
Choose you flavor!
Choose among sprinkles, Lucky Charms, Trix, mini mallows; go choco-holic with some choco powder, choco chips, chocolate malt balls, brownies, or maybe try a cup with walnuts, oreos, mochi, granola, mango, kiwi or peach. Topping your yogurt or ice cream with
fruits and chocolates
costs
P30
,
cookies and cakes
go for
P25
,
nuts
for
P20
, and
candies and cereals
for
P15
.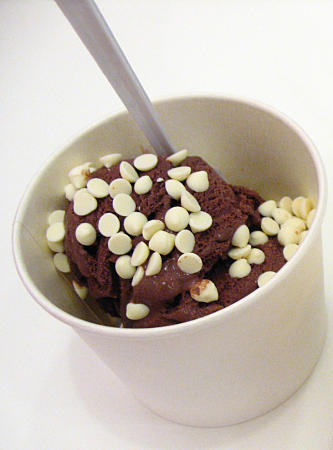 Chocolate Ice Cream with white chocolate chips
I never tire of FIC's Green Tea, Raspberry and Mangga't Suman. Always good choices whenever I am presented with a flurry of new flavors. The ice creams at Lulubelle are priced the same as the FIC kiosks around the metro, by the way (that's
P70-P80
per scoop, depending on flavor). What about you, what is your favorite FIC flavor?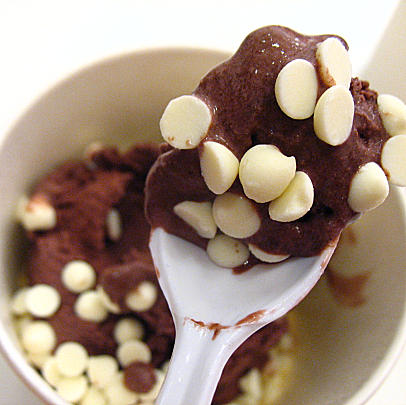 Another interesting little trivia: do you know that per international standards, some mainstream local ice cream brands are not considered as 'ice cream'? That's because only pure, 100 percent milk-derived ingredients can internationally be labelled as such, and FIC is proud to be top-notch with its creamy-rich flavors. No non-dairy milk substitutes here, folks. Just pure ice cream goodness.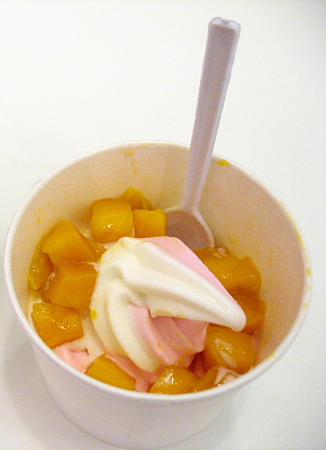 Twist with mango Topping
I am huge yogurt fan even before the fro-yo craze, and can consume several cups of chilled, fruit-flavored or naked yogurt in one sitting. Naturally, Lulubelle's frozen
Yogurt (P80 for small, P120 for big for both Natural and Flavored)
is a good choice for myself. I take it not as a replacement for ice cream, as I find the tangy flavors irresistible anyway. But for ice cream lovers, take comfort in the fact that fro-yos are lower in fat, and give more weight in the nutritional scale. Packed with enzymes, calcium, and protein, a cup of this frozen dessert will ease some dietary concerns.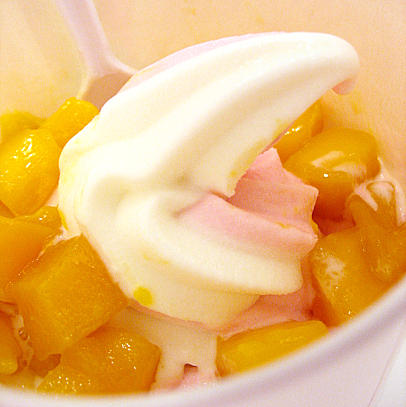 My small order of
Twist with mango topping (P80)
is a mix of strawberry flavored and natural yogurt. Lulubelle is targeting a new yogurt flavor for every quarter, giving us more reasons to come back.
Lulubelle's yogurt is the same as The Ice Cream Bar's formula of a sweeter blend, catering to majority of sweet-toothed Pinoys who opt their desserts to be more saccharine than tarty. I personally found the good balance of sweet and sour in their yogurt, and chose to top my cup with some mango bits to give it a fruity spin.
Green Tea Smoothie
A
Smoothie
(
P120-P190
, depending on size and flavor) at Lulubelle is also healthy and heavenly. They use a yogurt base to pair with a flavor of ice cream or sorbet of your choice. If you like a lighter smoothie to quench your thirst, try out smoothies with Pinoy Sorbetes flavors. A more filling option is to pick out a smoothie with ice cream flavors.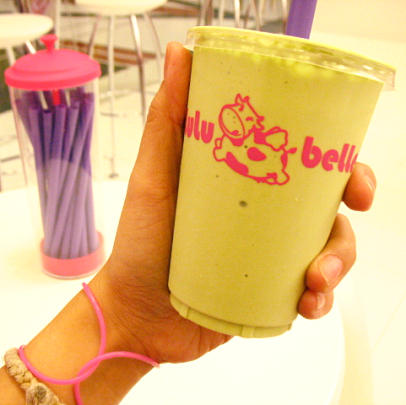 That afternoon, I decided to try out a smoothie with my fave FIC Gourmet flavor: Green Tea (small smoothie, Gourmet -
P120
). I wanted to try out something new. After ordering this, Isabel remarks that I'm the very first customer at Lulubelle to try this combo out, so I thought that would be cool. And, surprisingly, the smoothie turned out great! If you like the taste of green tea latte, you might want to try this one out -- it's a healthier version, and it has an inviting tarty kick after every sip. For the more calorie-conscious folk, choosing the FIC Lite flavors for smoothies will delight your tastebuds: less fat, less sugar, and adding it to an already wholesome yogurt, you have yourself a guilt-free drink.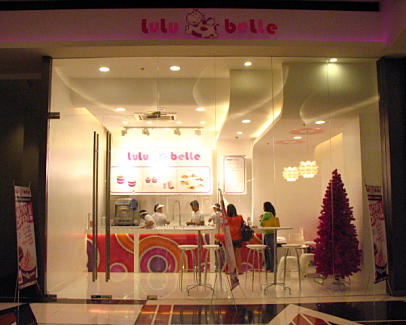 From the adorable flying cow to bright, inviting interiors, healthy desserts and frozen delights, you just may find more reasons to linger on at this new place. Try a smoothie or a cup of Twist sometime, and perhaps you may find yourself licking your lips happily and traipsing about with a skip in your step, just like cute little Lulubelle.