Christmas is just days away and as Filipinos that we are, the festive spirit has already been felt once the 'ber' months rolled in. There's something about the December holiday that keeps us up our feet -- be it gift shopping, house decorating, food scouting for the best items to make our Christmas gatherings quite memorable. Bring in the Christmas ham, lechon, the ubiquitous (perhaps immortal?) fruitcake, and surely we're bound to set up our appetites for a month-long holiday binge.

Holiday or not, I've fallen in love with our local and festive kakanin that sell like hotcakes come the colder months of the year. I personally found that our bibingka, a misa de gallo staple, is actually much better when served in smaller sizes -- easier to pop in the mouth, moisture seems more intact than the bigger ones, and you don't get that feeling of umay. These, I learned to love with Bibingkabon.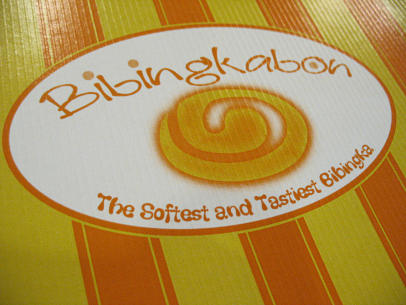 Soft and Tasty

Whether for the holidays or just for sheer gustatory bliss, one brand that definitely tops my list when it comes to bibingka is Bibingkabon.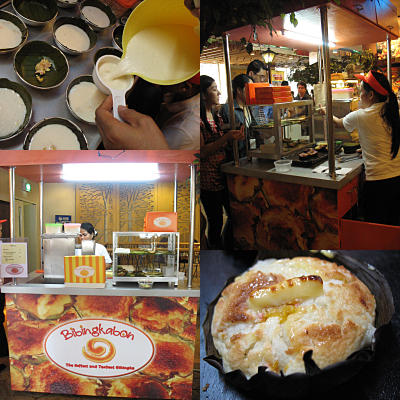 I've been devouring their bibingkas ever since they started selling them over a year ago, when they were just starting out with only two kiosks (Sta. Lucia East Grand Mall and Shopwise Libis). Their bright and cheery stall attracted a handful of customers, and later on, repeat customers came in more often, bringing along more people to try out the fluffy rice cakes. Soon after, inquiries on bulk orders kept on coming in, not to mention talks about franchising the brand as well. From corporate lunches to children's parties, Bibingkabon offered their mini bibingkas to different parties and events.

About a month ago, I learned from owner-entrepreneur Timmie Hilado the good news that they opened more stalls: two in Cubao (Shopwise Araneta and Rustan's Supermaket, Gateway) and two in Makati (Foodpark Enterprise and Foodpark GT Tower). Much, much better and convenient locations for me!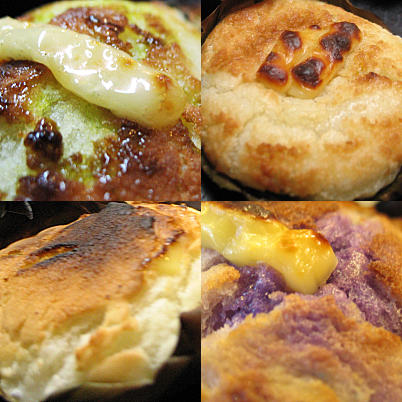 What made me addicted to their brand of bibingka? First off, they look pretty enticing - one piece of warm bibingka is cradled by a banana leaf, and can sit comfortably at the palm of one's hand. The size is approximately as big as a glass coaster, or the width of your basic coffee mug.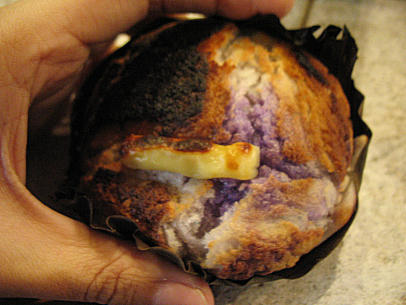 While other brands may carry similar sized bibingkas, it all boils down to the taste and quality, both of which make me adore Bibingkabon all the more. The batter that they use is pure rice, while others (and probably the supermarket pre-mixes, too) may offer you a flour-based mix. If you're also wondering why they do not serve the bibingka with grated coconut on top, it's because the grated coconut is mixed in already with the batter.

Love at First Bite

I headed out one afternoon at the Enterprise Foodpark to visit Bibingkabon and get me some of that bibingka fix -- it's been months since my last Bibingkabon, and it's high time I reunite with their flavors.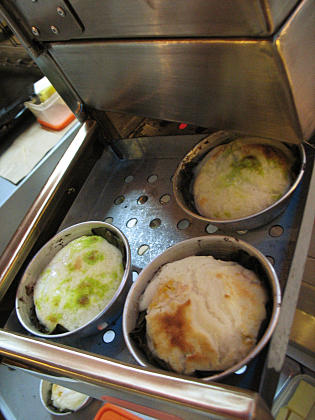 A freshly made bibingka is absolutely divine -- I am given a box of six (P15/piece for Regular, P20/piece for Special), and I immediately open the box to check out the goodies. Mmmmm, that sweet-smelling steam wafts in the air, enough to remind me of last year's cold December mornings with a cup of coffee in hand, a plate of bibingka on the other.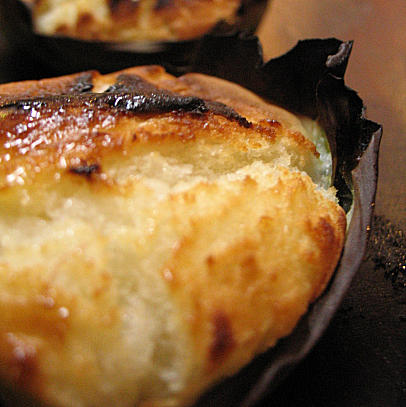 Regular Bibinkga



The bibingka is remarkably fluffy, soft, and mouthwateringly warm. One bite of it will let off that warm steam from its inside, showing you how wonderfully moist the rice cake is. Their Regular (plain) and Special (flavored) bibingka are basted with butter before served, and remembering the smell and taste elicits a thought bubble 'Mmmmm' from me.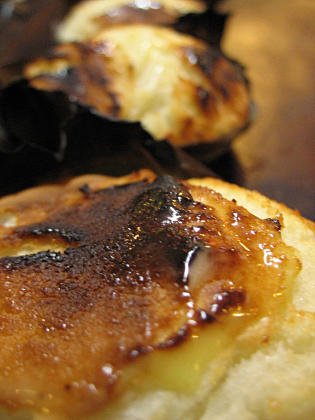 Their line of flavored bibingka is worth trying, too. Aside from Special Bibingka (served with red egg and cheese), they also have Ube Bibingka, Pandan Bibingka, and Bibingka con Mais -- all flavors of which are mixed with the batter, rather than just being a topping, so it gives more flavor in every bite. I brought home a box of all the flavor variants and I recall the Ube being the moistest, while the Pandan was a personal favorite with its hints in the aroma and taste not overpowering the basic flavors I like in a bibingka.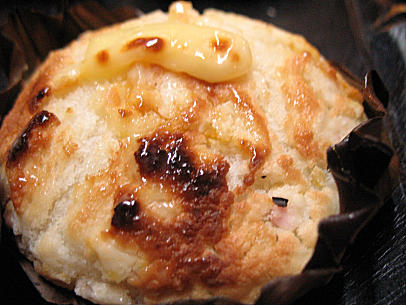 Special Bibinkga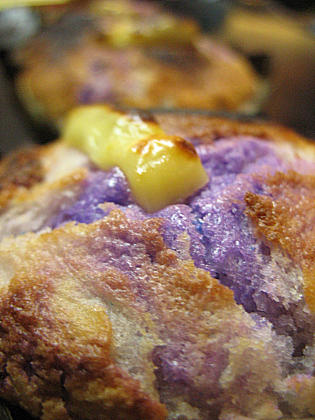 Ube Bibinkga



'Tis the season for gift-giving, and I am definitely adding Bibingkabon to the 'to give' list, just like last year. Maybe most of you are more concerned of its shelf life or if you can still get all the goodness from a box even if not freshly baked. Well, here's some great news: since pure rice is used for their batter, reheating the frozen or refrigerated bibingkas is as good as a freshly baked batch!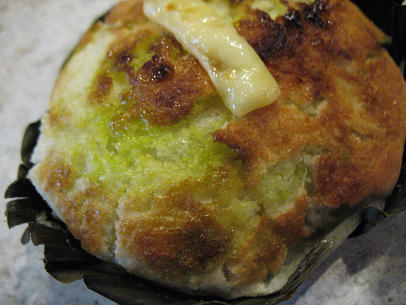 Pandan Bibinkga



I had some doubts as to this at first, and Timmie tells me that reheating instructions are conveniently printed on the boxes, if you choose to microwave or pop it in the toaster. She also shares a tip that one of her sukis in their Enterprise stall gave to her: moisten a paper towel, place it on top of the bibingka, and microwave for about 10 seconds. I did as advised, and wow, that person is right! My bibingkabon was still moist, warm, and ultra-fluffy they way I like it. I'm quite addicted to this stuff, really.


Reheating Instructions



I also did some little Bibingkabon experiments of my own, such as sprinkling some muscovado sugar and sweetened cocoa powder (I've tried them separately and together) before placing the bibingka in the oven. And don't forget slathering the rice cake with butter immediately after heating. Y-U-M. Oh, and for a salty-sweet take, slather some Cheez Wiz on top before heating it. It makes an awesome breakfast! What about you, how do you like your bibingka?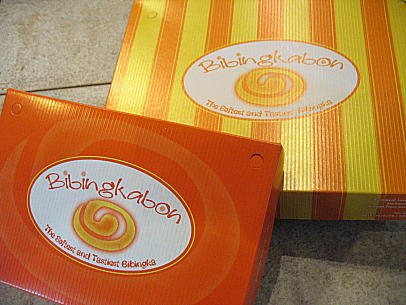 Available in boxes of 6 or 12



Be it an ideal Christmas gift (their boxes are cute and colorful!), or a sweet personal indulgence, Bibingkabon has me totally hooked. Their heavenly mini bibingkas are definitely proof positive that great things indeed come in small packages.

Bibingkabon accepts bulk orders, and gives discounts for orders 100 pieces and above. Their mini bibingkas are also available in bilaos of 30 and 50 pieces. Please order 2 to 3 days in advance. You may contact Timmie at 0917-7941984 for inquiries.