Consider yourself lucky if you can afford to indulge on quality lunches and dinners everyday. In my case, splurging can be done once in a while, but shelling out at least 500 pesos for a good meal every single day is highly impossible. Still, there are two things I simply couldn't forgo even during the strictest of my budget-scrimping days: quality food and good ambiance.

It is pretty difficult picking out restaurants with the two qualities listed above among countless of establishments that have flocked the metro. But what is more difficult is finding a decent enough restaurant armed with only a few pesos. During this scrimp-and-save days of mine I resort to my tried and tested budget friendly restaurants, and a favorite among these is Yaku Japanese Grill.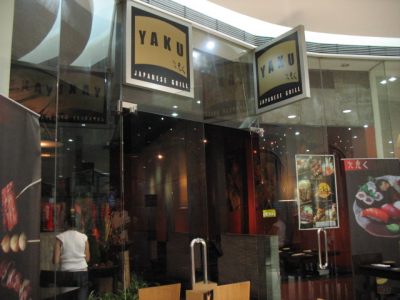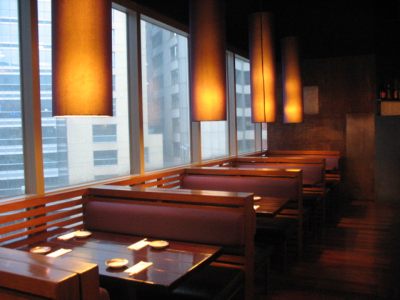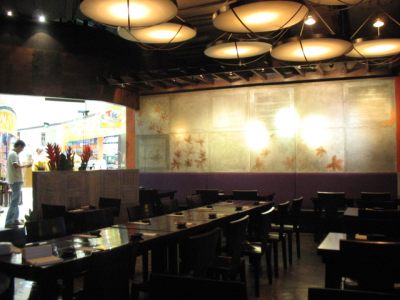 I could not think of a better way of introducing Yaku as a budget-friendly yet high-quality restaurant other than by mentioning that for the past seven years of its operation, they have raised their prices only once or twice. That being said, expect fairly cheap pricing -- think food prices in upscale
restos
a decade ago. Virtually everything listed in their menu is less than 300 pesos!
Yaku started from humble beginnings as a yakitori stand near a university a couple of years ago with athlete-sportscaster
Jason Webb
doing the market duties and operations 24/7. Basically a baptism of fire for Jason and his partners in the food biz, after many trials and errors, finally, Yaku finds a home in Podium.
One look at this restaurant and you can't help but feel intimidated by its posh interiors which features dim lights, deep-colored walls, and dark wood furnishings. With this zen enclave's location at the third floor of the Podium mall, one can't really be blamed if he or she immediately dismisses Yaku as a 'splurge' resto.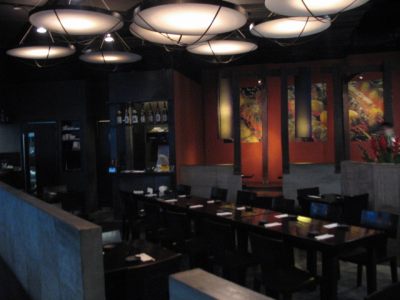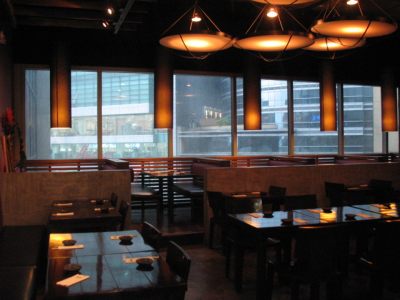 Their food, aside from being affordable, is pretty good, too. If you haven't tried Yaku yet, here are a few dishes that I can recommend.
Edamame (P80.64)
, which basically is Japanese beans is one of their unique starters, not to mention, addicting. Edamame looks like a short and stout version of your regular string beans so don't expect it to be visually appetizing. The taste however is far from what is expected of its appearance. The taste of boiled nuts could closely approximate the taste of this healthy appetizer. If you love nuts like I do, munching these while waiting for your meal can be very much enjoyable.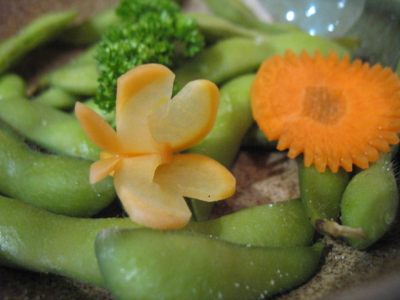 Edamame
For the main dish,
Seafood Teppanyaki (P262.08)
never fails to satisfy me, so I can endorse this as a must-try. This hodgepodge of squid, shrimps, fish, and mushrooms is served in a sizzling plate and is thickly marinated in a scrumptious sauce wherein sweetness, saltiness, and a little spiciness blend perfectly.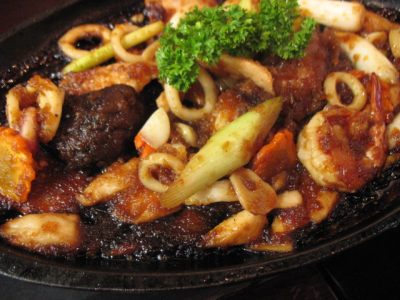 Seafood Teppanyaki
An interesting side dish I would recommend you to add on to your Seafood Teppanyaki is Yaku's
Enoki Foliaki (P 161.28)
or winter mushroom. Served hot and steamy, this dish could be a little attention grabbing when laid on the table. You sure won't miss the delectable aroma as the steam wafts off but the movement of the ultra-thin strands of mushrooms is what makes this dish more interesting. Yes, you read it right, it moves! Seemingly live, there's no reason though to be grossed out by Enoki Foliaki. The warm buttery sweetness of Enoki is pure delight to the taste buds as it plays well with the taste of the main dish.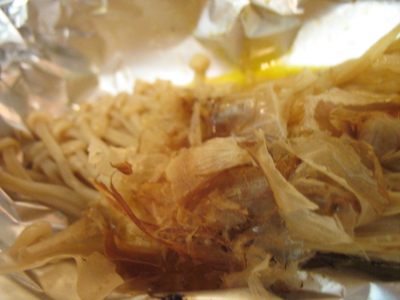 Enoki Foliaki
Yaku boasts of their array of yakitori (Japanese barbecue) and I must say they are pretty impressive. Yakitoris are sold locally in Japan pretty much like the street barbecues here in the Philippines and Yaku has by far the most extensive list of this grilled fare among the Japanese restaurants I have visited. Tuna belly, salmon, cod fish, chicken balls, chicken gizzard, pork, quail eggs, and okra are just some of the many yakitoris they offer. If doubtful on what to pick, you could always order their platter of 6 yakitoris for
P186.48
.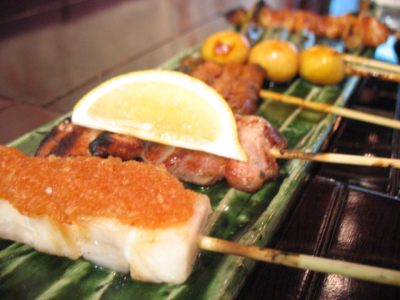 Yakitori Sampler
Of their yakitoris, my favorite is the
Aspara Bacon (P100.80)
, which is bacon wrapped asparagus. I have tasted the same yakitori in the other Japanese restos (take note, for a much, much higher price!)and all I can conclude is that nothing still tops Yaku's version. I just can't get enough of this flavorful crunchy veggie delicately wrapped and flavored by the salty, meaty bacon strip.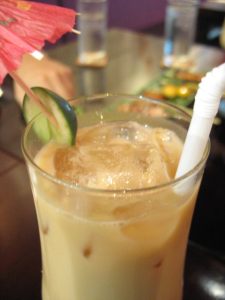 Yaku Milk Tea: Another must try!
To cap off your meal, like most other Japanese restaurants, they have
Coffee Jelly (P65.52)
. Served in a tall sherbet glass, the immaculate white scoop of cream surrounded by chunks of coffee jelly is by far one of the best coffee jellies I have tasted. I have also heard raves about their
Wasabi Ice Cream
but I haven't actually tried it myself. I'm not really into wasabi so I doubt if I'd even give it a try, but if you're into it, perhaps you can sample the ice cream at a lowly cost of
P60.48.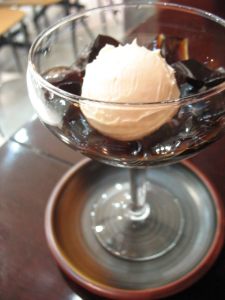 Coffee Jelly
With good food and good ambiance at good price, it is not surprising that I frequent the place every so often. And until I find a better bacon wrapped asparagus yakitori elsewhere, I guess Yaku would continually be my yakitori nirvana every time the craving kicks in.