I never really know what I end up drinking in Tides. I always turn to tried-and-tested fare when I go out, but each time I visit this open-air bar in the South, I always end up with a conga line of rainbow-colored drinks that taste so yummy I always -- always -- end up drinking way, way, way too much.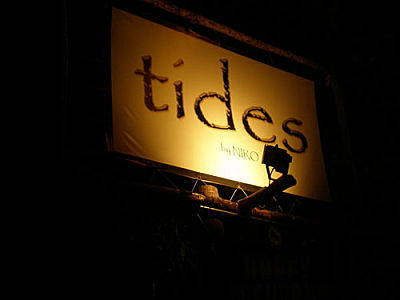 Tides is always packed. Walk in late during a Saturday night and you will see throngs of people, some are dressed to the nines, the others in more casual attire. They congregate in low wooden tables, down the house concoctions by the pitcher, and generally make merry, silly fools of themselves. If you find yourself in the BF area after dusk, you may want to swing by this bar, which has achieved almost cult-like status among Southerners. How exactly? Well, firstly for their series of signature 'traidor' drinks: harmless-looking, fruit-flavored drinks that pack a mean, mean whallop.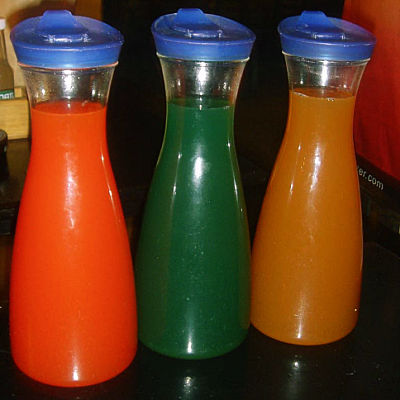 Red Tide, Tsunami, and Hurricane
Take your pick from the cheekily named
Hurricane (P190)
,
Red Tide (P190)
, and
Tsunami (P190)
. Mind you those drinks are sold by the pitcher, not the glass. Yes, that's right -- two hundred bucks for a pitcher. For those who don't drink as much, the usual cocktails, shots, and beers are also available in the same non-wallet-burning prices. My personal favorite among them is the
Mojito (P75!)
, which is served a tad too sweet for my taste, but mix in a handful of ice and it becomes the perfect reliever for Manila's stifling weather.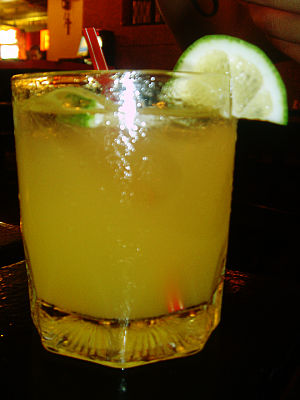 Mojito
Tides early in the evening is actually quite nice. The place opens at four o'clock in the afternoon and some people come in either for an early drink or a homey dinner. Bulk of the people arrive later in the night and a little before midnight, the place becomes a mad house. Orders are flying, the lights are dimmed low, and the music starts blasting from the speakers. Most of the time there is just so many people that you cannot really see the place. Come in a little early and you will see the that there are interesting tile works and other beach-y touches that add to the relaxed atmosphere. Another good bit of architecture is that the place, although not air-conditioned, seems to be not stuff at all. While the patio is still your best bet to avoid the reek of cigarettes, Tides seems pretty well-ventilated considering every other person seems to be lighting up.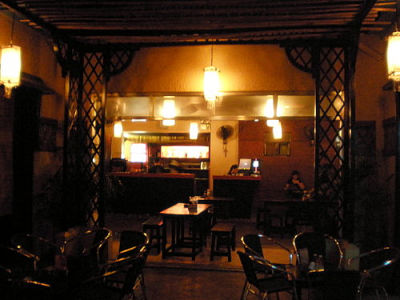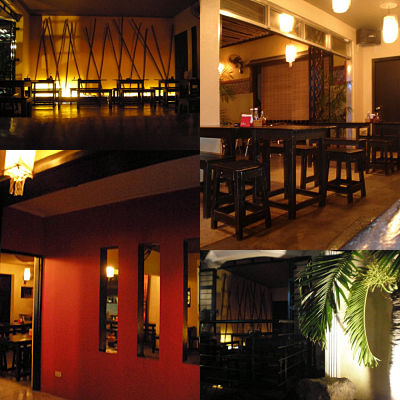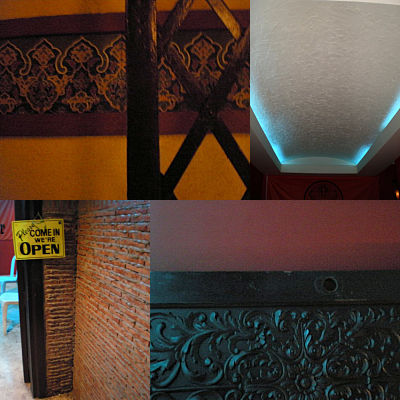 Apart form the mind-numbing drinks, there are a couple of other things that we can attribute to the success of Tides. First, the staff is exceptional. Owners
Darlo Lopez
,
DJ Marasigan
, and
Vi Nolan
have created a created a close-knit, well-oiled managing team for the establishment. It's not a fancy-schmancy place, but raise your arm and immediately someone is there to wait on you. Orders arrive promptly and requests are accommodated immediately. And the staff is unfailingly friendly and cooperative. Even the hulking bouncers are ready to help at a moment's notice. The other thing that makes Tides awesome is the food. While this is not fine dining fair, Tides' menu takes your usual pica-pica to a whole new level. If the name Darlo Lopez sounds familiar, then it's probably because you've seen his cooking show in one of the local networks. The show incidentally, focuses on 'barkada' style food and eating. We sampled some of Chef Darlo's bestsellers one night and we were not disappointed at all.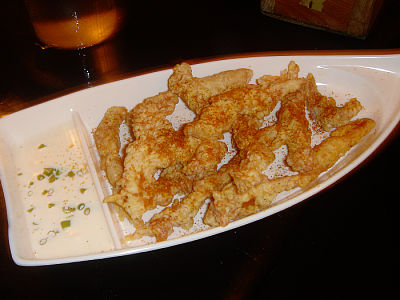 Chicken Tenders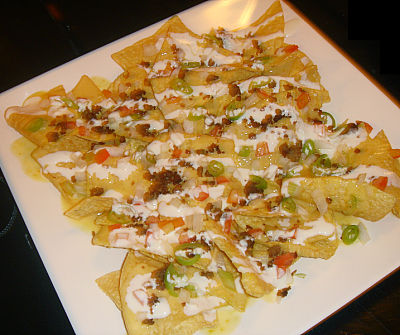 Nachos
My hands down favorite was the
Chicken Tenders (P65)
, because they were exactly that-- tender slices of chicken that you dip in milky, garlicky sauce. The
Nachos (P95)
are good for four people, and they arrived stacked up high and heaped with toppings.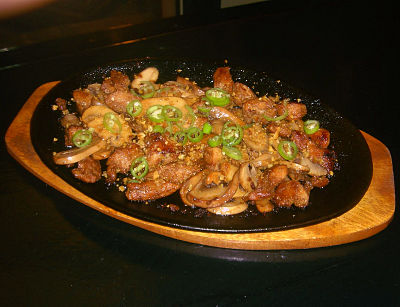 Chicken Salpicao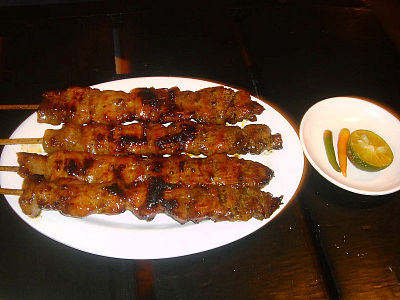 Barbeque Boy
We also ordered the
Chicken Salpicao (P95)
which arrived on a sizzling plate and was topped with a serious amount of chopped green chilies (mmm!) and the ubiqtuitous pork barbecue called
Barbeque Boy (P24 per stick)
. Don't you just love the prices? This is really one of the most bang-for-your buck bars I've ever been to.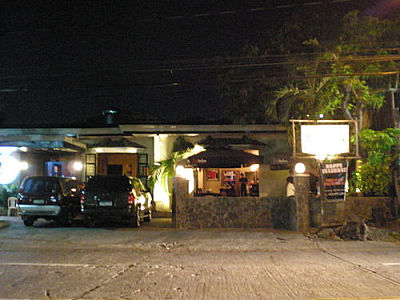 The only drawback I see in Tides might be the parking. There simply isn't enough to accommodate the swelling crowd. Don't be surprised if you have to park a block or two away. Also, although its location along Aguirre Street in BF is a well-known for having many commercial establishments, the place is still a residential area and many houses line the streets (often with 'No Parking' signs on their driveways). That is something you have to keep in mind after you've had one too many shots of the Hurricane. So how does Tides keep its wall-thumping music and raucous customers from getting out of hand? First, there seems to be an odd acoustic miracle that whenever you are outside the bar (even right in front), you barely hear any music and noise. Once inside though, the whole place is just party, party, party. As for keeping rowdy customers at bay? I will just attribute that to the Southerners' laid-back attitude. I've been to Tides several times already and each time every one seems to be having a steady, relaxed time-- despite the heady brew burning in their cups.
Tides is located et 284 Aguirre Avenue, BF Homes, Paranaque, with telephone number 826-1548. Tides is open all week from 4pm to 2am.