Metro Manila is experiencing a flurry of food establishment openings -- from fusion food, exotic food, to the fly-by-night bars and restos and the kiosks offering the latest 'in' thing to be sipping or eating. While it is always a delight to try something new, there's always that great feeling of coming back to a favorite old place that has stood the test of time, and the test of thousands of appetites. Back in the days of yore when I donned that gingham printed high school uniform, I fell in love with the Mediterranean.



Taste The Flavors of The Sun
My love affair with
Café Mediterranean
traces its roots to the
shawarma
boom in the city - left and right, kiosks started offering their own versions of the Greek sandwich. I am a total slave to the scents of juicy chicken and beef being sliced and diced in front of me. My younger self would place an order of one wrap, with everything, with extra onions, and an extra,
extra
helping of that rich, garlicky white sauce. Eventually, I sought out for a better experience (and taste) than a grab-and-go of these intoxicating wraps, and Café Med is simply the place to be to sit down and enjoy every bite of the gyro, along with a table-full of friends or family.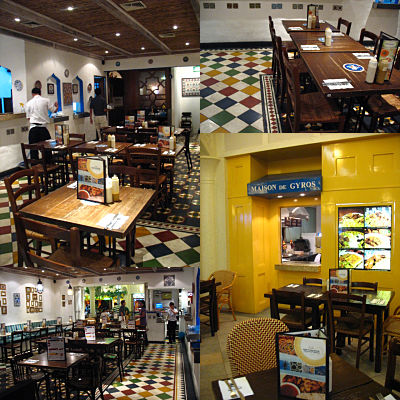 Kebabs, gyros, and falafel are what Cafe Med has been famous for years, and they serve all these and more in that bright and casual, yet refined atmosphere. Highlighting the favorite cuisines from the Mediterranean, people have been delighting their tastebuds and sending them to a gastronomic trip: from the Middle East to Northern Africa, to Italy, France and Spain.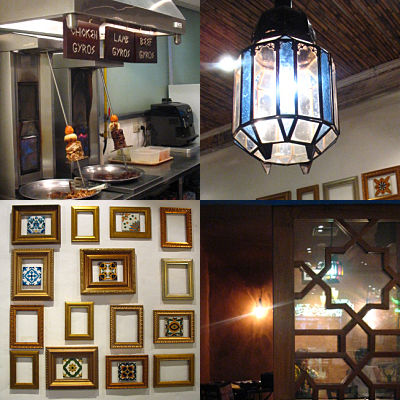 Almost Vegetarian
Since I know very well how their gyros and pizzas are truly enjoyable (I like to believe my stomach has a good memory cache), Café Med's co-owner Marla Tanada offered me to try out their newest items on the menu called the
Almost Vegetarian
line. As the Mediterranean diet is generally healthy with the use of nutritious and fresh ingredients, I was excited to taste more flavors from a beloved restaurant. Less guilty even, of eating a lot for that day, as I know I was in for a tasty yet healthy experience.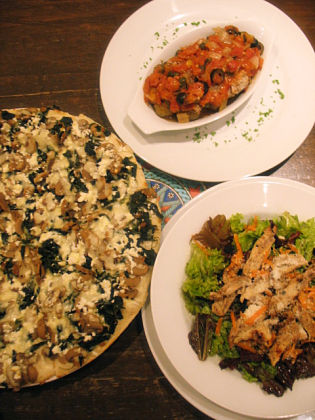 Lunch was off to a good and healthy start with a bowl of greens. A fresh and vibrant garden salad is what we had in the
Citrus Salad with Balsamic Chicken (P260)
.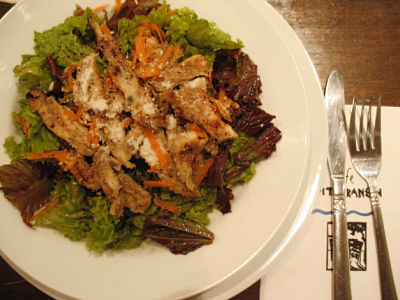 Citrus Salad with Balsamic Chicken
Drizzled with with a light and tangy orange dressing, the serving was good enough to share or to be consumed as the main course itself. Thick strips of chicken sit atop the salad, and complimenting the sweet and zesty orange dressing are carrot strips, chewy sun dried tomatoes, bits of olive and white cheese.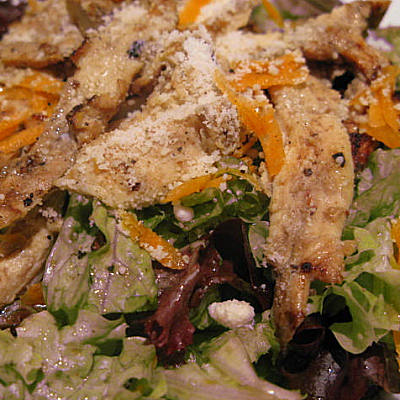 Next up is the
White Cheese Pizza (P350)
-- a soft, thin-crust pizza generously topped with a spattering of Spinach, Mushrooms, feta and mozarella cheeses, and a drizzling of white sauce.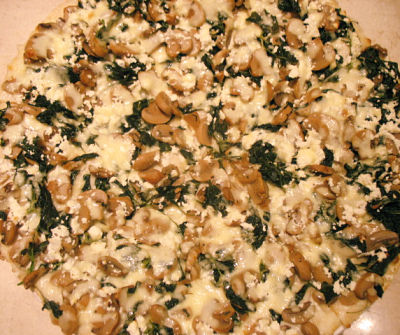 White Cheese Pizza
Unlike tomatoey or the ultra-cheesy types of pizzas I have tried, this Almost Vegetarian pizza has a signature blend of flavors. I share this thought with Marla and asked her what could Cafe Med possibly cook up with this pizza of theirs. I found my answer: add some milk! So if you want to try out something delightfully different with your pizza, and also something healthier, this would be a good option for you.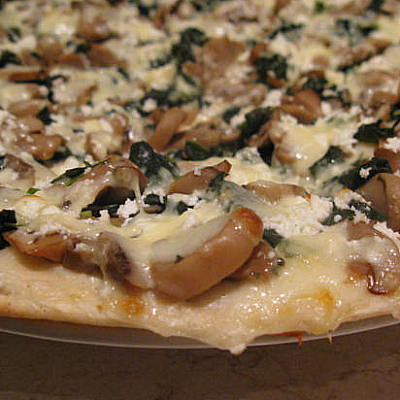 If you are a fan of Café Med's signature
Garlic & Hot Sauce Duo
(I am one
super
fan of them!), grab those plastic containers and give your pizza some lovin' as they go oh so well with the white cheese and spinach. In fact, these two sauces go well with pretty much everything in their menu (not with the desserts of course, now don't be silly -- or if you're a brave soul, go you!). There are a good number of customers that are highly addicted to the taste of these sauces, and the fact that you can order them to bring home with you is just lovely.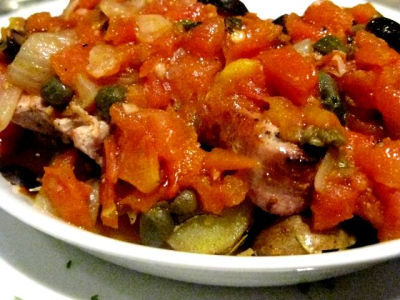 Sicilian Tuna Steak
The last item for my Almost Vegetarian lunch is the
Sicilian Tuna Steak (P195)
: one hefty dish, minus the guilt that usually comes along a loaded meal. Pieces of grilled tuna steak prance around a generous serving of tomatoes, capers, and olives. A grab a forkful and note how filling the mix of flavors are, that one serving could serve two hungry people well. The hint of white wine can be tasted amidst the sweet tomatoes and salty capers, blending in well with fresh herbs. A side order of rice or bread is not needed with the tuna steak, as hidden underneath the chunks of tuna and veggies are marbled potatoes to get your carbo fill in the mix.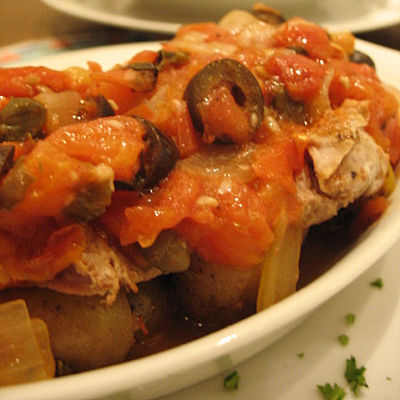 After a hearty and healthy lunch of salad, pizza and tuna, you can indulge yourself with some sinful chocolate dessert. Have you tried their
Tartufo al Cioccolato (P80)
and
Tiramisu (P140)
? Now, how about these two little sweet treats,
together
?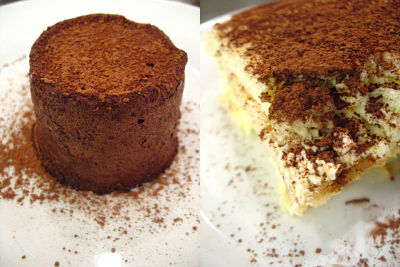 Tartufo al Cioccolato and Tiramisu
When the waiter whipped out these two little sweet treats in their shiny white plates, I was very eager to cleanse my palate of such a flavorful lunch. The subtle dessert found in the fluffy and light Italian cake is a marvelous match for the Tartufo's bolder chocolate punch. I did as Marla suggested - a spoonful of the Tartufo, and a spoonful of the Tiramisu. Let them blend well inside your mouth, and indulge yourself.
For the many loyal patrons of Café Med, the Almost Vegetarian menu is not only a welcome addition to the well-established restaurant because of its healthy factor, but also because its superb flavors reflect that Café Med style of quality and authenticity that many have grown to love through the years. For that healthier approach to dining around the metro, Café Med's new offering is a must-try. I may be a far, far cry from being vegetarian, but I do appreciate wonderfully gastronomic meals that are
almost
vegetarian.