The past year has been a witness to the almost simultaneous opening of three Secret Recipe branches in The Fort, Shangri-la and Robinson's Manila. Even after only a year of operation, the said franchise has been able to gain patronage and make its way to the top of the most recommended restaurants in the metro. After a friend mentioned to me that I've got to taste their cheesecakes as she is convinced that they are the best in town, she needed no further explaining. If they have the supposedly best cheesecakes in town, I knew Secret Recipe is one resto I shouldn't and wouldn't wanna miss. I got in touch with Secret Recipe owner Jennifer Tan and she was more that grateful to welcome me and my friends and explain to us what really is the Secret Recipe.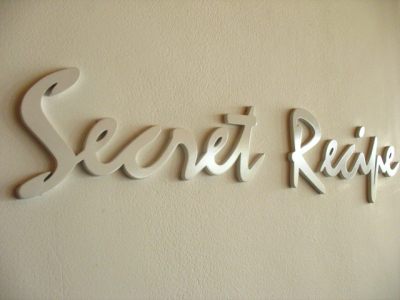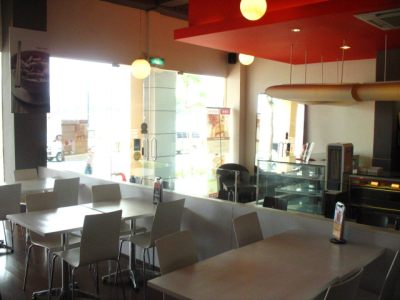 Secret Recipe started out primarily as a specialty coffee shop in Malaysia almost a decade ago. It didn't take long before they expanded their food offerings and decided to incorporate more and more options for their loyal costumers. Secret Recipe's arrival in the Philippine shores can be attributed to Jennifer's dad who chanced upon the establishment on one of his frequent trips abroad. Jennifer related that across the hotel his father was staying was a resto which never seemed to be empty. He decided to check out the restaurant and after tasting the food, the rest as they say, is history. With 185 outlets in seven countries and still expanding, Secret Recipe indeed must be something.
Their branch in Fort Bonifacio is a roomy, box-type establishment where gray, red and white primarily dominate the resto, exhibiting a clean, minimalist look. Even though with a crisp look, one would still feel comfortable. A casual feel was stylishly incorporated through the use of couches around the area and colorful food pictures on the wall. Jen explained that even though all Secret Recipes are supposed to follow a certain look, the designers still can twist and turn some of the standards to be able to blend it with the environment.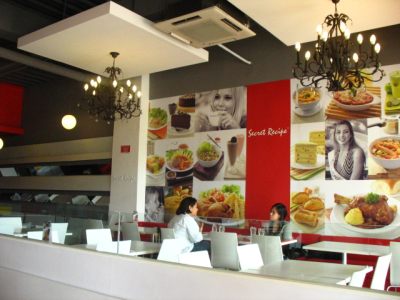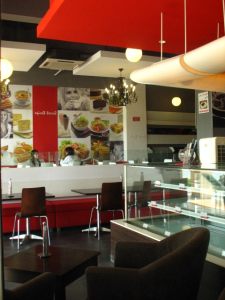 After we settled ourselves comfortably, we skimmed through their menu and were impressed with the vast assortment of food choices. After noticing the overwhelmed expression on our faces as we were having a hard time picking what food to order, Jen explained that the extensive list of food options is one trademark of Secret Recipe. According to her, there's always something for everyone in this resto any time of the day, which makes it perfect for group lunches, dinners, and in-between meals. For instance, kids never fail to leave the Secret Recipe with all smiles after consuming their
Kid's Burger (P150)
and
Oreo Cheesecake (P140 per slice)
. Yuppies usually go for their salads and meat dishes while the more mature customers prefer their soups and Asian Classics.
After several minutes had passed and still no consensus among us on what to order, I already let Jen do the honor of ordering for us. For our early lunch that day, me and my friends were to try Secret Recipe's bestsellers:
Crispy Chicken Salad (P175), Grilled Black Pepper Chicken (P230), Irish Lamb Stew (P480),
and
Singapore Laksa (P320)
. At first, I thought that their prices were a bit premium but when the food started to arrive I came to conclude that the prices are already cheap, considering the serving size of each of their meal.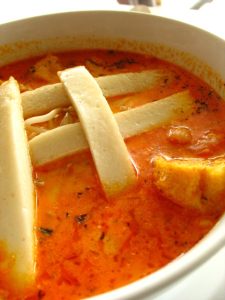 Singapore Laksa
To warm up my stomach I first sampled their Singapore Laksa. I haven't tried the dish before so I had no preconceptions whatsoever of what to expect. In it was what looked like 4 slabs of tofu, shrimps, thick noodles, and bits of floating red chilies. The color though, which was bright orange, warned my tongue to expect something spicy. True enough, after the first sip of this soup I found my mouth and insides gradually heating up. It wasn't as hot as Thailand's Tom Yum Kung (which is also available here in Secret Recipe) as I found its fieriness more tolerable. The noodles were gummy and the white slabs tasted like ox tripes -- only it was very much softer. After consuming my bowl, warmed up and satisfied, I was ready for more. Singapore Laksa had been a good start and it certainly raised my expectations one bar up for the next dishes I have yet to try.
I next tried the Crispy Chicken Salad, the taste of which perfectly contrasts the Singapore Laksa soup I previously had. With a mixture of chicken cubes, cherry tomatoes, romaine, red cabbage, and a tangy dressing I didn't quite expect, the Crispy Chicken Salad took my taste buds by surprise. It had an interesting blend and texture where sourness and spiciness played well together, and I found it enjoyable even though it was very much unlike my usual salad. The entire serving was generous. No, make that very generous. This huge bowl can serve and satisfy 3 to 4 members of a group.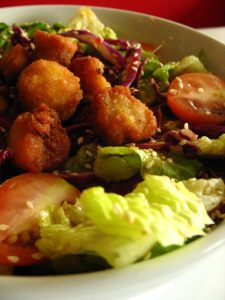 Crispy Chicken Salad
As soon as I finished my soup and salad, it was finally time to take a bite of that very tempting Irish Lamb Stew sitting in front of me. Jen remarks that this being a best seller is made evident by the almost clean plates of Lamb Stew returned to the kitchen. "They love it, all of it, the lamb, the potato and the bread. They even use the bread to clean up their plates," she recalls. One look at the dish and it isn't hard to imagine why people almost clean up their Irish Lamb Stew plates. The sight of a chunk of lamb meat generously glazed with a thick dark-red sauce clinging to a thick bone was already satisfying enough. The serving was as huge as those displayed in the pictures, only it is a hundred times more mouthwatering when you could actually smell it in front of you.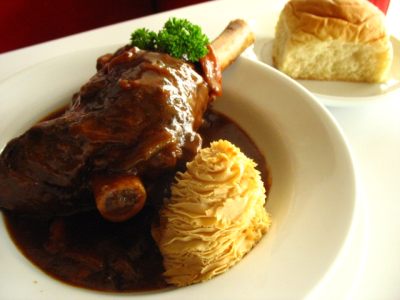 Irish Lamb Stew
According to Jen, their lamb is especially marinated and cooked for several hours so as to remove the after taste most people tend dislike about lamb. After staring longingly for a couple of minutes, visually consuming the dish, I finally gave in as I could no longer contain my excitement and sliced a hefty portion for myself. I didn't have a hard time slicing the very tender meat, more so chewing it. Just like what Jen said, it had no after taste so I highly recommend non-lamb eaters to try this dish. The lamb stew, which I personally estimate to be enough to be shared by 2 hungry people, comes along with Secret Recipe's baked mashed potato and bread; both of which are well loved by their loyal costumers. The baked mashed potato, which looks like a flaky scoop of potato, is as interesting as it looks. Unlike your regular mashed potato, it is at first crispy then chewy and eventually will just melt in your mouth. After devouring my share of the dish, it instantly found its place in the ranks of my crave-for list.
To complete my Secret Recipe bestsellers tasting session which had been nothing but excellent so far, I sampled their Grilled Black Pepper Chicken. If I had myself blindfolded, it would be hard for me to discern that this is chicken that I am tasting. It tasted very familiar yet very different. My friend was the one who was able to recognize the taste first. She remarked that the chicken's sauce tastes like KFC gravy and I couldn't agree more with what she said. Just like the peppery gravy, it was sweet with a hint of spice and for me (an ultimate gravy gulper), the combination was perfect.
Event though several platefuls of food have been chunked in our body, there still wasn't the urge to slouch back as our stomachs were more than ready for more. If there's one thing we looked forward to the most in Secret Recipe, it has to be: dessert.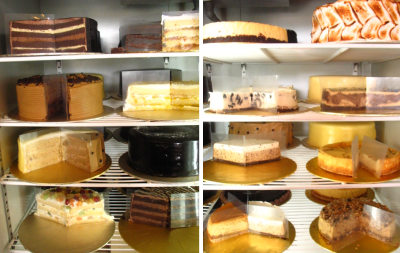 With 23 cakes to choose from, who wouldn't be overwhelmed with an array of items ranging from the common favorite Chocolate Fudge to Secret Recipe's signature Hi-Fibre Cheesecakes?
Choco Mud Cake, Caramel Cream Cheese, Chocolate Indulgence, Cappuccino Cheese, Mango Delight
, are just few of the many mouthwatering items in their list.
Of the 23, we got to sample four of their best sellers:
Marble Cheese (P160- slice, P1600-whole) Chocolate Indulgence (P120-slice, P1400- whole), Chocolate Banana (P120-slice, P1400- whole)
, and
Hi-Fibre Cheesecake (P160- slice, P1600-whole)
.
Marble Cheesecake was what I tried first. This is what my friend touted as the best cheesecake and after tasting it, I had had no reluctance in awarding this humble cheesecake 5 stars. What makes this different from the other cheesecakes I have tasted is that it is not the super-sweet type. Also, unlike the others which crumble as you slice them, the cheesecake, in the right temperature, is compact and consistent. Its nutty crust also provides a nice texture to the cake. The sweetness, the consistency and the simplicity in presentation are three factors that made this cake a notch higher above the other similar cakes available in the market.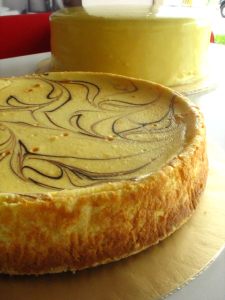 Marble Cheesecake
Very much pleased with the first cake I tasted, I then moved on to the very luscious slice of Chocolate Indulgence. The texture and sweetness of the cake was consistent with what I tasted earlier. It didn't exaggerate on its sweetness yet it was very delectable. Composed of several layers of chocolates, prepare yourself for ecstasy as your teeth sinks in varying degrees of
chocolate-ness
. What can I say? The experience of consuming this is beyond words so I guess it rightfully deserves another 5 stars.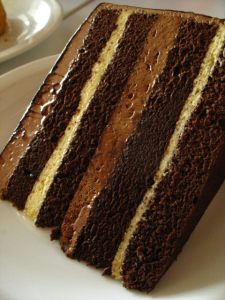 Chocolate Indulgence
I decided to maximize the chocolate ecstasy overload I am experiencing and I settled on having the Chocolate Banana slice right after my Chocolate Indulgence cake. I would say I underestimated it as to believing that this would only be like the choco-banana mixes I've had before and it would taste like a banana split and fair pretty well. But I was wrong. Very wrong, that it turned out to be my favorite among those that I have tasted. Actually, make that a favorite among all the cakes I have tasted in my entire life. The way the cold banana taste kicks in and compliments the chocolate cake did a very good job in pleasing the sweet tooth in me. If I gave the previous cakes five over five,I am giving this one, six stars over five.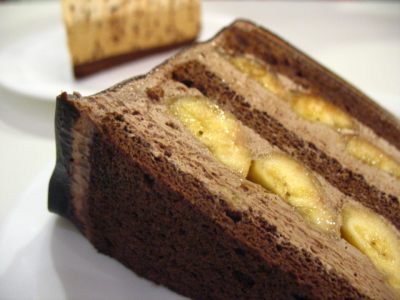 Chocolate Banana
We all had the Hi-Fibre Cheesecake last, believing that this at least would make us less guilty with all the calories we chomped down so far. It is fiber anyway, so it is supposed to ease our digestion. The Hi-Fibre Cheesecake, which is a signature cake of Secret Recipe, has a great texture. Looking like a cake version of the granola bar, it is made with seeds, grains and nuts, this healthier alternative is low in trans fatty acids and is a good source of protein.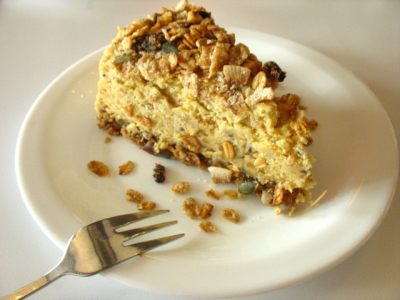 Hi-Fibre Cheesecake
In the end of this casual yet festive meal I asked Jen what Secret Recipe's secret recipe of success really is. I was betting of course she wouldn't answer since secrets aren't meant to be shared. But she did, and according to her, Secret Recipe might have gained the recognition it has now has because of the three principles they live by: quality food, moderate pricing, and personalized service. That sounded like a good answer as those really are the three factors people look for in a good restaurant so I probed no more.
After a very satisfactory meal, I couldn't help but share the experience I've had with everyone else. Though secrets are meant to be hidden, Secret Recipe is one good secret everyone has to know.