The pizza adventure of Sandy Arellano was borne out of her college years, during those times wherein she would run out of money. Being short on budget, she would make her own food instead of buying. Food of choice? Pizza.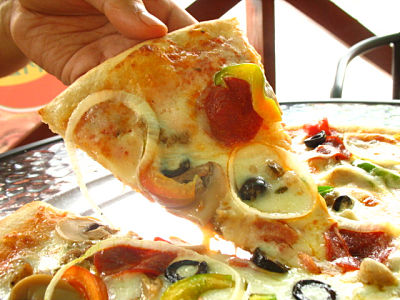 "I can eat pizza everyday, but your allowance cannot possibly allow you to eat pizza everyday," shares Sandy. Budgeting her weekly allowance is what made her decide to just whip up her own food as
baon
. Sandy was no stranger in cooking beforehand, growing up with an aunt who loves to cook, inspiring her to make her own little food experiments in their family kitchen. After college, Sandy moved to New York, getting her fill of her beloved, mouthwatering New York style pizzas along the way. Coming back to Manila, she observed that there seems to be no 'authentic', thin-crust American pizza offered in the metro that was to her liking.
Sandy started out by selling pizzas to a Montessori school canteen, and then concocting her own pizzas for family and friends. Last year, Sandy started delivering from her home -- she would do the deliveries herself even, especially for parties of her friends who all love her pizzas. Later on, she finally started preparing her pizzas with her own pizza boxes, when more and more friends and relatives (and friends of friends!) convinced her to do so. and last May,
Sandy's Pizza
opened its take-out counter to the public.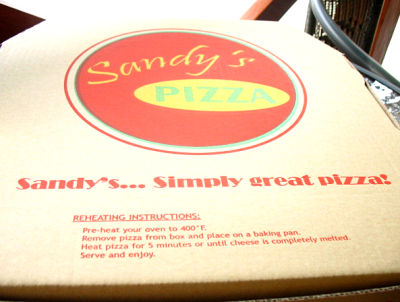 Sandy's Pizza is a little hole-in-the-wall, take-out counter by Little Baguio, San Juan. A couple of small round tables and several chairs are available to make waiting for the freshly baked pizzas more convenient. What one will first notice with their menu is the variety of flavors they have to offer - a mix of old favorites, and some peppered with bolder flavors, for the more adventurous pizza lover.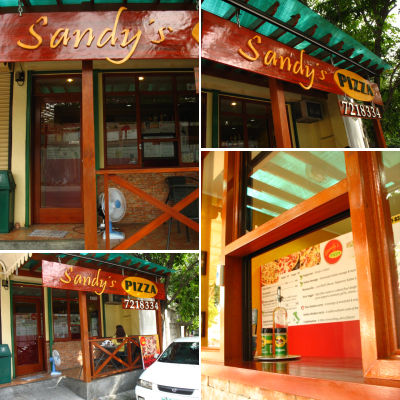 What can you expect from every pizza here? Real mozzarella cheese, wheat flour, and home-made sauces and Italian sausages -- Sandy likes to have everything fresh and unique. The pizza doughs are made fresh, daily. Sandy's Pizza also makes use of ingredients and flavors indigenous to Filipino cuisine, which most 'mainstream' pizza places wouldn't usually have. Not everyday will you see tocino, tuyo, adobo, or even red eggs (yes! you can request for it, like a lot of
sukis
do) in your pizza pies. And for pizza fanatics, this means a lot of items for you to try out yourselves in Sandy's Pizza.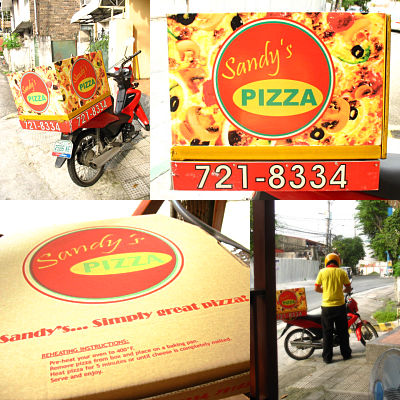 A
Large
, 18-inch pizza (which can feed up to eight people) goes for
P490
, while the
Small
is 14 inches and sells for
P390
. For first-timers, I recommend ordering their 2-in-1 pizzas, so that you get to try out more of their pizza flavors before deciding which one is your top pick. At no extra charge, their 2 flavors in one is really a big hit. "A lot of people try a lot of different flavors," says Sandy. So if today you decide on a certain combo, tomorrow can be a good time to try out another dynamic duo -- soon, you'll be able to try out every pizza flavor in Sandy's Pizza!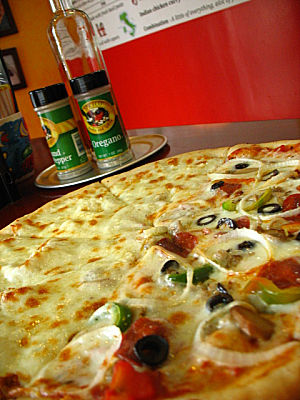 Mix and match: 2 flavors in 1 pizza!
While we were in deep conversation about what's good and not-so-good about the available pizzas in the city, Sandy shares to me a very good tip in pizza-eating:
always try out the simplest pizza first
. In trying out a simple cheese or margherita pizza in any pizza parlor, you do not let yourself get immediately overwhelmed by a medley of toppings - after all, any pizza place can load up its pizza with similar (or exactly the same) toppings. When it comes to the nitty-gritty of pizza, let your tastebuds be discerning of the dough, its consistency and texture, and how it has blended or complimented the simple mix of tomato sauce and cheese. A very helpful tip, if I may say so myself, as I am a pizza eater who believes each slice must be eaten without leftovers. Anyone out there part of the lot who leaves out the crust all by its lonesome by the side of their plate?
With this new tip in mind, I was very excited to try out our 2-in-1 pizza pie for that afternoon:
Combination (P390 - Small, P490 - Large)
and
White Cheese (P390 - Small, P490 - Large)
.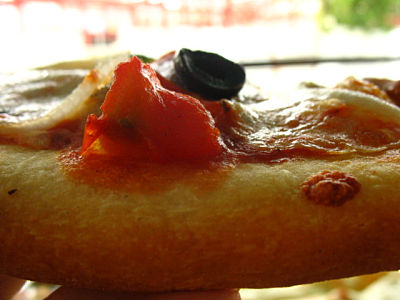 Worth your dough: Their pizza dough is something else!
Sandy's Pizza will get me talking about its crispy yet chewy pizza dough. Believe me when I say that the dough alone in their pizzas is a reason for you to try it out. My friend Eric and I share the same sentiments, upon grabbing our very first slice and sinking our teeth into the pizza.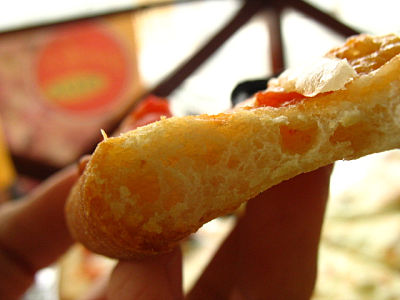 You know how some of you leave the crust uneaten or neglected after enjoying a ultra-loaded pizza? This should be a rarity with a fresh and hot slice of Sandy's Pizza. The outer portion of the pizza dough gives that initial
crrrunch
with minimal effort in my bite. Later on, I was delighted to welcome the warm, chewy inside of the pizza dough. I also took a mental note of how remarkably non-greasy the experience was. True to the New York style, their pizza is thin yet flexible enough to be held by one hand - no slice went breaking or folding during my lunch. I noticed how my fingers felt dry enough for me not to grab some paper napkins, which is always the case for me when eating New York (and thicker-style) pizzas.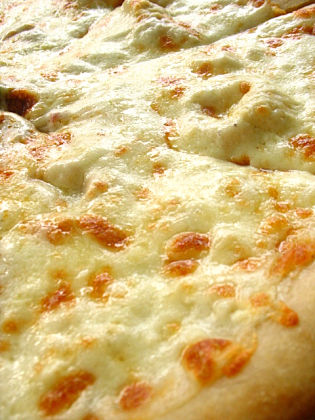 White Cheese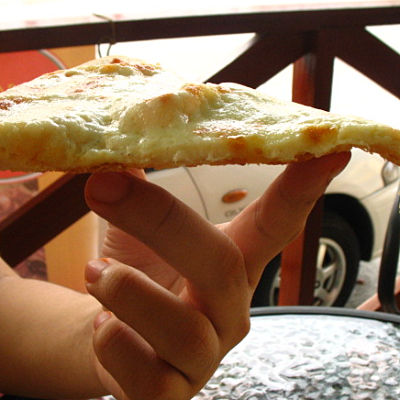 The White Cheese flavor is an easy favorite for people wanting to skip the meat and just going for the rich cheese mix. A medley of salty, tangy, gooey, the combination of Kesong Puti, Parmesan and Mozzarella is also a wonderful treat for your aromatic senses.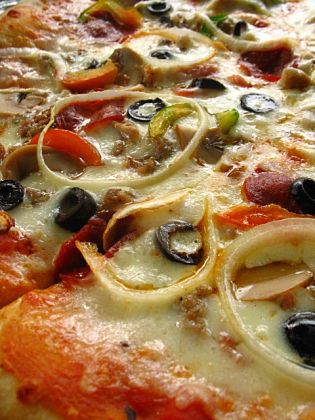 Combination
For everyone who wants to have it all, the Combination may be the good choice. The pizza dough marries well with the hodgepodge of textures in the toppings.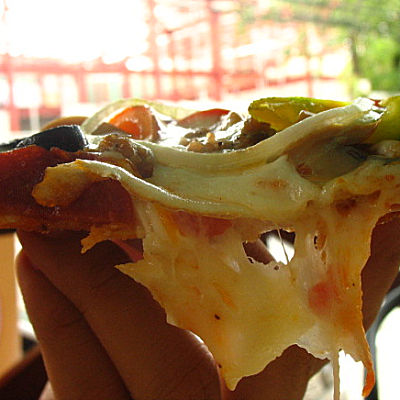 You have the crunchy-sweet onions that burst out with juice and flavor in every bite, Italian sauages which add the salty flavor, black olive slices that adds a touch of sophistication, and my favorite green bell pepper slices which always liven up pizza with their color. Adding extra load to the pizza are bacon bits, pepperoni slices and mushrooms, giving you the works in every slice of pizza.
Aside from pizza, Sandy has also added pasta dishes such as Carbonara, Creamy Basil Pesto, and Tuna Arrabbiata to their take-out and delivery menu. Recently, Sandy included
Buffalo Wings (P195, eight pieces)
to the list, and the wings have been gaining momentum.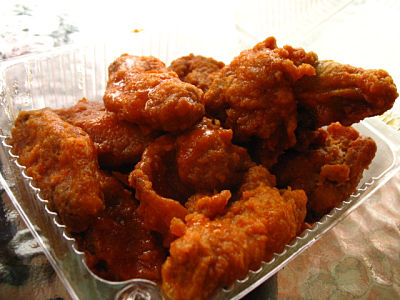 Buffalo Wings
Spicy, tangy, and in an exciting bright and hot orange color, their version of Buffalo Wings deviates from the sweet and spicy kind most of us are used to. The wings were easily my favorite, as evidence by my orange-tinged fingers that afternoon.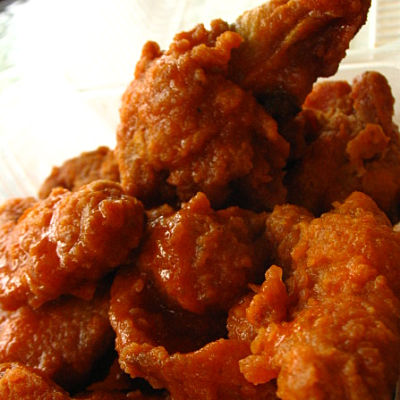 San Juan and Mandaluyong areas can enjoy free delivery of their pizzas, while select areas of Pasig, Quezon City, Makati and Manila can have their Sandy's Pizza delivered with extra charge. Bulk orders are also accepted, just call in advance so they can attend to your special batch of orders accordingly, as they make their doughs fresh daily.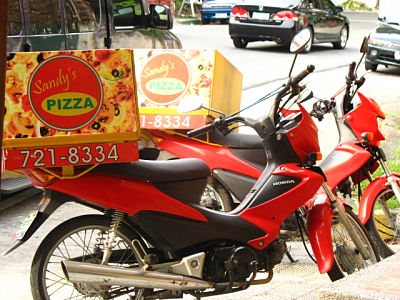 From frustrations of a college kid to fit her allowance every week, Sandy now shares to everyone her well-loved dish with Sandy's Pizza. Now we get to taste a little bit of the Italy and a touch of New York with Sandy's concoctions (and of course, her Pinoy flair!). While I am betting on it that a Sandy's Pizza restaurant will be a sure-fire hit, Sandy herself revealed to me that she has no immediate plans of making her pizzas available for dine-in. No restaurant plans, not just yet. But perhaps the rapidly growing number of loyal (and celebrity) patrons coming from all parts of the metro can soon change that. I'm crossing my fingers!