That sinful saccharine smell sure won't be missed as one takes the first step into this resto found at the second floor of Crowne Plaza Galleria Manila. A few steps further would reveal a display counter showcasing an array of desserts: chocolate praline, crème brûlée, cheesecake slices, tiramisu, blueberry muffins, and a whole lot more of those sort, neatly arranged row by row, exhibiting the perfect picture of a sweet tooth's dream come true.

Beside that was what I estimate as a 3 feet tall chocolate fountain where that euphoria inducing scent emanated, welcoming me as I entered. I am convinced that if Willy Wonka's chocolate factory was for real, that is how it would smell like.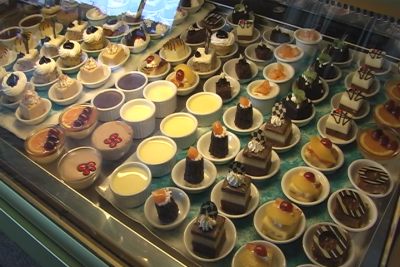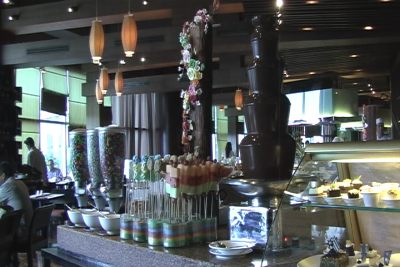 The sweet tooth in me refused to walk further and just wanted to be glued right on the spot and stare at the dessert counter. But the pizza lover in me managed to track the smell of freshly baked pizzas and turn my head to the other side where the words "CREATE YOUR OWN PIZZA" were spelled in a board beside the counter. Make my own pizza? Right there and then, I was sure that I was up for a heavy heavy lunch.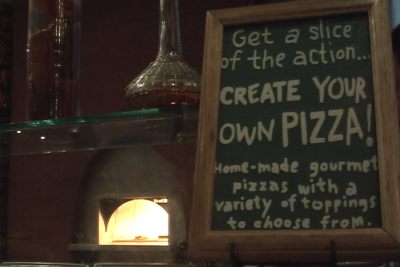 Seven Corners
, which name I suppose is derived from the seven stations available for buffet, is adequately spacious. With a seating capacity of about 170 people, the restaurant's interior exhibits a fusion of Asian and contemporary design. According to
David Jamieson
, Crowne Plaza's Resident Manager, Seven Corners' international buffet consists of seven live-action stations: Tandoori (Indian), Japanese (which includes the seafood section), Western, salad, pizza, Asian noodle, and dessert station. An all-day and all-week dining resto, Seven Corners caters
Breakfast Buffet (P928.13 net;)
,
Lunch Buffet (P1287.22 net; from 12 nn to 2:30 pm)
, and
Dinner Buffet (P1475.06 net; from 6:00 pm to 10:00 pm)
.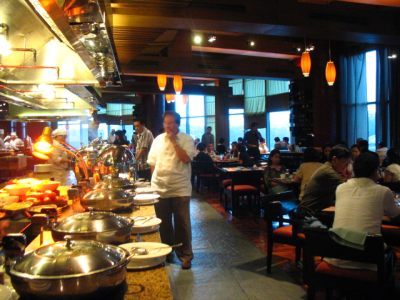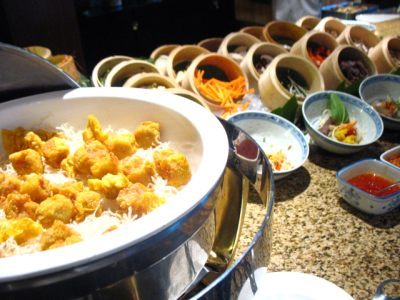 David says that although their buffet is not that extensive compared to the other hotels, a little of everything for everyone to try can be found. I asked him for the resto's specialties and he proudly answered that the U.S. Prime beef and the seafood section are two of the most sought-after items in Seven Corners. "The chef would cut it the size that they (the customers) want to, and cook it the way they want to, so in a way that's a really good value because the beef probably costs more than what they pay in the buffet," says David. He also added that their seafood selection is consistent, unlike in the other establishments where crabs are only available at certain days of the week. In Seven Corners, crab, as well as prawns, oysters and mussels, is made available every evening during the Dinner Buffet.
After my conversation with David, I wandered off to the rest of the stations, taking a mental note of what I would get for that day's lunch. As a starter, I made myself some mixed greens salad. Their vegetable selection was adequate, as well as the dressings available. Out of curiosity, I also took some of those cheese-like slices which turned out to be melons and cheese. It did the job of refreshing my palate well. After the salad, I helped myself with a few pieces of prawns. A heap of those orange and fresh looking seafood was something I cannot pass. I wasn't disappointed by these as they were indeed as fresh as they looked.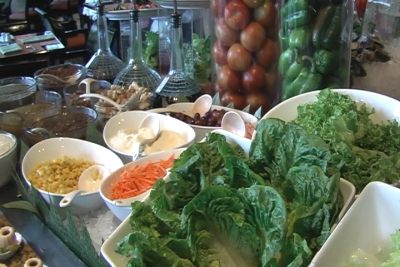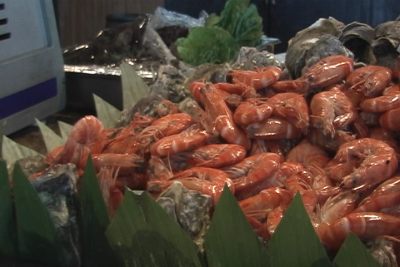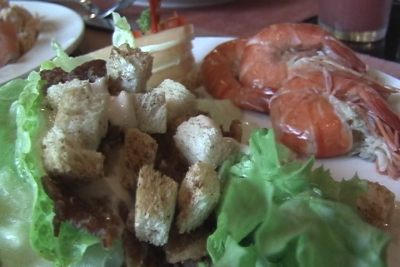 As I proceeded to the heavier items for my lunch, my friend went to the pizza station to order us some, as making and baking them from scratch would take some time. I then continued with the rest of the stations, already three down and with four more to go. For the Indian section, I sampled their curry dish as well as their trademark
Chicken Tandoori
. Served with white sauce, mango chutney, and warm pieces of roti, the unique color, flavor and tenderness of this chicken dish were the very reasons why this immediately became my Seven Corners favorite... so far.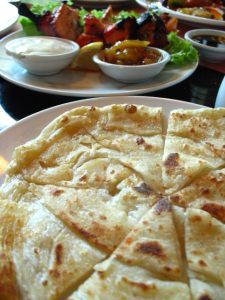 During my conversation with David, he mentioned that Seven Corners imported that special oven to cook Tandoori dishes so one can be assured of the authenticity in taste. I decided to skip the noodles section since I was not in the mood to try some noodles that time. Just to get a taste of their Asian corner, I helped myself with a couple of servings of unlabeled dishes. They only had "lamb", "beef", "chicken", and "pork" written beneath them and I think it would be a lot helpful if people could read the actual names of the dishes they are about to try. The beef dish was very good -- it was oily, but very tasty and tender; if only I knew what to call that dish. The pizza arrived just in time before I stood up to get some steak. It arrived very hot, just fresh from the oven and still steamy. Apparently, the combination my friend asked for was a zesty one with sausages. I enjoyed my pizza very much and I savored each and every zing it caused as I took bite after bite of that hot dough with spicy toppings. After finishing enough slices, I rested for a while and prepared myself for the steak.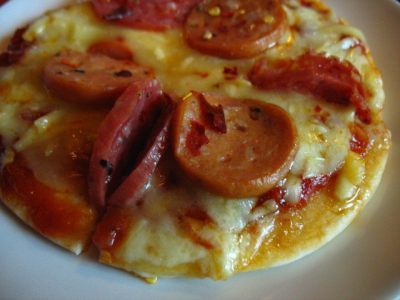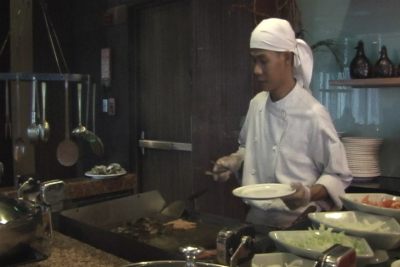 Because my friends and I were nearly full and we wish to leave room for dessert, we decided to just share one slice of medium rare steak. It was juicy and tender and I swear if I just had more space in my stomach, I'd happily chunk in more slices. But dessert's just something I could not pass, so I had to restrain myself.
And then came the moment I was very anxious about right from the very start. Dessert. Then again, as much as I want to sample each and every available meal-cappper there is, I couldn't. After much thought, I decided to have their
Teppanyaki ice cream
, something I haven't tried yet. With over a dozen flavors available, Seven Corners offers a live-action station where you can choose from a hodgepodge of nuts, dried fruits, chocolates, beans, mallows, and whatnot, items that you want to be incorporated in the home-made ice cream of your choice. Or in much simpler terms: make your own ice cream. I of course picked out my ever-favorite flavor, pistachio. I asked the Teppanyaki maker to mix in pistachio nuts, hazelnuts, and chocolate drops in my ice cream. The result? Oh, it was superb, that they found themselves making me that specific ice cream concoction more than once.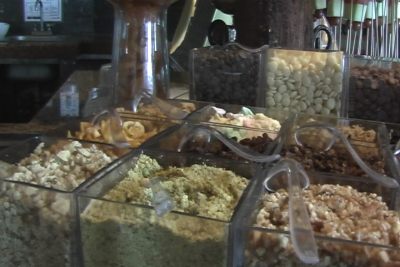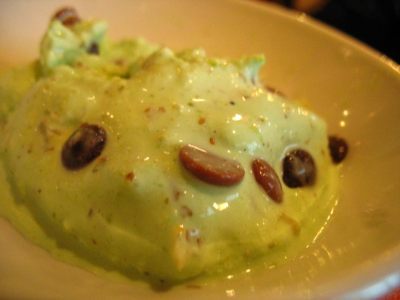 Seven Corners may not be Philippines' longest or largest buffet, but the variety of their dishes paired with the comfortable ambiance of the place still makes a very satisfying dining experience. I think Seven Corner's selection is quite good, considering their prices. Besides, thinking too much of choosing what to eat would take more time than enjoying the food itself -- besides, I really wouldn't be able to sample
all
, of them anyway!