While idly walking during your lazy-stroll-in-the-mall-days, you suddenly get a whiff of something which smells insanely mouthwatering. You immediately stop and search for the culprit. The nearby stalls don't pass as suspects, so you go on tracing the smell. After passing a couple of stores, you finally track it down. Past the glass windows, a tray with what looks like dozens of huge light brown buns, is being removed from the oven by a food attendant. He then places the tray-load of buns on top of a steel table and cools them off by fanning, diffusing further the enchanting aroma. Seeing the steam emanate from the pores and cracks of the bun and smelling that buttery mocha scent causes a sensory overload. In no time, you find your teeth breaking past that crispy coffee cream layer and finally sinking into that cottony-soft bread. Congratulations. You just had your first bite of Roti Mum coffee bun.

More or less, the Roti Mum experience is like that. Not surprisingly, the concept gained much popularity and was well received by Filipinos. Emil Sitar, Roti Mum franchise owner, explains why this coffee bun, dubbed as Singapore's best, is now on its way to becoming Philippines' best as well.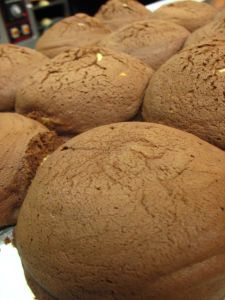 From Singapore...
Several years ago, Singaporeans got caught up in the coffee bun craze. Here, there, and everywhere, different brands and variations of this new food concept was created. Even though a lot of bakers tried to whip up the best coffee bun recipe, in the end, only one can be hailed the best among the rest. A local newspaper in Singapore surveyed and sampled all the establishments in the said country that offer coffee buns. With the comment "Although the coffee taste is not strong, it is surprisingly tasty with a delightful coffee flavor, sweetness and melted butter," Roti Mum received 4 ½ stars, the highest among all roti makers.
To the Philippines!
It didn't take long before this "almost perfect" coffee bun made its way to the Philippines. According to Emil, it was introduced here in the Philippines last year. "It started really big. There was a long queue of people trying the coffee buns," Emil describes. Filipinos are getting to be more and more adventurous in trying out new food concepts, not to mention the fact that we just love food dearly. So as this olfactory intoxicating delight arrived, it was pretty much expected to be a hit here in the Philippines. "It might be also because we are selling a different concept altogether, we're selling an ultra-niche kind of product, selling only one product in the mall," Emil adds, on why Roti Mum had been a hit.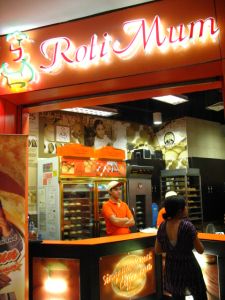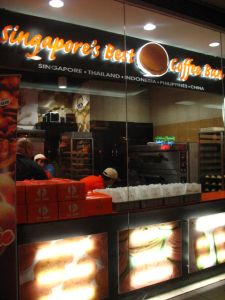 The Roti Mum Secret?
Besides the recipe of that heavenly bun, Roti Mum holds no secrets. Clad with glass walls, everyone passing by the place can watch how the buns are prepared every fifteen minutes. "The open kitchen concept is true to all Roti Mum's. It is very important that people can understand and people can see how their food is prepared," Emil says. The store, with orange beams accentuating the gray and beige interiors, is a take out counter. Much of their space is occupied by a couple of baking equipment they use. Several bright orange boxes can also be seen lined up on top of the counter. Emil shared to me that if there is one thing unique about Roti Mum Philippines, it is the use of boxes. "The Singaporeans didn't have the concept of
pasalubong
or giving food as gifts, which is a very Filipino way of giving gifts. Initially they were hesitant of us coming up with the boxes. But after the first day of operations and ninety people asked for boxes, then they asked us to develop our boxes," related Emil.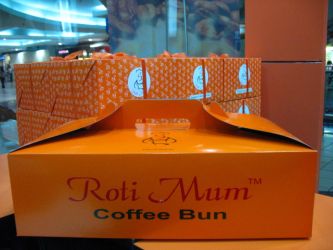 Emil also very happily obliged when I asked him for a kitchen demo of how Roti Mum buns are prepared. As all their ingredients are exported from Singapore to maintain the consistency in flavor, the buns start off as exported frozen doughs.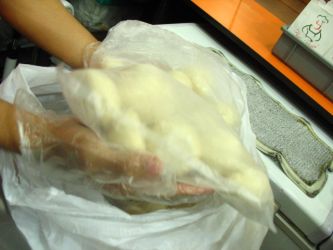 When they are about to be baked, the doughs are removed from the freezer and thawed for about 15 minutes. Afterwards, the smooth looking off-white buns are headed to the proofer, where they would increase in size.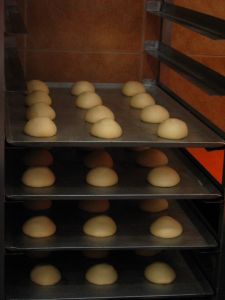 When they are already big enough, they are then placed in a chiller to maintain their size. When about to be baked, coffee cream is pipe in on top in a swirly manner. Finally, the buns are placed in the oven and baked for 15 minutes.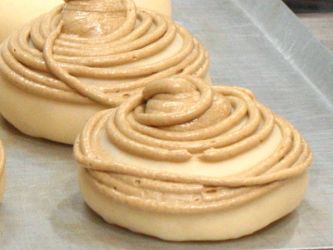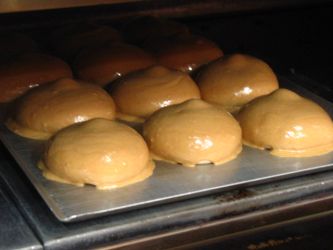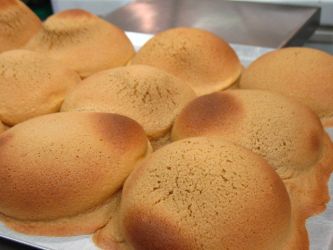 Even though that drool-inducing aroma got stronger than ever as I see the coffee cream gradually melting on top of the bun beyond that misty oven window, I managed to hold in my hunger and patiently wait for 15 minutes.
The moment they were pulled out from the oven, my mind went ecstatic. I inhaled as deeply as I could, savoring the coffee and butter aroma for almost a minute. The sight and the scent alone was fulfilling enough. But of course, to complete the sensory overload I was experiencing that moment, I took a bite of the famed coffee buns the minute they were cool enough to be touched. It was exactly like how Emil described it: crispy coffee cream shell -- not too sweet nor too bitter -- and cotton-like fluffy bread inside, with butter in its core; only, the descriptions were way better tasted than heard.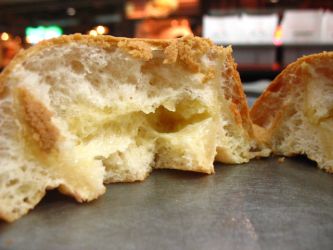 For
50 Pesos
(coffee bun), the bun is worth it. With a size which can be approximated to fit the regular household
platito
, the Roti Mum coffee bun as a snack is fulfilling enough to please your stomach without the feeling of being weighed down after. I also got to taste their
Choco Bun (P 55)
, an offshoot developed last December and I must say that it was pretty consistent with the Roti Mum taste: not too chocolate-y and not too sweet. Just right, or better yet, perfect.
Although I am all praises for their coffee buns, I wish to make some suggestions. I hope they develop the establishment further and place tables for dine-in consumption, so customers can kick back and relax while eating their coffee buns. I hope they also include coffee in their product list to match their delectable buns -- I'm sure that would be a great hit here in the Philippines. And lastly, I'm crossing my fingers that someone would franchise and open a Roti Mum outlet in Makati! So far, they already have in SM Megamall, The Block, and SM Mall of Asia, which are several bus rides away.
If you haven't tried Roti Mum yet, I guess now's the best time to do so. No doubt you'd give in to that enticing buttery-mocha smell as you pass by their outlets. So grab a bite of these heavenly buns and let me know if indeed Singapore's Best Coffee Bun can also be hailed as Philippines' best!