There's something about spicy food that draws me to take a bite despite not knowing whether my tongue is in for a first degree burn or not. I think my bias towards all things spicy started when I discovered that crushing the big green chili found in sinigang soup makes it more delicious than it already is. From then on, I've always made it a point to add something to make my meals spicy---hot sauce, black pepper, jalapeno, chili flakes and even minced siling labuyo (red chili). I think adding something to tickle the taste buds gives the dish more oomph and character. It never gets boring when your meal is hot.

So when Comedy Cartel, this stand-up comedy group headed by Tim Tayag, invited us to watch their show in Spicy Fingers, it piqued my interest. Spicy food and stand-up comedy? —I'm in. This was recipe for a rambunctious night.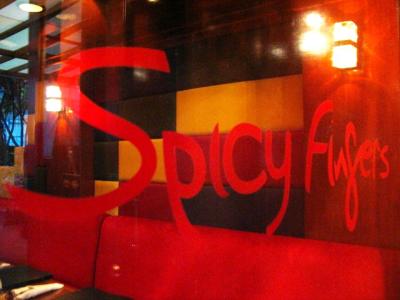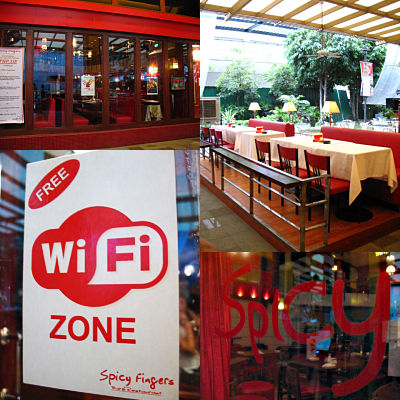 Spicy Fingers is a new restaurant amongst the row of dining establishments in Greenbelt 3 that just opened October of last year. The entire place is noticeably reddish, rather amber in tone with warm interiors and subdued lighting. It kind of sets you in the mood to be daring--with a hot date, perhaps, or at the very least, with your palate.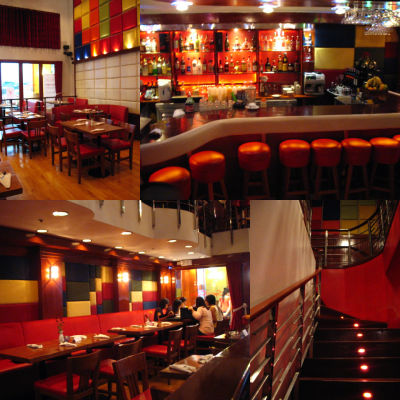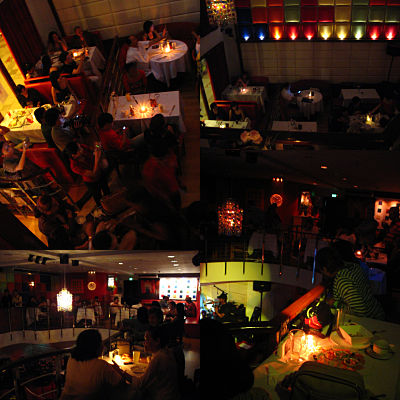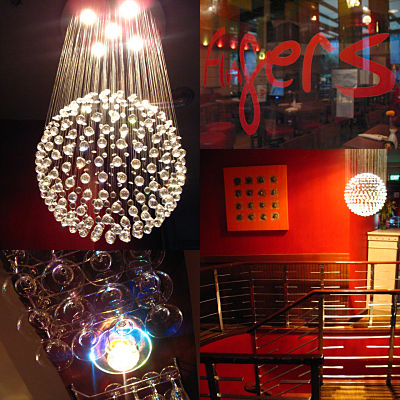 The first thing I had to taste was the curious-looking Hot Fingers (P180), described as stuffed chili fingers with minced beef and creamy cheese. I'm not a fan of huge chili peppers because they taste like hot sauce with newly-picked leaves but this particular dish eliminated that, with no after-taste at all. True to its name, the golden Hot Fingers gave a zing with every bite but then the spiciness is suddenly pared down with the creaminess of the melted cheese dip. I recommend making this dish your appetizer when visiting the restaurant for the first time because it's a very apt overview of what their chef has to offer.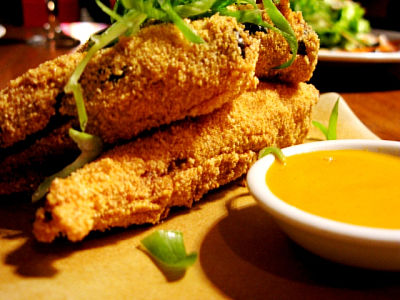 Hot Fingers



As if to battle the indulgent combination of chili + cheese + meat that I just had, I decided a salad would be a great contrast. The Tomato and Parma Salad (P314) had tomatoes and fresh white cheese wrapped in Parma ham resting on a bed of salad greens and then dressed with aged balsamic vinaigrette. Now, anything wrapped in ham tastes great, what more if it's a slab of soft cheese? The greens were crisp and the light vinaigrette just makes everything guilt-free.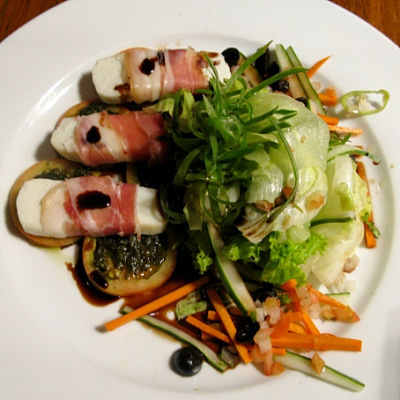 Tomato and Parma Salad



Another starter that is definitely a little more filling than your typical appetizer is the quaint ensemble of rolled Duck Crepes (P202). It is served with a little saucer of salty-sweet nut sauce that goes so well with the crispness of the bamboo shoots and the pieces of duck meat. Munch only on a couple of rolls if you're planning to have other entrees because it's already as good as a light meal.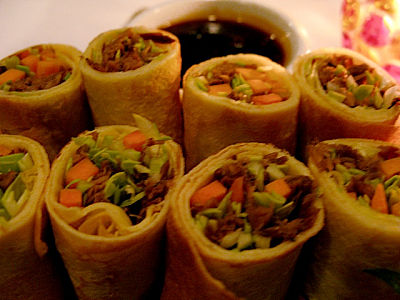 Duck Crepes



On to heavier entrees---first off, the Spicy Chicken Quesadillas (P353). Now, these Mexican delights are on fire! I loved how the soft tortilla wrap enveloped those tender chicken chunks without flaking or crumbling and causing a mess. Cut in wedges and ready for dipping, the quesadillas were served with little saucers of rich and creamy guacamole, fresh salsa and tangy sour cream. The spice factor is manageable if you incorporate gulps of water or any non-alcoholic/dairy-infused beverage in between.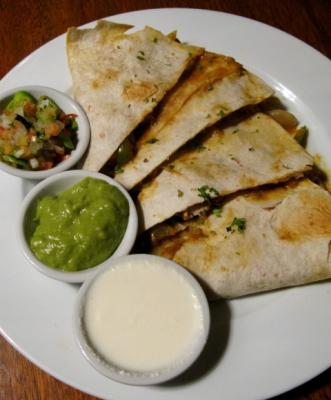 Spicy Chicken Quesadillas



Spicy Fingers is a far cry from being a Thai restaurant but they make one of the meanest Pad Thai Noodle (P213) dishes I've ever tasted. The stir-fried rice noodles were covered with a blanket of scrambled eggs and mixed with generous amounts of eggs, bean sprouts, peanuts and your choice of either chicken or shrimp. There have evolved two different styles of Pad Thai: the light and dry version commonly found in the streets of Thailand and the rich version, which is a bit smothered with nutty sauce. I like my Pad Thai a bit heavy-tasting with lots of toppings that's why the Spicy Fingers version gets my vote.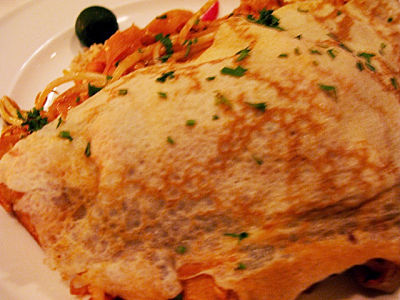 Pad Thai Noodle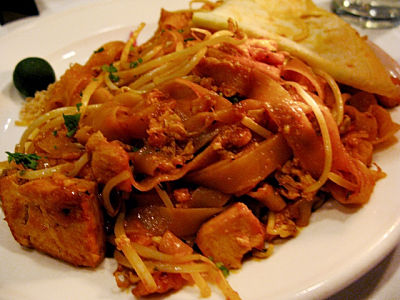 I cooled down with the Banana Baileys Colada (P180), which had just the right amount of dairy to make my taste buds momentarily forget the spiciness it had just recently encountered. The concoction is a combination of a really good banana shake with pina colada mix, banana liquer, Baileys Irish cream, rum, coconut cream and crushed ice.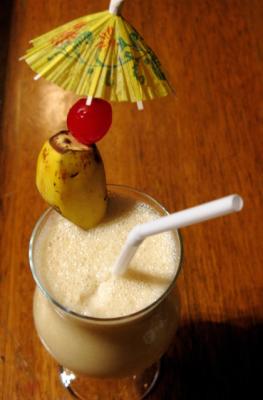 Banana Baileys Colada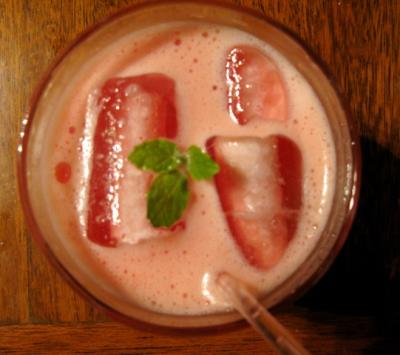 Bubble Gum Cocktail



A cocktail for the sweet tooth is what I call the Bubble Gum Cocktail (P180). This drink tastes a bit too syrupy for my liking. Probably, too much grenadine? It looks and smells yummy though. I recommend going for another cocktail mix since all house cocktails are priced at P180 anyway.


I survey the room and declare it refreshingly laid-back but still edgy. Notice the booming club scene nowadays? I think Spicy Fingers is a welcome respite from the usual club and bar spots peppering the city now. While some restaurants along the strip of Greenbelt 2 have come and gone, Spicy Fingers shows remarkable promise of staying for a long time by combining laid-back ambiance with an interesting menu and one-of-a-kind entertainment that is sure to add spice to your typical night out.

Spicy Fingers has an early dinner special from Sunday to Thursday, 6:00 – 8:00 pm for only P338.00, inclusive of VAT. Catch the Comedy Cartel in their future shows at Spicy Fingers - visit www.ecircleentertainment.com for details and show schedules.