I cannot any more recount how many from my friends and family have persuaded me to try the vegetarian lifestyle. Some of them persuade me to do it for the animals, the others say it's for my health and the scales. Having several pro-greens close to me is not anymore a wonder as more and more people are now taking time to be conscious of their health especially with the occurrence of numerous health-threats; to this cause, I do not disagree. But for two reasons, I cannot give up meat. One: I love it. Two: I really love it.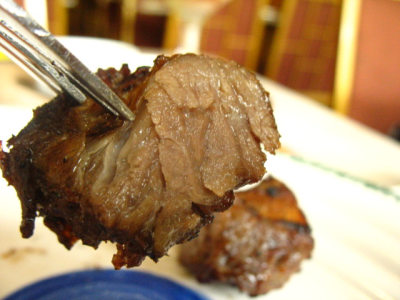 If you know me, I am sure you pretty much have an idea of my eating lifestyle. If you don't, here are some clues: I am no calorie counter and my appetite is pretty much close to that of my dad's. But before you paint a picture of me occupying the entire couch, weighing 250 pounds, and holding a bag of potato chips, I am proud to tell that I am lucky enough to have a very cooperative body. Anyway, with that said, just like my dad (and perhaps any other man), steaks, burgers, and all the other kinds of meat are my definitions of stomach pleasers. Not surprisingly, my vegetarian friends' efforts of convincing the hard-headed carnivore that I am, proved to be futile. One of them even gave me a recommendation which I never expected from a vegan, "Try Brazil! Brazil!. Meat-all-you-can
dun
."
I thought I heard her wrong. Maybe it's "eat-all-you-can" that she meant. But no, I asked her again and indeed, it is "meat-all-you-can." Hearing this, it didn't even take a week before I finally set foot in
Brazil!
, Serendra.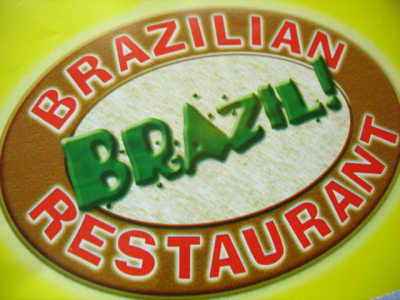 Holá Brazil!
Brazil! (formerly Brazil! Brazil!) had been around for quite a while now, established in 2004 to be exact. As of today, they already have four branches: Rockwell, Metrowalk, Alabang, and Serendra. I got in touch with Brazil!'s Operations Manager,
Melissa Mae Basa
to explore more how this resto came about. She warmly welcomed me to experience Brazil! in Serendra.
Brazil!'s interiors in a word is: festive. Several painted and vibrant masks pepper the orange walls of the resto. A cylindrical tiled post which runs from ceiling to floor can be found at the center of the place, which the buffet entrée selection surrounds. Upbeat Brazillian music complements the ambience of the place.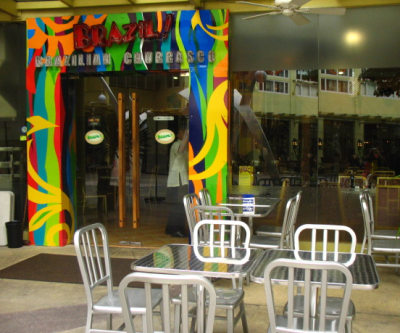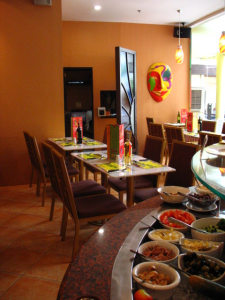 When Mae and I were already comfortably seated, she shared to me the concept of Brazil! As the first Rodizio style restaurant in the country, Brazil!'s concept, which sets them apart from others is pretty simple. They serve churrasco straight from the grill so the temperature and flavor is perfect and carved tableside by their meat servers.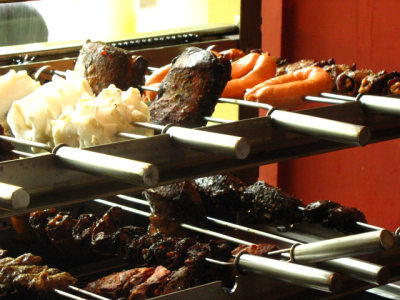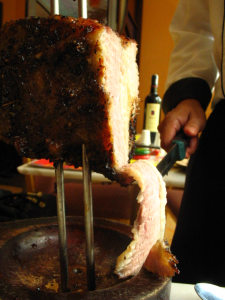 If you are wondering,
Churrasco
(pronounced 'shoo-ras-koo') means "barbecue" grilled in a special way so that the taste is preserved. They also invented a cute twist in serving the meat. Each person gets a green and red colored yo-yo. When you are ready to be served with churrasco, just flip the yo-yo to its green side. When you've had enough, flip it to red.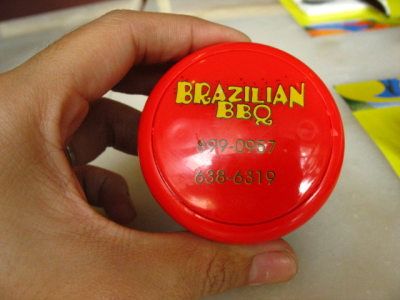 According to Mae, the Rodizio style and the ambience are the only things "Brazillian" in Brazil! as all the food they offer in the buffet and the meat flavors in churrascos are "international." Their
lunch buffet (P628 net, which includes the all-you-can churrasco)
is composed of your usual soup, salad, pasta, rice, main dish, and dessert selection. They serve more options during their
dinner buffet (P778 net).
You can choose a drink (not included in the buffet) to complement your meal from their wide selection of specially concocted cocktails, martnis, fruit shakes, sodas, teas and coffees.
Mae told me that fourteen different churrascos are now waiting for the go signal from my yo-yo so I better get started.
Fourteen churrascos
?! I then thought twice if I'd still help myself with a serving from their buffet. I fought the urge to have some of the luring
Pasta Royale
in the buffet and instead just took some of the
Egg Salad
and
Mixed Vegetable Salad
to ready my tastebuds.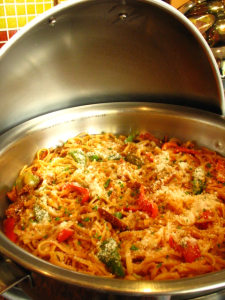 Pasta Royale
After sampling their salads, which by the way were both fresh tasting and full of texture, I took a deep breath and flipped my yo-yo to green.
Meat All I Can
One by one, huge slabs of meat were served. The sight of the meat carver approaching my table bringing the skewer with a piece of smoking cut was very drool inducing. I watched carefully the way the juice dripped as he sliced the
Beef Brisket
right beside me. And as I inhaled deeply... the scent! Oh, it just heightened the sensory ecstasy! This went on for I think half an hour, as they delivered the glazed churrascos right after the other:
Beef Finger Ribs, Frankfurters, Chicken Thighs, Grilled Banana, Leg of Lamb, Hanging Beef Tenders, Grilled Japanese Corn, Cuttlefish, Pork Belly, Pork Ribs, Pork Loin, Schublig with Cheese
and lastly,
Grilled Pineapple
.
Yes, I ate all of those and all I could do at the very end of my meal was stare blankly. Man, that was good. No, that was
really
good!
After resting for a while, I immediately listed down my top three favorites in Brazil!:
Top 1: Cuttlefish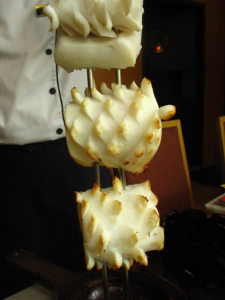 Hands down this big squid was the best I have tasted in their selection. It was insanely flavorful and very soft. To my taste, it was even more succulent than the beef. If I were to go back here in Brazil! It will be primarily to re-experience eating this white delight.
Top 2: Schublig with Cheese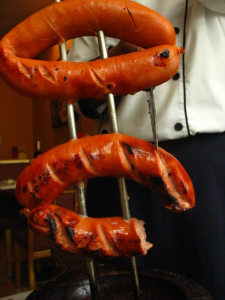 Eating it and watching juices come out as you slice it was equally gratifying. It was salty, which was very pleasing to my taste and very very juicy. I wish all sausages were made like Schublig.
Top 3: Beef Finger Ribs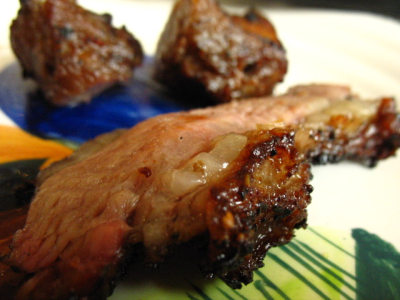 Of the meat cuts, I prefer ribs, and Brazil!'s Beef Finger Ribs didn't fail my standards. The chunks given to me had just the right amount of tenderness, spice, and sweetness.
After tasting everything, Mae asked me what would I want for the second round. As much as I want more cuttlefish, I had to decline the offer until my next visit. This challenge proved that I am still a far cry from being a vegan for I tremendously enjoyed the Brazil! experience. I am bringing along my family on my next visit and probably challenge my dad in an eating contest.
Live boldly for a while, forget the scales and unleash the carnivore in you when dine at Brazil! Just remember to come in with an empty stomach for you to immensely enjoy the meat-all-you-can.