A place where you can have all the flavors and colors of ice cream imaginable...

Sound only like a child's dream? Oh it is not.

Conveniently located at Joya Tower in Rockwell center (just a few steps away from the mall), is the actualization of this dream, a haven for ice cream lovers: The Ice Cream Bar, FIC's first dine-in ice cream parlor.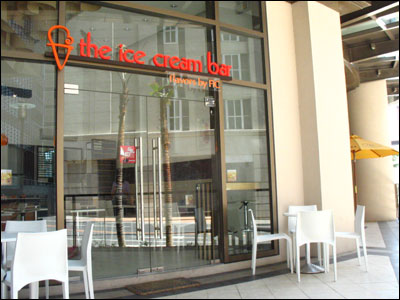 FIC (Fruits In Ice Cream) emerged in the market a decade ago, when the demand for good quality ice cream sky-rocketed. People wanted an alternative to the local ice creams that were produced that time, and the founders of the FIC obliged. They believe that ice creams can't be considered 'ice cream' according to the international standards if they don't use 100% milk derived fat. Of course this would cost more than just resorting to using vegetables fat and oils as replacements, but to them, quality should never be sacrificed. With that, it didn't take long for the brand to have a following. It is no surprise that FIC rose up the ranks to what it is in right now: one of the primed Filipino ice cream brands. Carrying unique concoctions including Filipino sorbetes favorites, more and more people patronize FIC. Their high caliber premium products passed the rigid export requirements, thus making it the only Filipino ice cream brand allowed to be distributed in Japan. Much to the delight of FIC fans, the owners decided to put up the first dine-in branch early this summer in the fuss-free district of Rockwell Center.
This pioneer parlor very much mirrors the high-quality and the uniqueness of the brand. The first step into the ice cream bar would instantly comfort you. The posh-looking soda fountain inspired interiors is highlighted by a medley of bright and playful colors of red and orange. One-of-a-kind jar-like seats neatly surround white tables. Vibrantly painted on the mirrors are the Pinoy sorbetes flavors, which FIC fans grew to love over the years. The interestingly designed ceiling fixtures really is attention-grabbing, and the other wooden details of the store gives a Filipino touch to this establishment.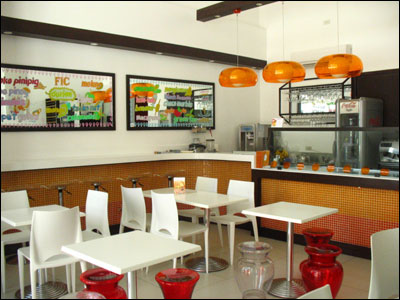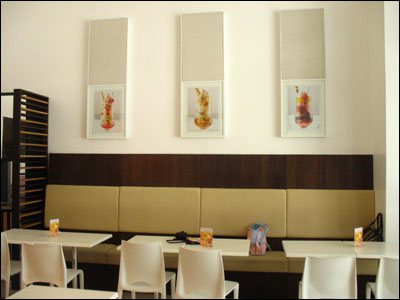 70% Ice Cream, 30% Food
Since this is The Ice Cream Bar, desserts come first and top-billed in their menu are their signature ice cream concoctions which include
Chocolate Overload (320), Brownie Brownie (P220), Banana Caramel Crunch (P250)
and
Berry Ballistic (P270)
. Splits, parfaits, sundaes and a lot more of flavors comprise this colorful smorgasbord of cold and comforting treats. Apart from these, they have the 'specials' which include their famous Ice Cream Sandwich and Sorbet Slushes. For those who are watching the scales, yogurts and FIC lite ice cream are the yummy but healthy treats available for you from the parlor.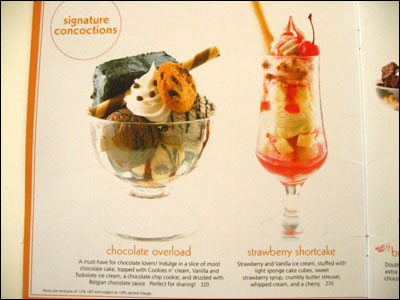 And as if the hodgepodge of every flavor possible (and even unimaginable) isn't enough to fulfill this childhood fantasy, this particular ice cream parlor incorporated hot food in their menu. Consisting mainly of our very own childhood favorites that usually went well with ice cream, The Ice Cream Bar offers sandwiches, fries, nachos and pastas that perfectly complement the comforting ice cream experience. The kid in me went giddy the first moment I entered the store. I couldn't help but reminisce on the days when I barely reached ice cream counters, with my face pressed on the glass looking intently at the ice cream containers and wondering how ice creams are made as I wait for my dessert to be prepared.
My friend and I browsed through their menu and decided to sample on their hot food first. We ordered each of our favorite comfort foods:
Chili Frank (P185)
for her and
Baked Penne Supreme (P180)
for me. Aside from that, we decided to try out something new that's why we also asked for
Basil and Kesong Puti (P195)
. We were satisfied with our orders until we saw an entry called
Best Potato Chips in Town (P120)
. Intrigued, we also decided to sample that. To aid us with munching all of these appetizing food, we each ordered different flavors of their
Sorbet Slush (P 130)
.
Sorbet Slush
The Ice Cream Bar's Sorbet Slush is basically FIC sorbetto mixed with soda water. Mine was mango sorbet so it tasted like Mango ice cream with a 7-Up fizzle and a very, very thick texture. I know it's kind of unimaginable but I found mine to be much enjoyable.
The 'Best Potato Chips in Town' with Basil dip, the one we really anticipated, was served first. I find whoever named this entry such to be very couragous for making such a claim as its name. But as I took a sample of the potato chips, I finally understood why they named it so. Who knew a chip could that be tasty, non-oily, and crunchy to the point that you'd literally hear that loud
'crrrrruuuunch'
as you bite it? We can't stop praising how well Best Potato Chips in Town fared as we munched and munched each chip. We had to set it aside though as the pasta and sandwich were already served.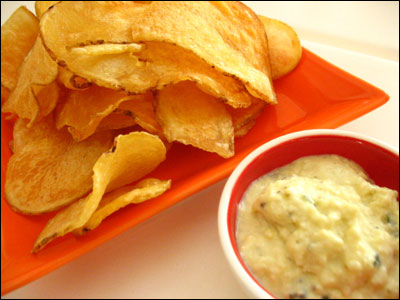 Best Potato Chips in Town
Comfort food for me can easily be defined as anything with lots of mushrooms, beef, tomato sauce and cheese. These are the very ingredients of the Baked Penne Supreme I ate so I had no qualms. Personally, I find the serving enough for lunch or perhaps merienda - a good-enough sizing for someone preparing for an equally-big dessert. And because I still need a lot of space for the rest of the dishes I'd taste, I decided to share it with my friend who also found the food satisfactory.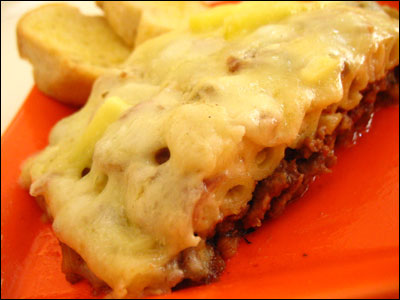 Baked Penne Supreme
Served with thick fries, the Chili Frank's serving seemed also adequate for one person's satisfaction. In her case, the same happiness was also induced as she took her first bite into that Chili Frank. According to her, she always had this paired up with ice cream when she was still a little kid. Bite after bite, she found herself wanting for more.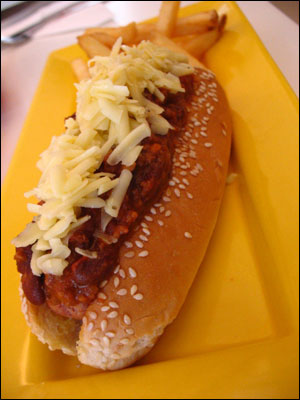 Chili Frank
The Basil and Kesong Puti tasted as interesting as it's name suggested. Salty Kesong Puti Cubes topped this pasta which seemed to be marinated with olive oil. Pine nuts were also included in this mixture. Over all, the pasta's taste was subtle with a hint of saltiness and great variating texture should be expected.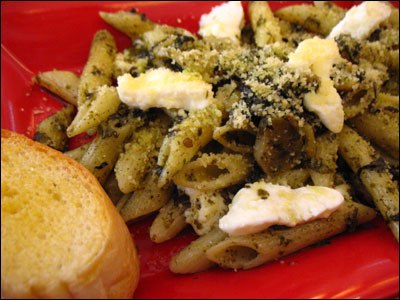 Basil and Kesong Puti
After consuming our food, we decided to again taste the potato chips and test if even after a long time of exposure it would still taste as great. It did. 'Best Potato Chips in Town' serves its name right.
The Ice Cream Dream
And now, it's time for dessert - the real star of this day's meal. We settled to order one classic and one that's fairly new for our tastebuds so we had the
Classic Banana Split (P220)
and
Mangga't Suman (P120)
. My friend also wanted to sample the
Soft Serve Frozen Yogurt (P120++ depending on the toppings chosen)
lured by the tagline 'ultimate guilt-free' dessert , which can only be found in this branch, and not in FIC kiosks.
I have never tasted mango ice cream with suman before so the combination is kind of unusual for me. But something in this combination made me want to really taste it, and I must say I had the right hunch when I tasted how perfectly two distinct tastes and texture played well in my mouth. Adding a drizzle of chocolate and muscovado sugar on the side made it a better deal. It tasted very Pinoy and ingenious. Even the mango ice cream itself had chewy bits of suman! I wanted to congratulate whoever concocted this combination. I definitely recommend this as a must try.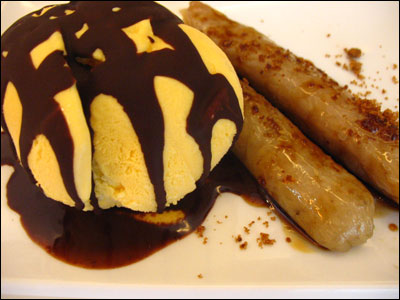 Manga't Suman
While I was busy feasting on this new found favorite, my friend related to me how she enjoyed her yogurt. According to her, the Soft Serve Frozen Yogurt was very smooth and light to the taste. This is a good choice for calorie-consious folks out there - tt is just as yummy as their ice cream, plus it is a lot healthier.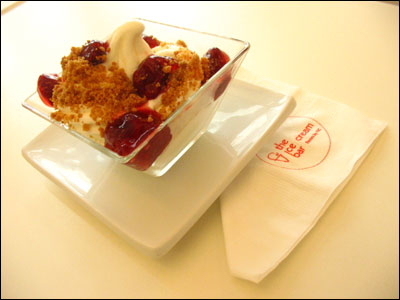 Soft Serve Frozen Yougurt
And last but not the least is the devilishly mouth-watering
Classic Banana Split
. Chocolate, Strawberry, and Vanilla ice cream with each scoop almost as large as my fist, sandwiched between half-sliced banana, with crushed pineapples, cashew nuts, whipped cream and Belgian chocolate sauce... no wonder that made my stomach grumble. Priced at
P220
, the classic crowd pleaser is good enough for two or even three people, perfect to cap off a savory meal. I am having a hard time putting into words the sense of fulfillment I always get everytime I feast on a banana split. Let's just say that one could never go wrong by choosing this as a dessert.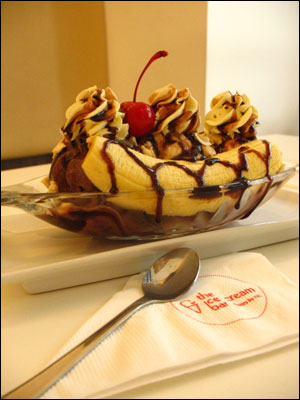 Classic Banana Split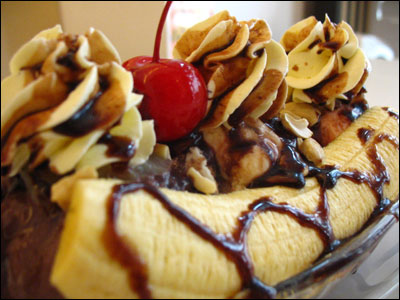 The rainy season is on but this doesn't mean ice cream, everyone's guilty pleasure, is already to be set aside. Forget your diet for awhile (exercise is always an option, folks!) and treat yourself to The Ice Cream Bar. Calm your frayed nerves, soothe your weary soul and re-experience the comforts and utter happiness of eating desserts just like when you were five.