Over at one corner of Power Plant Mall's concourse level, there has been more buzz and people at a vibrant restaurant that never runs out of customers during both day and night. That mouthwatering smell of grilled meat consumes passers-by, making them stop to look at a long line of hungry customers awaiting to order their food. The brightly-lit and cheery restaurant swiftly serves up a fill of lunch or dinner, or anything in between, and attends to the next in line with all smiles. Just another restaurant? Not quite. This one offers you something fresh and enticing: always have your meal your way. At Pepper Lunch, you are the Chef.

Sizzle It Your Way

"It's really simple," Jeroen Van Straten of Pepper Lunch explains, "even if you don't know how to cook, it is very easy." Jeroen is the man responsible for bringing in the Pepper Lunch phenomenon to the Philippines. He accommodated me one afternoon to talk about the Pepper Lunch concept.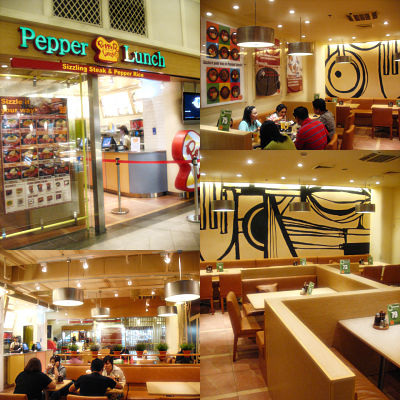 Pepper Lunch started in Japan during the mid-nineties, and offers the Do-It-Yourself steaks concept to its customers. The outlets in Japan, Jeroen shares, do not feel much of a family casual dining place as it is more of an 'eat-and-go' establishment, where people actually are already waiting in line to use your seat once you are through. Here in the Philippines, however, it is part of our regular routine to dine in leisurely and use the eating times to bond with friends and family. Pepper Lunch has become that happy place to meet up with people and chitchat over meals.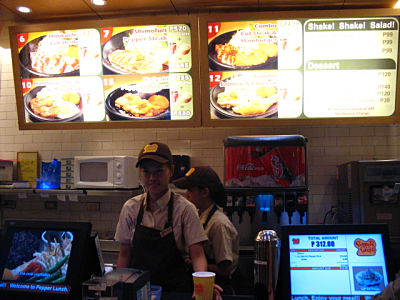 The 'pepper' in Pepper Lunch is in their unique way of preparing the dishes - using only the outer shell of peppercorns (the most fragrant part) to flavor the sizzling meals. The menu mix of the restaurant is composed mainly of steaks and rice dishes. Quality and consistency of Pepper Lunch food are achieved as most of their products are imported. The steaks are from Australia, salmon from Norway, and chicken from the US. All these are available to you in the Pepper Lunch plate, DIY-style. Also notable with Pepper Lunch is its ordering system by the counter - their big monitors are facing the customers instead of the cashiers, and makes use of food visuals. This makes it easier for customers to view the menu and choose, and more importantly, personally check on the screen the prices and the final bill after ordering.
Perfection in a Plate
So, why would a Pepper Lunch meal always be prepared to one's taste? Simply because they let you sizzle your dishes as you please. Once they take your order, their kitchen staff prepares all the necessary ingredients for your meal, and puts 'em all on the special patented Pepper Lunch hot plate. Their plates are uniquely manufactured in Japan and utilizes a special electromagnetic cooker. This maintains the heat to grill your meats in the ideal temperature, and keeps food warm for a longer period of time. Even if over twenty minutes have already passed from the time they've brought your plate to the table, your meal is still good and warm. I got to test it out, because I had cooked my Pepper Lunch meal and waited for my friend Marian to arrive before finishing my food. That took about thirty minutes of waiting time, and going back to my dish was still as good as served. Also, the Pepper Lunch staff will gladly have your plate reheated if you want your food extra hot and sizzling.
The Customer is Always Chef
So how does one cook over at Pepper Lunch? "Just turn it over, mix it with our special butter," Jeroen says, "and if you don't know how to cook, our staff will help you."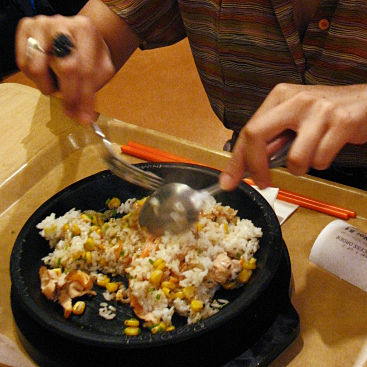 Jeroen also advises first-timers at Pepper Lunch to add things up slowly right after mixing the food on your plate. Add a dash of each of the sauces - or even perhaps just one at a time at first, and just like a chef, you get to decide if the flavors are already perfect for you. For sauce-a-holics, drizzle away or even drown your dishes with their sauces; for a more minimalist and simplistic meal, you can even do away with the sauces entirely and still enjoy the flavors of your sizzling meal. I think this is the ultimate charm of the restaurant - dishes are bound to be to prepared to your liking as it is a D.I.Y. place. And also, each Pepper Lunch experience can have its little interesting twists, as you can play chef all the time and experiment with different flavors and tastes -- even when ordering the same dish all over again.
As a first-timer over at Pepper Lunch, Jeroen was nice enough to help me prepare my sizzling dish, the
Beef Pepper Rice (P198 ala carte, P235 with drink)
. As soon as the kitchen brought out my order, the place immediately smelled of its savory, meaty goodness, and I can hear the crackling and sizzling on the plate that made me all the more excited to try out my food.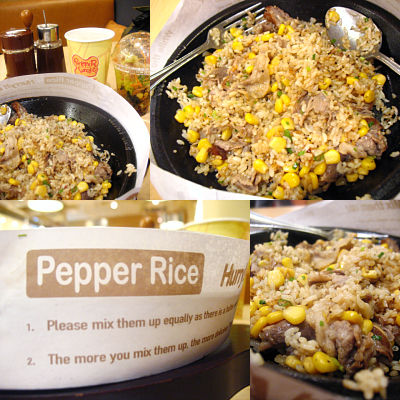 Beef Pepper Rice
Customers have the choice to add Pepper Lunch's signature sauces to their dish: The sweet honey brown sauce, or the garlic soy sauce. I had a little bit of both for my rice meal, and the flavors add a distinctive richness to the whole experience. The beef is sliced thin and is tender, easy to chew and really went well with the crunch of the corn bits.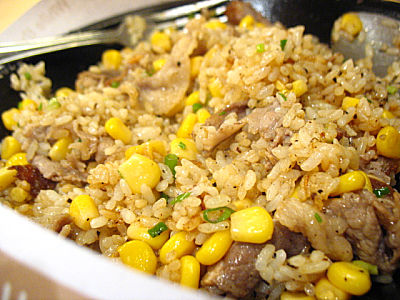 The butter's flavor and aroma was just simply marvelous when it combined with the rice and beef of my dish. I asked Jeroen what special secret ingredients they have concocted for the butter. What I got was a shrug and a laugh, and him saying that they didn't really know either. Guess I just have to keep on ordering at Pepper Lunch to get myself that special buttery fix every now and then.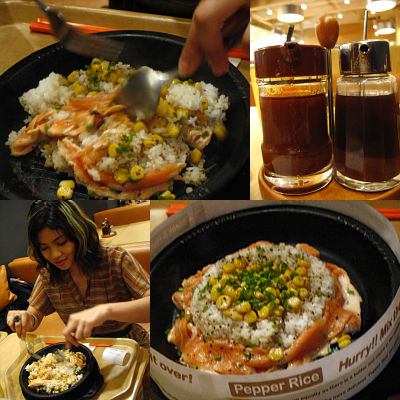 Salmon Pepper Rice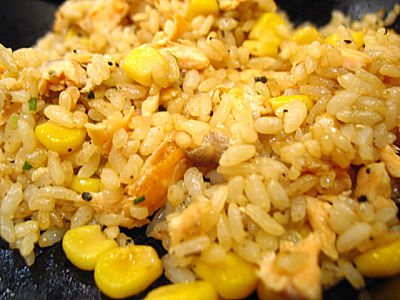 I got to try out what Marian ordered as well, her
Salmon Pepper Rice (P275 ala carte, P315 with drink)
came to our table bursting with aroma. The salmon is served just right with its soft, melt-in-your-mouth texture. This would be the dish I'll order on my next visit! Another must-try would be the
Curry Beef Pepper Rice (P218 ala carte, P258 with drink)
, which my friend Mark loves, and which is also a personal favorite of Jeroen.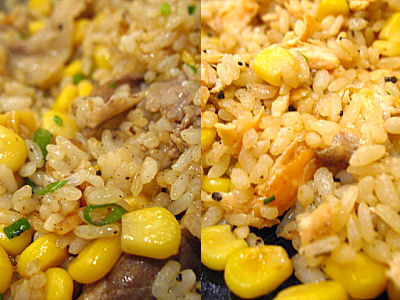 Rice, rice, baby: Beef Pepper Rice and Salmon Pepper Rice
Skipping on carbs? If you're going South Beach, you may want to order their steaks insted. Using select meats from Australia and New Zealand, Pepper Lunch offers Hitokuchi Cut Steak, Shimofuri Pepper Steak, Yawaraka Loin Steak, and other sizzling meats and combos sans the rice.
I surely declare that the aroma you smell over at this resto is as good as the flavors of the dishes. Pepper Lunch is such an aromatic experience, no wonder people's noses lead their way to this restaurant! Delicious scents can sure make someone a slave when it comes to eating.
Aside from the sizzling and savory entries of Pepper Lunch, they also serve lighter alternatives in their salads.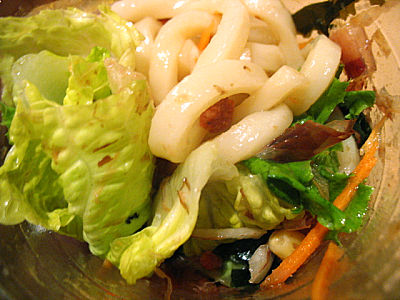 "The salads are selling really well," Jeroen shares. The
Shake! Shake! Salad (P99 each, comes in Sesame Chicken, Seaweed and Spicy Tuna)
is placed into a plastic cup with a lid, and it is shaken by the customer before consuming, instead of tossing them with a fork and knife on a plate. They make great starters before a sizzling meal, the serving size just enough for an appetizer. What is interesting about the salads is that Pepper Lunch adds noodles along the mix of greens.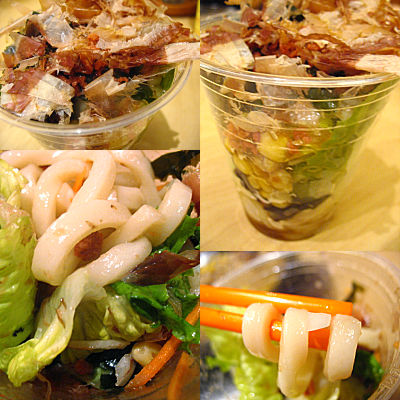 Seaweed Shake! Shake! Salad
Marian and I were very delighted with our serving of
Seaweed Salad
that we shared - the dressing was light and tangy, the greens and seaweed fresh and crisp, the corn crunchy and juicy. The white noodles gave another colorful dimension to the entire salad experience -- the firm and smooth noodles were a surprisingly good contrast to the textures of the greens. Perhaps this is the reason why some regular customers skip the sizzling dish altogether and order a couple of salads for lunch. The Pepper Lunch salads are indeed a must-try!
Desserts Are A First
From the interiors, the food, the plates and the menu, Pepper Lunch Manila is the same with the other Pepper Lunch franchises around the world. That is, save for one sweet thing: desserts! Pepper Lunch over at Power Plant - the very first Pepper Lunch in the Philippines - is very proud to be the home of the first dessert items to be introduced to any Pepper Lunch establishment. This for me comes just so naturally for we Pinoys are practically born with a sweet tooth.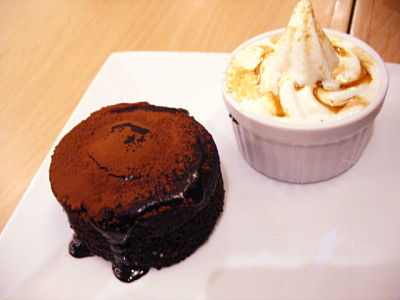 Pepper Lunch offers sweet endings to pair with your sizzling meals in their
Kuromitsu Soft Ice Cream (P30)
,
Vanilla Crepe Cake (P120),
Matcha Cheesecake (P140)
and
Molten Milk Chocolate Cake (P120)
. We got to try out the chocolate cake which was sinfully oozing warm and gooey choco goodness from the inside. An added delight would be to get the cake
ala mode
, taking a spoonful of the cake with another spoonful of vanilla ice cream. If you're a fan of dual-temperature desserts, this one should be ordered.
The desserts at Pepper Lunch seem to have gained a good number of fans and has certainly impressed Pepper Lunch Japan. "Japan is already interested in serving them themsevles, as well," Jeroen says.
So if sizzling hot meals is your thing, or perhaps you want to play chef with your food, Pepper Lunch is definitely something you must check out. I recommend to go over there earlier than your intended lunch or dinner hours, as believe me, they are always packed at those times! Just head on to the concourse level of Power Plant and follow your nose, which will lead you to that big bright place where you can sizzle it your way.