It's a bar. It's a resto. It's for dates. It's for parties. It's American. It's Italian. It's Pinoy. It's Oriental.

It's eclectic. Now that is the right word.

Buzz is going around and it's about this new party place: Uno Pizzeria. They recently hosted a victory party for Ms. Islands Philippines and more and more of the partyphiles are checking out the place. It is also by recommendation from a friend that I have come across this restaurant. According to her, they serve really good food. With positive feedbacks of the establishment as a restaurant and a bar, this really must be something. Rachel Relucio, the manager, was kind enough to accommodate me and a friend as we went there to check what the buzz is all about.

Uno Pizzeria in broad daylight already stands out from the rest of its neighbors along the strip of San Miguel by the Bay Esplanade. The bold red exterior sure would catch your eye as it contrasts against the bright blue hue of the sky. Peacefully dining in the place are some groups of students chilling out, couples enjoying the pretty and refreshing view of the bay, and office workers unwinding and feasting after a day's job.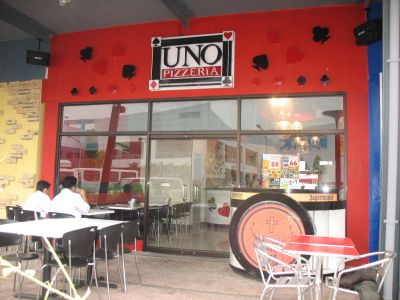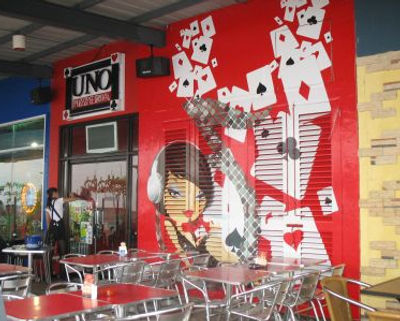 Uno by midnight? Now that's a different picture: live music, young and energetic crowd, shishas and drinks, and everything else that spells F-U-N.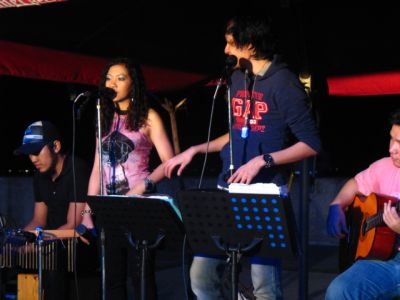 "Everything was his concept. Everything." says Rachel, referring to Mr. Ong, the owner. From the theme, food choices, interiors, up to the littlest detail of the menu's design, Uno Pizzeria can really be considered his brainchild. And as the very hands on owner he is, he even parties with the crowd occasionally.
According to Rachel, families and
barkadas
are the usual customers during the day; just like a typical family restaurant. But come 9 o' clock, especially on weekends, the place gets packed with the night owls. That's when the party starts kicking and this would go on until the wee hours of the morning.
Red, black and white, the colors of the regular playing cards, are the main colors of this establishment and this heightens the modern and sexy vibe exuded by the place. With playing cards as the main theme, hearts, diamond, clubs and spades accentuate the restobar.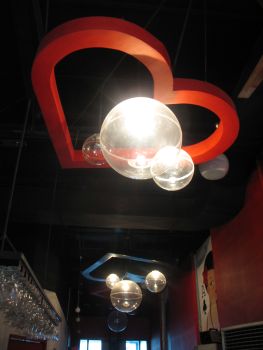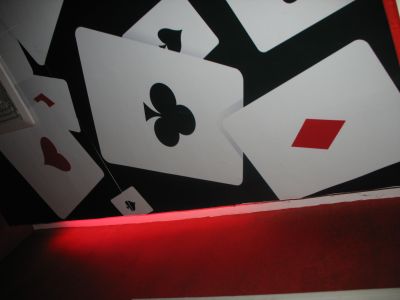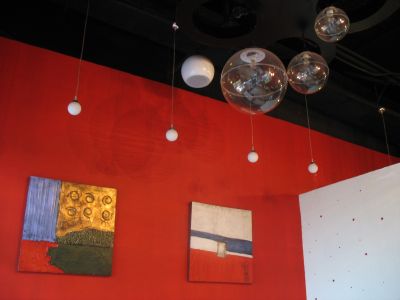 But more than the vibe, the location, and the crowd, people frequent the place for their food selection which boasts of American, Italian, Oriental, and Filipino dishes. When I got the menu, I was overwhelmed by the selection: salads, sandwiches. pizzas, pastas, grilled and sizzling treats as viand or
pulutan
, steaks and even salmons. And it doesn't stop there. Their selection of drinks is even greater: from fruit shakes to coffees to Sex on the Beach, almost everything is here.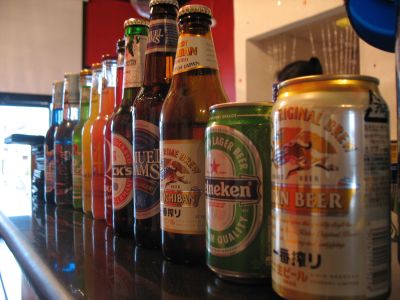 It was hard choosing from this variegated menu featuring piquantly named dishes that's why we just asked for their best sellers. For early dinner, they served us
Buffalo Wings (P198)
,
King and Queen of Hearts: Ruby Ribs Pizza and West Side Shrimp Pesto (P450)
,
Kung Pao Chicken Pasta (P398)
and
Uno's Shrimp Scampi (P398)
. There were just the two of us and good thing we were hungry.
It didn't take that long before the food was served, considering that according to Rachel, their food are cooked as they are ordered. Add to that, Uno Pizzeria prides itself of creating dishes using only ingredients of highest quality, with all-natural, organic and local ingredients.
If you know me well enough, it is no surprise when I tell you that I tasted the King and Queen pizza first. Never did I say no to pizza and I love these wonder pies so much to the point that I believe I can survive eating this alone my entire life. The fresh from the oven aroma of this 14 inch, thin-crust pizza was simply irresistible.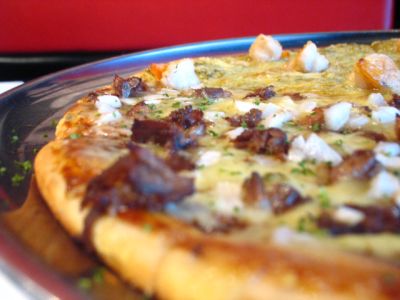 King and Queen of Hearts
King and Queen of Hearts is what they call the combination of two flavors from their pizza selection. Four Seasons pizza on the other hand, as the name suggests, lets you have a taste of four of Uno's specialty pizzas. For the combination pizzas, the highest priced flavor will be the reference for the pricing.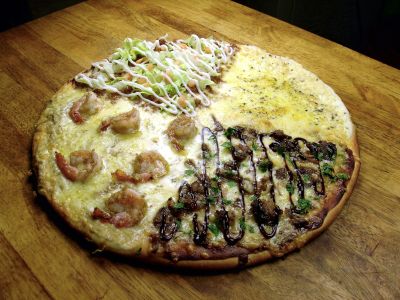 Four Season Pizza
In our case, we had West Side Shrimp Pesto and Ruby Ribs pizza, two of the crowd favorites. First bite into that Ruby Ribs slice was uniquely gratifying. With barbecue sauce as the base, expect the taste to be very rich. Bits of Ruby Ribs meat generously top the pizza and these makes the flavorful experience even more paradisaical. After consuming the entire slice, Ruby Ribs Pizza immediate joined the ranks of my most favored pizzas. Very much pleased with my first slice, I decided to try on the other one. I had little expectations on this one since it looked very plain if not for the shrimps on top of it. My taste buds were caught off guard after I took a bite from this slice. I totally didn't expect that a humble looking slice like that could taste so...
pesto-riffic!
It maybe a little salty for the others but personally, I enjoyed it very much.
What is notable and commendable about Uno Pizzeria's pizza is the crust. Aside from the fact that their crusts are neither too stiff nor too supple, they're not oily and won't get oily even after you let them stand for a while; that is, if you can resist eating all of it the first moment it lands on your table.
I restrained myself from eating the entire pizza and moved on to my next dish: Buffalo Wings. This dish serves the price right as it is good enough to share. Glossy and mouth watering sauce cover the wings but you'd still get to taste the subtle crisp from the chicken skin somehow. It had the right amount of spice and the chicken meat was tender enough.And to quote my friend who was very much thrilled, the dish is "
nakaka-adik
!"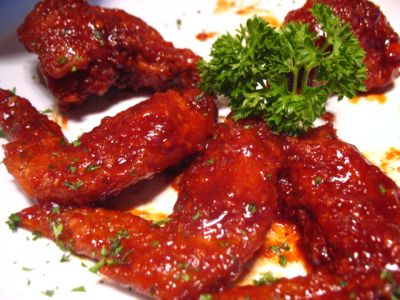 Buffalo Wings
To neutralize my taste buds, I next sampled their Shrimp Scampi Pasta. I achieved what I wanted for this dish is what I would describe as minimalistic. Tossed in the
al dente
pasta are shrimps and spices just enough to kick in some flavor. The serving is good for sharing, too.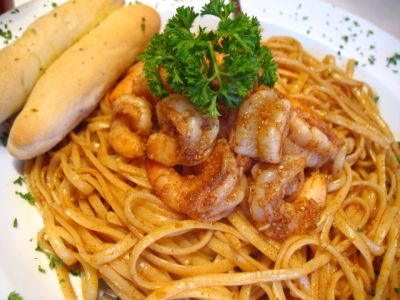 Shrimp Scampi Pasta
After the break, I was again up for the challenge as I tried their tangy Kung Pao Chicken Pasta. Sweet and chili played well together in this vibrant yet subtly prepared pasta. Plus the tasty chicken chunks, the dish not only had great texture, but also impeccable flavor.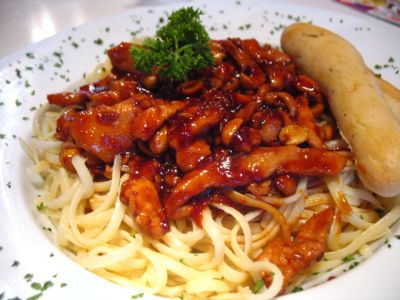 Kung Pao Chicken Pasta
Personally, I do think the prices justify the food as the dishes are really enough to satisfy one's appetite. And also, by dining in Uno, it's not only you who will get satisfied - a portion of your purchase goes to the CRIBS Foundation Inc., that helps neglected and abandoned children and abused women.
I have yet to try Uno Pizzeria as a party place, but after my pleasurable casual dining experience here, it is guaranteed that I'd be coming back for more.